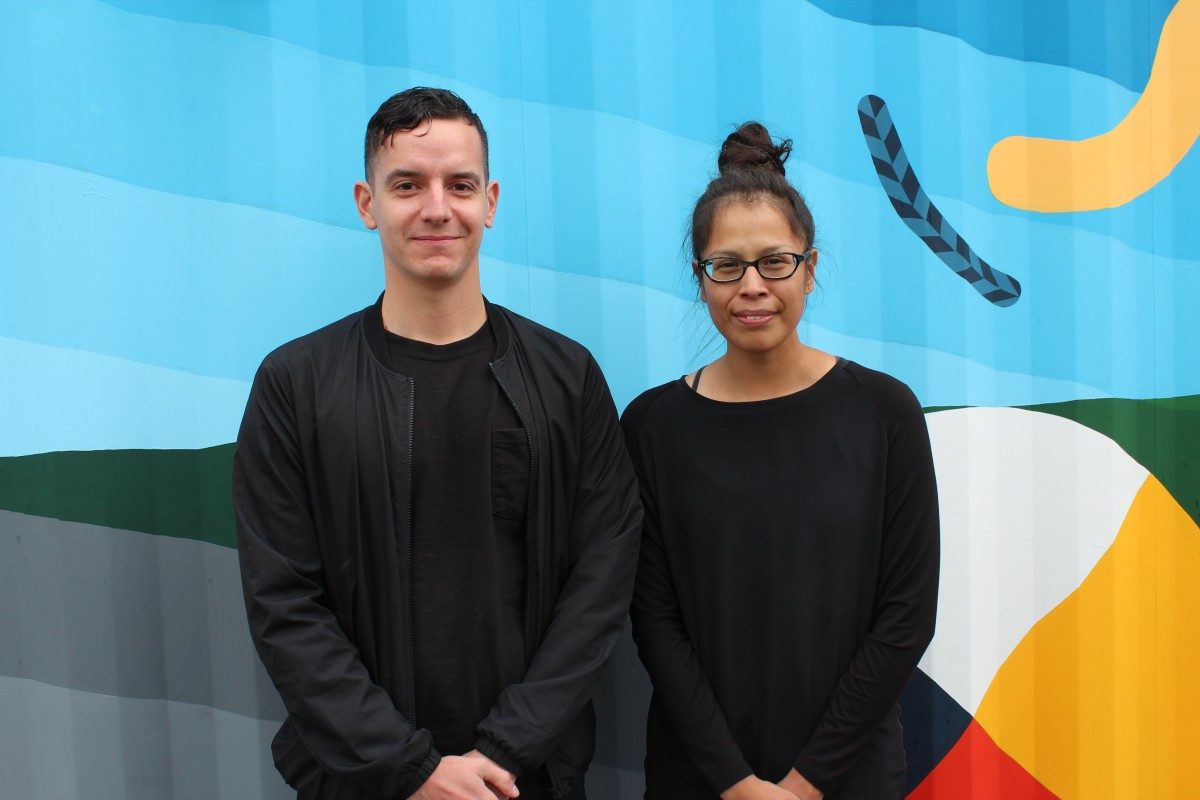 Community effort for artwork
Meet the two artists whose work is displayed on UMCycle building
September 18, 2017 —
Two University of Manitoba alumni, Dee Barsy [B.F.A./08] and Kenneth Lavallee [B.F.A./08], have their art displayed on the state-of-the-art UMCycle building. This new building fits in a larger development plan: The University of Manitoba Trans Canada Trail Greenway and High Street Landscape project. This initiative relies upon Indigenous design principles to realign The Great Trail from University Crescent to the heart of the Fort Garry campus. The resulting upgrades will ensure a better connection between campus and surrounding neighbourhoods, and the trail will better align with other City of Winnipeg Active Transportation infrastructure projects, helping create a high quality, city-wide Active Transportation network.
UM Today met with the artists to ask them a few questions about their work.
Tell us about the art.
Dee Barsy: This collaborative mural was painted in August 2017. Before we painted, we met with Indigenous Elders and community leaders at the Migizii Agamik. Kenneth, curator Jenny Western and I were able to share a bit about ourselves with these individuals. Afterwards, they shared insight into their interests for the mural. We tried to incorporate their ideas into the painting as much as we could.
Kenneth and I both have colourful palettes. We also paint with big areas of bright, saturated colour. Our painting styles have some similarities. I think that we were able to find harmony in that. I think that this created a fun working environment.
Kenneth Lavallee: It was a collaborative process with Elders-in-Residence. It was important there was a lot of symbolism in the art. We met with Elders and talked about what was important to be in it. Wheels, motion…medicine wheels seemed to fit. It evolved over time, but we came up with something bold and brave using our styles and palettes.
Why is it important to showcase this form of art to the community?
Dee Barsy: This is a collaborative mural created with the guidance of Indigenous Elders and community leaders from Migizii Agamik. The mural is a community effort.
What does having your finished art displayed on campus mean to you?
Kenneth Lavallee: We spent a month here in the summer and got inspiration walking around the campus. There are so many art pieces on campus and to have a piece that is going to be up forever – it's an honour, for sure.
What are you hoping the campus community takes away from seeing the art?
Dee Barsy: I hope that other individuals from the campus community will continue to plan collaborative community projects that bring together individuals from diverse communities. I believe this idea will strengthen the University of Manitoba community!
Kenneth Lavallee: I hope people come to the bike kiosk and understand the art. It's important to acknowledge the land we're on. I hope it brightens up someone's day!
This kiosk is informed by the Indigenous Planning and Design Principles embraced by the University of Manitoba. These principles have been established to guide planning and design on all University lands and campuses, based on the high priority placed on Indigenous Achievement and reconciliation at the University of Manitoba. These principles were developed collaboratively under the guidance of an Indigenous Advisory Committee and Subcommittee, and supported by the University's Indigenous Advisory Circle.