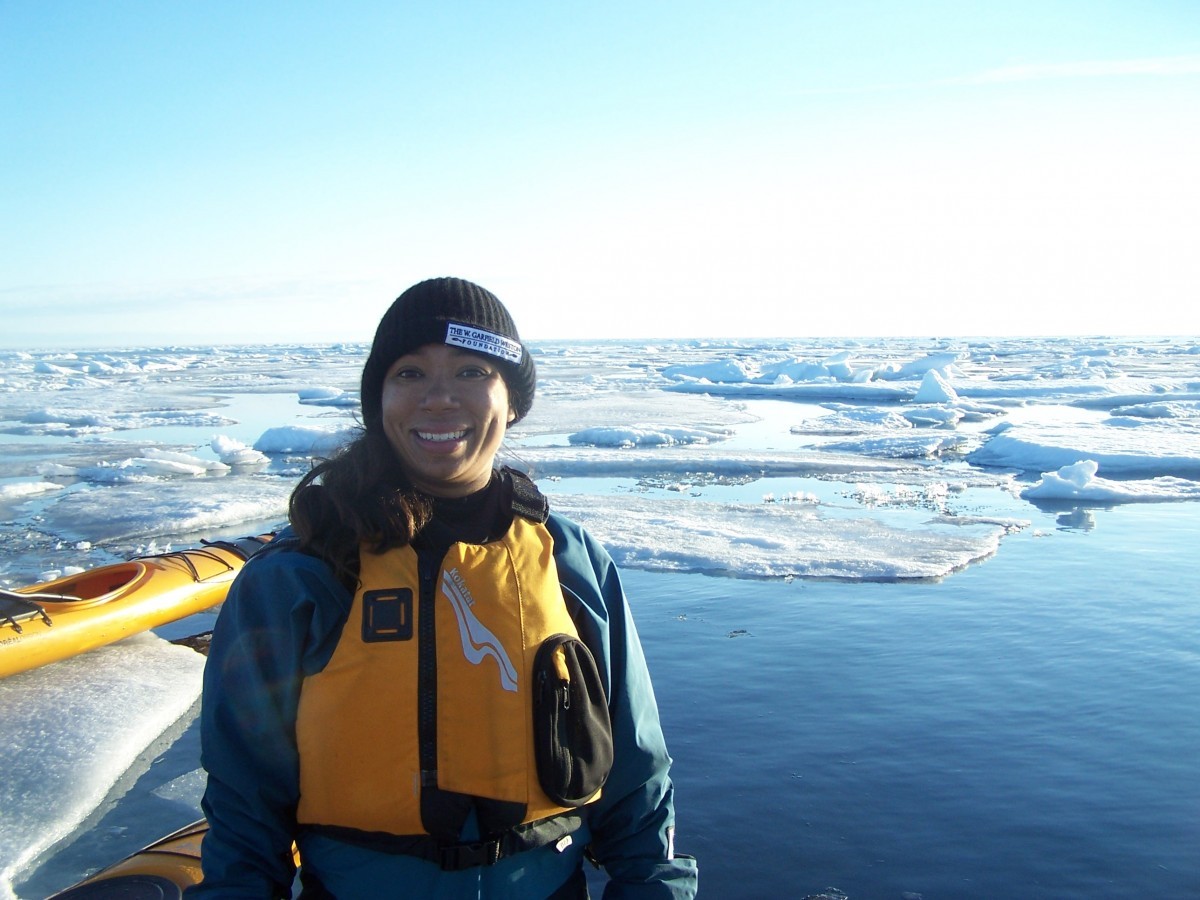 Meet Dr. Emily Choy, 2021 Honoured Alumni, Faculty of Science
February 2, 2021 —
Dr. Emily Choy [Ph.D./17], a Postdoctoral Fellow at McGill University and Environment and Climate Change Canada has been tirelessly contributing to research on climate change and its effect on the Canadian North. She has been collaborating with local Inuit and Indigenous peoples to further her work on how climate change impacts the Arctic ecosystem, specifically seabirds. Through her research, she aims to introduce a new perspective and bridge the gap between Western science and traditional knowledge. She is also an active science communicator, using social media and community outreach events to raise public awareness of research in the North.
We caught up with this Faculty of Science 2021 Honoured Alumni, Biological Sciences, to learn more about Dr. Choy's experiences, research and work.
Tell us about your work.
I study marine predators as sentinels of environmental change in Arctic ecosystems. Recently, I completed a study on the impacts of heat stress on thick-billed murres, an Arctic seabird. Murres have limited heat tolerance and low ability to dissipate heat, which makes them and possibly other cold-adapted birds vulnerable to Arctic warming.
What is something you are most proud of?
I'm most proud that the research I did at UM on beluga whales as sentinels of environmental change in the Beaufort Sea ecosystem was relevant and meaningful to communities in the Inuvialuit Settlement Region, for which belugas are an important traditional subsistence harvest. I'm proud to have been part of a research program that worked in partnership with northern communities and dedicated the time and effort to consult and share our results with Northerners at every stage of the project.
What are you most passionate about?
I'm passionate about many things, such as nature and the outdoors, and of course the Arctic. I am also very passionate about sharing my research with many audiences, especially youth and northern communities.
What is something others would be surprised to know about you?
I have a degree in Outdoor and Experiential Education, which included training in many outdoor activities. For example, as part of the program, I had to sew my own mukluks out of rawhide and where them during a 10-day winter backcountry camping trip in Algonquin. They kept my feet warm the whole trip and I still have them.
Have you experienced a Eureka moment in your life/or career? The "aha" experience– that flash of insight that suddenly explains something or shows us how to solve a problem?
Being part of the Victoria Strait Expedition in 2014 to find the lost ships (the Erebus and Terror) of Sir John Franklin as a Ph.D. student at U of M was one of the most amazing moments in my life and career.
Why UM?
Through U of M, I was able to do a Ph.D. on beluga whales in partnership with communities in the Inuvialuit Settlement Region and was co-supervised in the Department of Biological Sciences and at the Freshwater Institute at Fisheries and Oceans Canada. U of M has a very strong Arctic research focus and provides amazing opportunities to collaborate with government scientists.
What is your fondest memory of being a student at U of M?
I have many fond memories of being a student at U of M, and took part in many activities!
I played competitive ultimate frisbee on the U of M women's competitive team for 2 years, and in 2013, we placed 4th at the Canadian University Ultimate Championships! I also enjoyed playing the saxophone in the Biological Sciences Department band.
Do you have any advice to offer current students?
Take advantage of all of the opportunities offered at U of M and the broader Winnipeg community! Find a balance between your academics and hobbies/activities that you enjoy and find meaningful!
You can learn more about Dr. Choy's career and many other exciting career possibilities from several of our 2021 Faculty of Science Honoured Alumni at the Pathways to Exceptional Achievement Event on Feb. 4, 2021.
---
Alumni Speaker Panel & Q&A
Pathways to Exceptional Achievement – Careers in Science
2021 Honoured Alumni Awards
Feburary 4, 2021 at 3:30 PM (CST)
All are welcome to attend. (Virtual) Online Event. Please check your email for Zoom link or contact: foscomms [at] umanitoba [dot] ca.