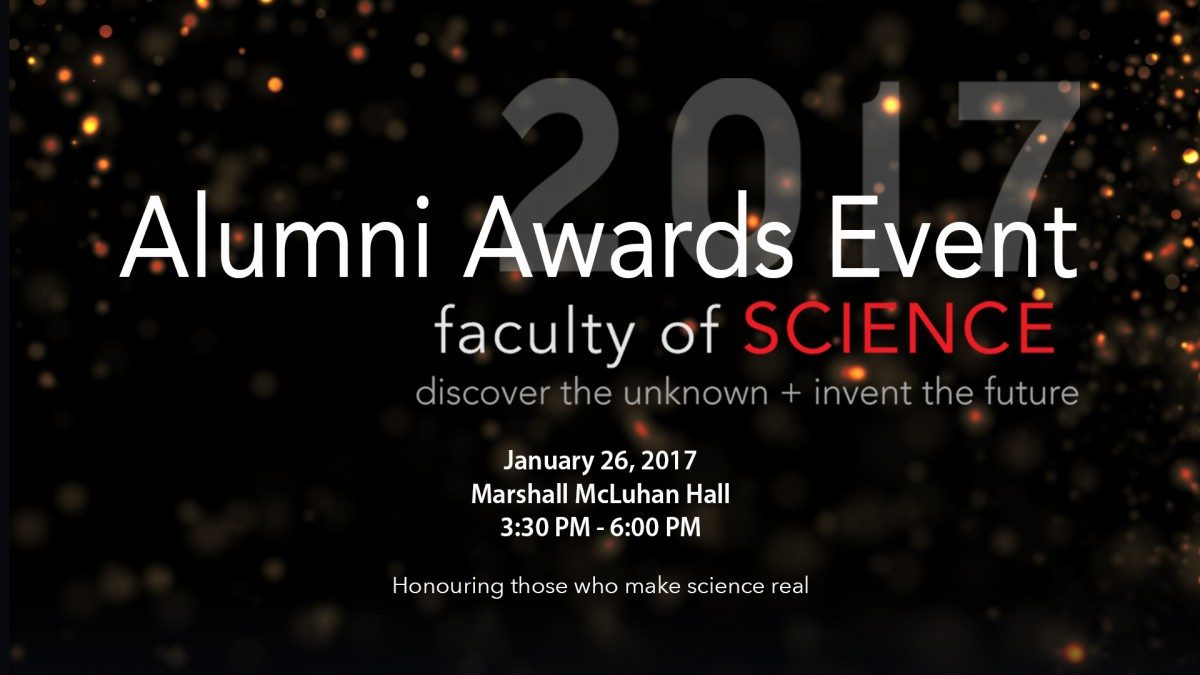 Meet Charles (Chuck) Loewen, recipient of the Faculty of Science Honoured Alumni Award 2017
Entrepreneur. Industry leader. Pioneer.
January 19, 2017 —
Chuck Loewen, [BSc (Hons.), Computer Science/85], always knew he would start his own business one day. He just didn't expect it to happen so quickly – or so successfully.
While studying Computer Science at the U of M at a time when computers weren't yet in every classroom and home, Loewen had a plan.
"Even though I wasn't sure exactly what I was getting into yet, I knew there was a lot of hype around computer science, and it was the future. So I thought I would get my Computer Science degree, work for five years, go back to school and get my MBA, then start a business, although I didn't know what kind. I always had an entrepreneurial bent," he recalls.
But within a few months after getting that first degree, he began working for himself, helping business people with their computer systems. "I was taking accounting training at the same time, so I thought, 'OK good, I'll create a company and do this until I can find a real job'. But I soon ended up with more work than I could handle, and I hired some of my friends from my graduating class to help out," Loewen says.
Thirty years later, that one-man company he named Online Business Systems has grown into a leading business and IT consulting firm that blends technology expertise and business expertise, based in Winnipeg with about 300 staff in six offices across Canada and the U.S. Loewen is the President and CEO, and still works very hands-on in the company, overseeing day-to-day operations and Online's corporate strategy.
"The world of the future will rely on people who understand business, technology and people. If you can learn how to solve problems you'll be very well equipped to be in that world. The major achievements of the world lie in front of us, not behind us."
Over the years, Loewen and Online have been honoured with numerous awards for entrepreneurship, strong management, and growth. The company has been named one of Canada's best places to work for 10 years in a row and one of the best workplaces for women for five years. Loewen has also received a number of personal awards, including being named as a finalist for Canada's Entrepreneur of the Year – Prairie Region by The National Post on three occasions.
Loewen is very active in the Winnipeg and Manitoba communities, chairing or participating in many community organizations. He has served on numerous boards, including Centre Venture Development Corporation, The Economic and Innovation Technology Council, The University of Manitoba Development Council, the Information and Communications Technology Association of Manitoba, and the Premier's Economic Advisory Council.
On Thursday, January 26, 2017, Loewen will receive the Faculty of Science 2017 Honoured Alumni Award for exceptional achievement in computer science.
Loewen spoke to the Faculty of Science more about his experiences and the path his education and career have taken.
What was your strongest memory from your time studying at the U of M, Faculty of Science?
We develop software too at Online, and about 12 years ago, one of my staff asked me a similar question after reading a report that software development was dead. I said it was fascinating that he had come to that conclusion, and told him the story about the little square and the big square. Today, there are more people developing software than ever developed software in 50 years.
What opportunity during or after your time in the Faculty of Science helped launch your career?
I feel I had a rock-star calibre education given to me. I was a Co-op student, so I went to school for four months, then worked for four months, and so on. I feel I got twice as much out of school, because we would learn things in class, then go out in the real world and see how things fit and how they were different. There were also some professors that really stood out to me. One of them was John Bate [now Head of the Department of Computer Science], who was just an amazing teacher. Also Mike Doyle, who was assistant department head and has since passed away, really took an interest in lots of students he thought had potential, and tried to encourage us to learn things and explore new areas outside of the curriculum. I was very fortunate, through meeting the right contacts at the University along with lots of hard work and effort, to really leverage the knowledge I gained there and advance my career in a meaningful way.
What is the most fascinating and/or engaging experience you have had during your career in science?
It was interesting to learn after graduating that the business computing world was actually less advanced than the world we had learned about. So much of what I learned has been helpful, even years later – so many things that later on, it made sense why we learned them, and they now helps solve an adjacent problem.
Another fascinating thing for me has been learning to manage people and how they think. There was just such a steep learning curve on some of those things. Early on, trying to understand how so many people have different viewpoints really surprised me and caught me off guard.
---
2017 Faculty of Science Alumni Awards Event
Recognizing graduates who have made remarkable contributions to discovering the unknown, inventing the future, and advancing the well-being of society.
January, 26, 2017
Marshall McLuhan Hall (University Centre)
University of Manitoba, Fort Garry Campus
3:30 pm- 6:00 pm
The event includes a panel discussion and Q&A where our distinguished guests will share their experiences and offer advice to students about selecting areas of study, navigating career paths, and using their degrees in sometimes unconventional ways.
A reception will follow. Everyone is welcome to attend. Space is limited, so please RSVP by email to foscomms [at] umanitoba [dot] ca to secure your spot.