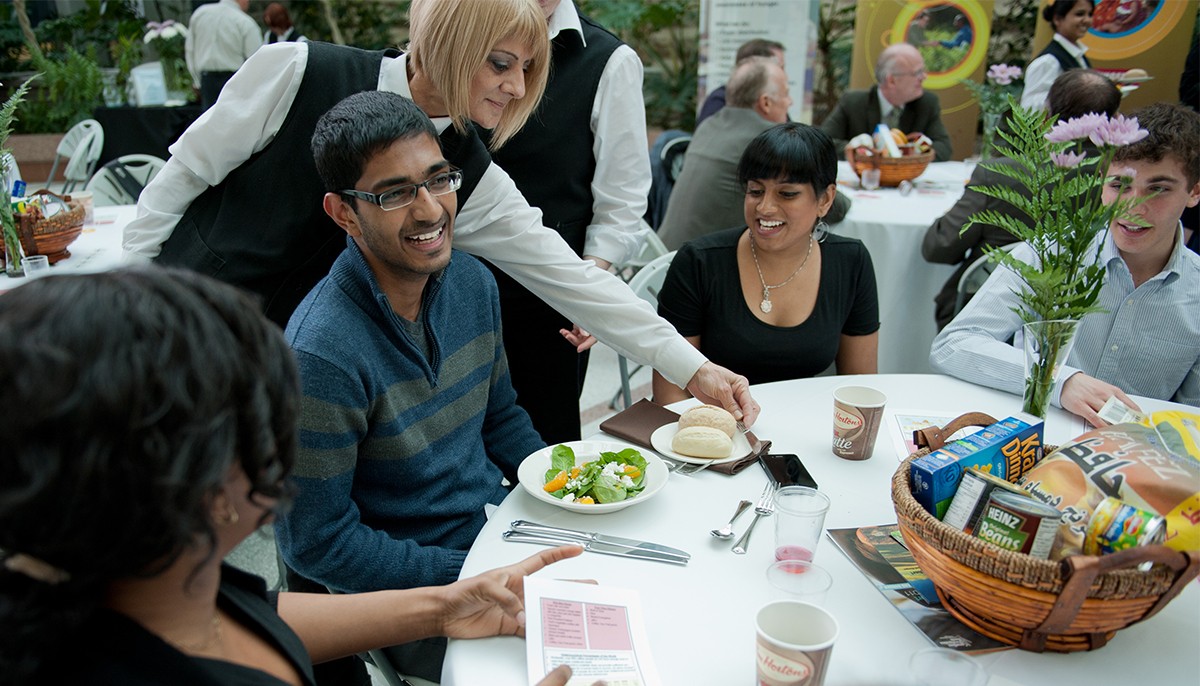 Med student fundraiser to benefit inner-city programs and food disparity awareness
February 2, 2015 —
A visual representation of how the world eats will take place Thursday, Feb. 5, 2015 in the form of a unique dining experience at the University of Manitoba's Bannatyne Campus.
The fourth annual Rich Man Poor Man event is a Manitoba Medical Students' Association fundraising dinner centered on the importance of food security, access to housing, and advocacy, featuring speakers and a silent auction.
The theme dinner is symbolic; one out of every eight people will receive a Rich Man meal, a three course meal with wine. The other seven will receive the Poor Man meal, a one course meal without wine – a meal typically eaten by 90 per cent of the world's population.
"Awareness and understanding of the social determinants of health are vital to a healthier society," says second-year U of M medical student and event chair, Shilpa Alex. "Rich Man Poor Man is just one way we can share the importance that proper housing, food security, and education have on the positive growth of our community."
This year, proceeds of the Rich Man Poor Man Dinner are in support of Resource Assistance for Youth (RaY) and Jazz on Wheels, a mobile, inner-city jazz education performance program.
The special guest speaker is Steve Kirby, Associate Professor and Director of Jazz Studies, U of M Marcel Desautels Faculty of Music and creator and director of Jazz on Wheels.
Tickets are $50 per person ($25/students) and can be purchased at Answers or 260 Brodie at the U of M Bannatyne Campus.
Over the past three years, the students have raised more than $6,000 for different local charities including Winnipeg Harvest and Siloam Mission. The funds raised have been donated in full, and have made actual impacts within the community.
What: Rich Man Poor Man Dinner
When: Thursday, February 5, 2015. 5:30 p.m. – 8:30 p.m.
Where: Brodie Centre Atrium, Bannatyne Campus, 727 McDermot Ave., University of Manitoba
For more information contact Ilana Simon, Director of Communications & Marketing, Faculty of Health Sciences, College of Medicine, University of Manitoba, 204-789-3427 or 204-295-6777 or ilana [dot] simon [at] umanitoba [dot] ca.