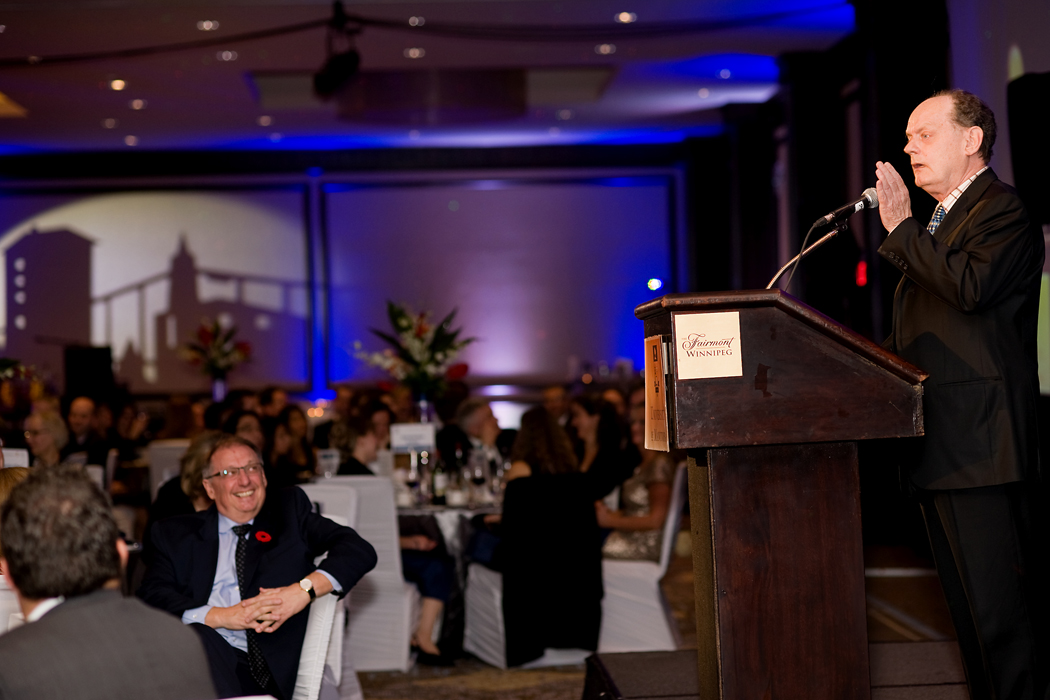 Med in the City gala celebrates 130-year milestone
November 5, 2013 —
The  Faculty of Medicine celebrated its 130th anniversary with an unforgettable Med in the City gala on November 2, honouring the faculty's past and its present focus on inner-city initiatives.
Canadian commentator Rex Murphy, emcee, set the tone at the fun-filled gala at the Fairmont Winnipeg attended by over 400 people, including medical faculty members and staff, alumni, physicians, students, partners and supporters.
One of the faculty's programs aimed improving science literacy among under-represented youth is an annual Biomedical Youth Summer Camp that invites students to the Bannatyne Campus for a week of unique hands–on activities and interactive lectures. This year the camp hosted over 200 young scientists from inner-city schools and 25 Aboriginal students from Northern Manitoba.
Another program that engages kids in science from an early age are the Science Buddies Clubs. The clubs run both during and after curricular hours; activities aim to raise awareness of healthy lifestyle habits by inviting students and professionals from the medical faculty to provide such activities.
Chelsea McCallum, who participated in Science Buddies for two years, stood at the podium and told the room full of strangers about the bronze medal she won.  It was a brave moment for the Grade 9 student from Saint Aidan's Christian School in Winnipeg's north end.
"I appreciated the work of my mentor; [he] helped guide me through the science process. He taught me things like you have to do an experiment three times and not to lose your data," said McCallum, who won the medal at a Manitoba Schools Science Symposium for her project "Mix it up!"
Dean of Medicine Brian Postl was moved to hear first-hand one of Faculty of Medicine's outreach programs have had a positive impact on the lives of students like Chelsea.
"The Med in the City Gala offers an opportunity to celebrate the achievements and history of Western Canada's first medical school, while giving back to the community where it continues to thrive," said Postl.
Students at the Faculty of Medicine are taught to be socially accountable in their careers as physicians through educational and clinical experiences, student and Faculty-led programs. We are proud to support these many pipeline programs and encourage social accountability amongst our learners and faculty members, he added.
Proceeds from the Med in the City 130th Anniversary Gala will be directed to these following organizations:
Biomedical Youth Program (BYP) & Inner-City Science Centre
The BYP, founded in 2006, engages Indigenous, new-Canadian, and inner-city children and encourages them to consider careers in biomedical health. Since its inception, more than 3,000 students have benefited from the BYP's activities and services through the Biomedical Youth camp, the Inner-City Science Centre, after school Science Buddies clubs and science fair mentors.
The Inner-City Science Centre is a unique initiative in Canada that continues to break down barriers for youth. The program, in partnership with Winnipeg School Division, brings high-end scientific resources and technology to children in the community, enabling them to develop academic and laboratory skills, career motivation, undertake science projects, and be mentored and encouraged in their learning.
View photo gallery here.
Summer Weekend Inner-City Supervised Hoops (SWISH)
SWISH is a free weekly drop-in basketball program on Bannatyne Campus during the summer for neighbourhood youth. In collaboration with the U of M's Bison basketball players and U of M faculties of medicine, Kinesiology & Recreation Management, Pharmacy, Dentistry and many other organizations. The initiative gives inner-city youth an opportunity to interact while participating in organized, supervised sport when few other summer programs are available to them.
View photo gallery here.
WISH Clinic
A partnership between the University of Manitoba and the Mount Carmel Clinic has brought the Winnipeg Interprofessional Student-run Health (WISH) Clinic to life. Located in Point Douglas, the clinic delivers health care to a community that has been identified as having the poorest health and highest level of poverty in Winnipeg.
Community members can attend not only the weekly clinic, but workshops and health seminars, use a computer with internet access, a free phone, and enjoy a healthy meal. All services are provided by students and licensed professional mentors in the areas of medicine, medical rehabilitation, dental hygiene, dentistry, dietetics, nursing, pharmacy, social work, and spiritual care.
View photo gallery here.