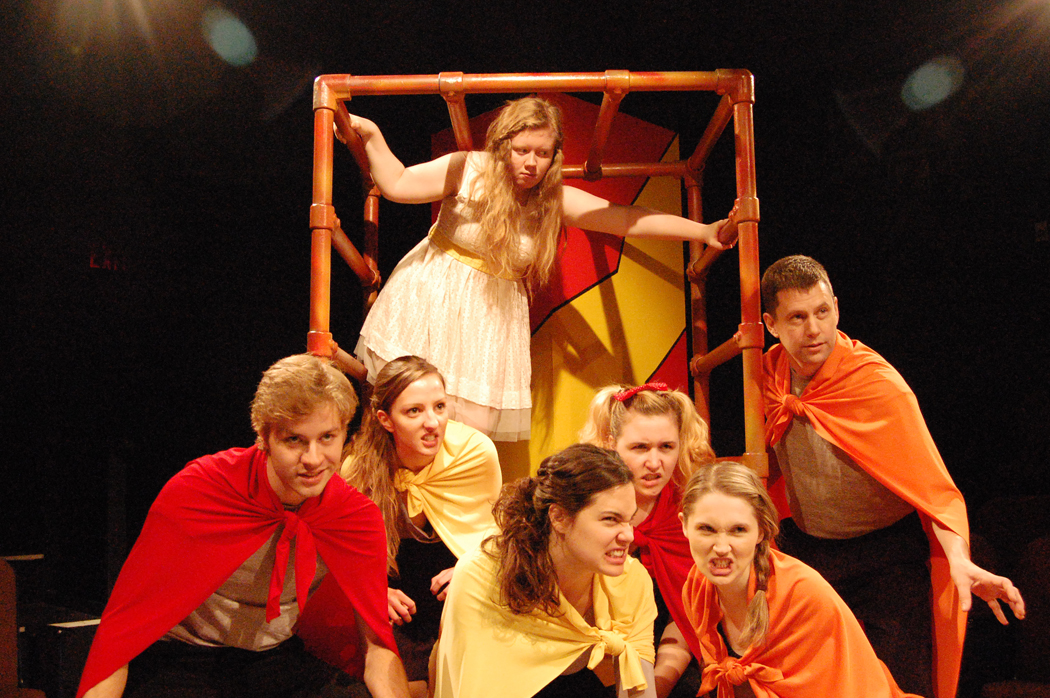 Mean streets
The fierce and ferocious Lion in the Streets opens Black Hole Theatre's 2013/2014 season
November 19, 2013 —
Black Hole Theatre's 2013/2014 season opens today with Lion in the Streets. The prowling lion in Black Hole's first play of the season works as both a metaphor and a representation of how acclaimed Canadian playwright Judith Thompson wrote her award-winning play. Framed as a linked series of dream-like episodes, Lion in the Streets provides glimpses into the dire circumstances of the characters caught in this underworld concrete jungle.
The eponymous "lion in the streets" could be interpreted as the violence, cruelty and danger that clearly rule the city streets in Thompson's play or as the ferocity — and resilience — that lurks inside every human being, including its lost young protagonist, Isobel. The Portuguese immigrant to Toronto is a ghost trapped inside her purgatorial wandering, what the playwright has described as a "journey-odyssey," reliving her past at the final moments of her murder.
The play premiered at Toronto's Tarragon Theatre in 1990 and has since been staged around the globe. It's been described as "dark," "harsh," "difficult," "disturbing," "haunting," "dazzling," "beautiful" and "fascinating." It's also been called a masterpiece.
U of M Faculty of Arts grad (BA Hon. in English) and Black Hole alumnus Ivan Henwood directs this year's season opener. He agrees that the play is intense — in fact, it was partly its "dark nature" that drew him to mount Lion in the Streets.
The former steel worker, who now runs independent local theatre company Snakeskin Jacket with partner Jane Walker (another Black Hole alum), is typically a person who "shies away from comedies," he says.
And the rewards of the dark script are profound. For his part, Henwood appreciates Thompson's "ability to connect viewers with the characters in such a short amount of time."
The episodic play includes myriad characters — 27 in all, played by 9 actors, including strong, meaty roles for the female actors. Some characters are on stage "for maybe 10 minutes," he says. "But in that 10 minutes, we are instantly right with them. We don't get a lot of back stories, but we connect with them."
The play's multivalence — much of the action proceeds like a dream, and it's often unclear where reality lies, or whose reality it is — also made rehearsal an interesting process.
"There are so many layers to the play," says Henwood. "The first few weeks, we just did table talk and looked at characters in a very realistic way….
"That doesn't quite take you where the play needs to go, though. After that, we dove into the fantasy aspects of it, the heightened reality."
The piecemeal method was necessary, the director notes, so that the actors could get comfortable with their characters. It was a helpful way to manage the complexity of the play and and worked well with his own collaborative approach to shaping of the overall story and feel of the production.
Henwood: The intimate venue "helps give the feeling that Isobel is trapped in this underworld nightmare, and she can't get out."
"The actors have directed it as much as I have," he says. "I can't give them enough credit."
Henwood also sees the Black Hole, located in the basement of University College, as perfect for the show, which will be staged in the round.
"In my opinion, it's the best venue in town. Both as a patron and a performer, [I love] the intimacy of the venue — you can literally reach out and touch the actors."
The intimate venue "helps give the feeling that Isobel is trapped in this underworld nightmare, and she can't get out," he says.
Though Thompson is likely dealing with Catholicism in this play, for Henwood, "it's really about human nature and the goodness that exists in all of us.
"And the act of grace, which Isobel experiences at the end of the play, is a personal choice, not a religious one. The possibility to overcome the evil, which Isobel does, it exists in all of us. And I think that's what enables the audience to relate to this powerful play."
Appearing in the main photo above the story are: (l to r) Ian Bastin, Steve Csincsa, Tasha Roth, Erica Hoiss, Kaeleigh Ayre, Sarah Putnam and Gislina Patterson.
( Scroll down for Q+A and information about showtimes.)
Q & A with Ivan Henwood
You said that you find directing difficult but that you love it. What is your favourite aspect of directing?
The most rewarding aspect of directing for me is the collaborative process. As I mentioned, I find directing very difficult because I am a poor communicator. I find it very hard to convey my vision, when I have one, to the cast. For that reason it becomes even more collaborative an effort. It is very organic. All these creative people get together to tell the story in the most interesting and honest way we can.
Describe one scene that blew your mind during directing Lion in the Streets.
Every scene in the play blows my mind. Each time we rehearse them they keep growing. What may seem very simple on paper becomes an entirely different beast when you have smart, enthusiastic actors willing to explore difficult territory.
How has it been to work with Chris Johnson, who was one of your first teachers in the program?
I am very happy to have the opportunity to work with Chris. He is a mentor and truly loves and supports theatre. I've had the privilege of working with Chris numerous times and I always learn a great deal from him. Lion in the Streets is no exception. He has the ability to come into a rehearsal and point things out to me that are in front of my face but I am blind to. He is a great person and is integral to the Black Hole.
In fact, if I were to build a new theatre on campus, I would name it after him.
LION IN THE STREETS
Directed by Ivan Henwood
Lighting and Set Design by Garrett Rusnak
Costume Design by Karen Schellenberg
Sound Design by John Bear
Featuring Abigail Allen, Kaeleigh Ayre, Ian Bastin, Steven Csincsa, Kevin P. Gabel, Erica Hoiss, Gislina Patterson, Sarah Putnam, Tasha Roth
Nov 19 and 26 at 7:00 PM
Nov 20 to 23 & 27 to 30 at 8:00 PM
Performances at the Black Hole Theatre, lower level of University College, 220 Dysart Road.
Tickets: $15 Adults, $12 Students and Seniors
Tickets can be purchased at the door or in advance.
For reservations and group discounts contact the 24hr Box Office at 204-474-6880.
Mature subject matter, language and content may be offensive to some.