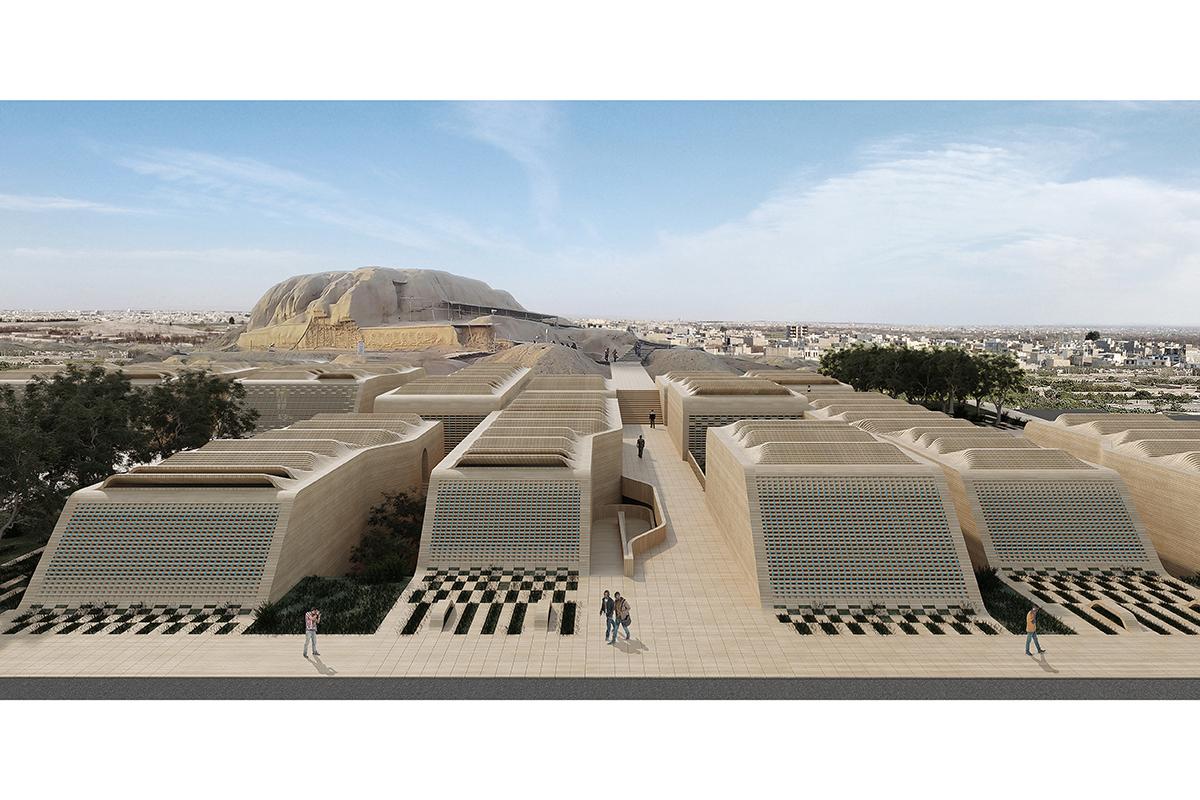 In the news: Master of Architecture alumni awarded international prize for design thesis project
January 13, 2023 —
The Faculty of Architecture is pleased to announce that Nushinsadat Samavaki (M.Arch '21) was awarded the 2022 Tamayouz Excellence Award for International Graduation Projects Award and the 2022 Architecture MasterPrize Student Award for her Design Thesis project "Lost and Found".
Nushin's thesis proposed a cultural-archaeological center in the Sialk historical site that serves a two-fold purpose: 1) a carpet weaving-center providing women weavers with a platform to build up one another, expand skills and increase revenue within the community through workshops, exhibitions and entertainment spaces, and, 2) an archaeological research and resource center that revitalizes early Persian design and landscape through further exploration, preservation, and display of weaving, pottery and other excavated artifacts formerly removed from the site, exported to France and exhibited in the Louvre.
Annually, the Tamayouz invites students of architecture, urban design, urban planning, architecture technology and landscape design worldwide to register and submit their graduation projects. This year, the winners and honourable mentions were selected out of 534 submissions, representing 147 universities and 56 countries. Selection of the top 10 submissions was made based on the award's assessment criteria, highlighting aspirational and transformative projects that tackle local and global challenges through holistic understandings of context. The Architecture MasterPrize™ (AMP) honors designs in the disciplines of architecture, interior design, and landscape architecture with the goal of advancing the appreciation of architecture worldwide.
Nushin's Design Thesis Advisor, Professor Herbert Enns notes "Nushin is such a talented architect. The subjects of the design thesis were the emancipation of Iranian women together with the maintenance and retention of national historical artifacts. Her project is also steeped in concepts of landscape integration – Kashan is famous for its ancient gardens. She deserves this international recognition as a role model, demonstrating tremendous moral strength, design ability and an exceptional work ethic."
The read more on Nushin's thesis visit: https://umanitoba.ca/architecture/department-architecture/nushin-samavaki
For further details on the 2022 Tamayouz Excellence Award for International Graduation Projects Award visit: https://tamayouz-award.com/international-architecture-graduation-porjects-award-winners-announcement-2022/#
For further details on The Architecture MasterPrize™ visit: https://architectureprize.com/winners/2022_s.php