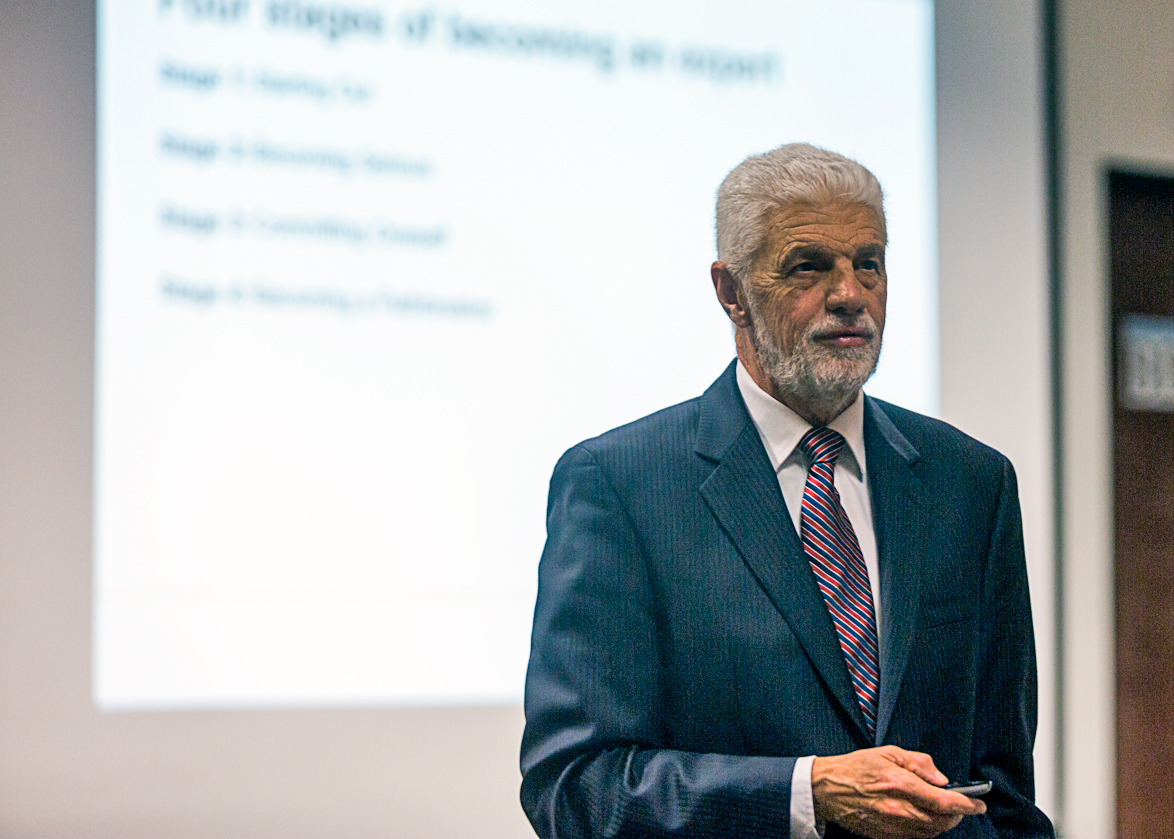 Master life at every stage: Stapleton
Homecoming keynote shares formula for success
September 14, 2017 —
Professor Emeritus John Stapleton says there is no better guide than education to successfully navigate every stage of life.
The educator of some 55 years, and former dean of the Faculty of Education shared his secrets of life mastery during the keynote speech at Homecoming 2017 on Tuesday.
"The question I ask is: If you're aging as I am, can you still learn? And more to the point, how competent can you become at some things?" Stapleton said in an interview before the event.  "You're going to age, and aging gracefully is bound up with the notion of how well you continue to learn."
Focusing on the work of Anders Ericsson who proposed that anyone can master almost anything after 10,000 hours of practice (popularized by Malcolm Gladwell), Stapleton explained how he has applied these ideas—sometimes successfully, sometimes not so much—in the pursuits of learning French, practicing tennis and playing the odds in low-stakes bets at Assiniboia Downs.
Dean David Mandzuk applauded Stapleton's passion and drive in pursuing his interests.
"He's clearly an exemplar of what life can be like after you retire. And has set the bar really high for the rest of us."
Stapleton's message for teachers is a reminder that mastering the field of education takes years of practice, Mandzuk said.
"Perhaps the message is to take the pressure off themselves to be that perfect teacher, to realize there are ups and downs, that mastery in any area takes time, and not to be so hard on themselves at a time when there are huge expectations for teachers," Mandzuk said.
Following the keynote, Stapleton said he didn't want his speech to be limited as applying only to professional development and adapting to changes in the marketplace.
"I'm at a stage of life where I am not learning for employment purposes, I am learning how to live. My view of lifelong learning is education for life, not simply education for employment."
Now 75, Stapleton led an accomplished career in education.
Starting his teaching career in St. John's, Nfld., in 1962, Stapleton taught in grade schools and universities for 15 years in four provinces before his appointment as dean of the Faculty of Education at Lakehead University, a role he held for a five-year term from 1979-1983.
It was after his time at Lakehead that he applied to the University of Manitoba, and was appointed as dean and professor of education in 1983. Stapleton served two terms from 1983-1993.
Stapleton went on to serve two terms as rector of St. Paul's College, 1995-2006, and principal-pro-tem at St. Mark's College and president of Corpus Christi College in Vancouver from 2009-2011 when he returned home to the U of M to cap off his long and successful career.
Stapleton was recognized as dean emeritus in 2002, he became a Knight of the Order of St. Gregory the Great, a title conferred by Pope Benedict XVI. In 2006, he was awarded the Distinguished Service Award from CASEA and presented an honourary degree by Regis College, School of Theology, University of Toronto in 2010.
President Barnard praised Stapleton's storied career.
"All of us are aware of his decades of service toward our shared goal of creating better futures by educating people who will shape the world, Barnard said. "Honestly, I consider it a personal privilege to be associated with the university where you have made so many major contributions for all of us.  You've enriched many lives. You've enriched this university."