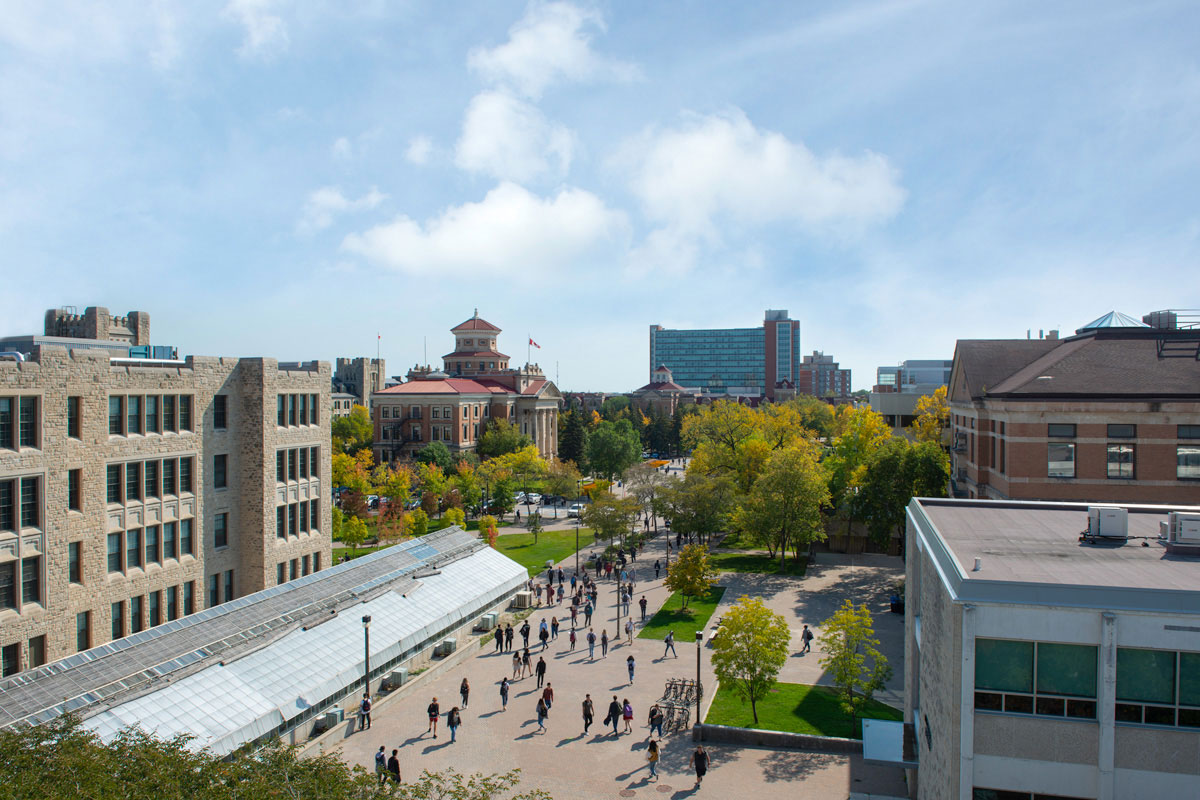 Mask mandate lifted: Things to know
Message from Diane Hiebert-Murphy, Provost and Vice-President (Academic) and Naomi Andrew, Vice-President (Administration)
April 28, 2023 —
Starting May 1, mask use on campus will be encouraged but not required. As we prepare for this transition, we are happy to provide some additional information to Monday's announcement that may be of interest to you as staff and faculty.
AIR QUALITY
UM is committed to meet or exceed ASHRAE 62.1 2022 air quality and ventilation standards in our 140 oldest and most-used learning spaces by Fall 2023.
The Ventilation Rate Procedure (VRP) from ASHRAE 62.1 2022 is used to determine acceptable minimum outdoor air flow rates for each space. It looks at ventilation as a measure of Indoor Air Quality (IAQ), but also considers filtration, building controls, and other systems that impact IAQ. Going forward, we are committed to meet or exceed ASHRAE 2022 in our learning spaces as we are also making improvements to achieve a minimum air change rate of 4 ACH. An ACH rating of four means that the air purifier cleans the room's full volume of air four times every hour. More information on recent HVAC upgrades was shared last week and can be found here.
MASK USE ENFORCEMENT
Beginning May 1, mask use will be voluntary in all campus spaces. As the president said in his message, individuals' risk assessments will vary and we all must respect the decisions of others. Faculty are welcome to encourage mask use in their classrooms, and managers are welcome to encourage mask use in meetings. However, mask use remains entirely voluntary and though it can be encouraged, it will not be enforced.
For Summer Term, UM will continue to encourage mask use by making masks available and promoting mask use in the university's weekly all-employee and all-student newsletters (Week at a Glance, Student Weekly and Grad Student Weekly). Current signage that communicates a mandatory mask protocol will be replaced with signage that encourages mask use.
STAY HOME WHEN SICK
UM continues to support employees and students to stay home when sick. Support staff and faculty members have access to sick time and leaves as per their collective agreements or as supported by university policy. Please be considerate of others when assessing your own health and ability to attend campus, and be respectful of other's choices. Remember that a number of non-contagious conditions can present as illness.
As always, please continue to follow good public health practices such as hand washing, wearing a mask, getting vaccinated and staying home when sick. For Summer Term, masks will continue to be available through Libraries, UMSU and can be ordered by any faculty/unit through EPIC at no cost.
Thank you to our faculty and staff community for supporting an outstanding work and learning environment. We will continue to provide updates going forward, including on air quality and HVAC upgrades. We wish you all the best for a safe and healthy Summer Term.