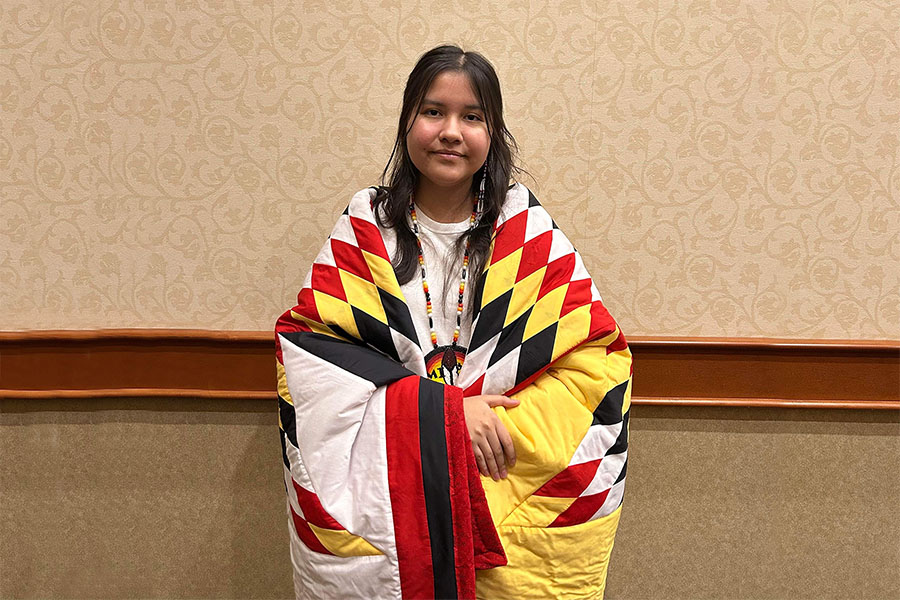 Manitoba Indigenous Youth Achievement Awards for Access Program students
One to pursue Statistics, the other to take her Athletic Therapy skills back home
December 15, 2022 —
Two Access Program students have been honoured with 2022 Manitoba Indigenous Youth Achievement Awards (MIYAA). Since 1994, the awards have recognized the outstanding achievement of Indigenous Manitoba youth in a variety of fields. This year's awards gala was held on Nov. 23.
Academic Senior – April Quill
April Quill was recognized in the Academic Senior category. At the ceremony, the U1 student heading into the Faculty of Science next fall to pursue statistics was provided with a star blanket, a medallion, and a $1,000 scholarship from Manitoba Hydro. Her sister had suggested she apply for the award.
"This is a huge honour to be recognized for my accomplishments. It is validating and it reminds me of the strength it took to get here," says Quill.
Born and raised in Winnipeg, and a member of the Sapotaweyak Cree Nation, the award recognized Quill for her post-secondary academic excellence as an Indigenous student from 20 to 24 years of age, and her volunteer efforts as a mentor.
"I've experienced discrimination throughout my educational journey and for a time I believed I was not capable of succeeding in academics. I don't want other young Indigenous students to feel discouraged in pursuing their goals, so I strive to be a role model to others facing the same challenges… I understand the value of mentorship. I have been mentored by my sisters, my professors, and even my peers so it is important for me to give back and mentor the younger generation of Indigenous students."
Quill discovered her love of statistics thanks to Access Program instructor, Emily McKinnon. "I really enjoyed her classes. They were very interesting. She introduced a fun way of learning. It nurtured my interests. She made it challenging and I really enjoyed working with numbers. I think it was the way she taught. It was so engaging."
The Access Program provides holistic support to students choosing to begin an academic journey. It helped Quill to overcome obstacles and make the transition to university after dropping out after her first attempt in 2019. This time, she has held a perfect GPA of 4.5. Her sister introduced her to the program. "I followed her path. I wouldn't have made it through the first year without Access. It is an inspiration to be a part of a program with other Indigenous students with similar backgrounds as me. We can relate to each other."
In addition to Access, she is also involved in UM Faculty of Science's Wawatay Program. "It provides similar resources to Access but is geared to research and sciences. There are a lot of opportunities. Next fall, I will work in the lab for the very first time."
In the future, Quill plans to explore her career possibilities including research or perhaps heading to law school.
Health North – Antonina Kandiurin
Antonina Kandiurin was recognized in the Health North (of the 53rd parallel) category. She received a star blanket, a medallion and a $1,000 scholarship from Manitoba Health Care Providers Network.
The Cree, Métis and Russian student from Churchill is a member of York Factory First Nation studying Athletic Therapy in the Faculty of Kinesiology and Recreation Management with plans to return to her community and bring her services to the hospital. She's known about the MIYAA awards since she started university, and finally applied for one.
"It's nice to be recognized. I am doing this because I am passionate about it. But the award means a lot to my parents who have worked tirelessly to get me here."
At 17, Kandiurin moved to Winnipeg on her own to start university with the support of the Access Program. "They helped me so much… with course selection, getting used to living here, tutoring and personal counselling. They have been amazing and gone above and beyond their roles. I am diabetic and when I fainted in class, my personal counsellor and professor came with me to the hospital and drove me home. Honestly, they have done so much for me."
She was drawn to study Health Sciences because she had experienced the disruption of having to travel to the city every few months for health services unavailable in her community. More recently, she refocused her studies on Athletic Therapy with the guidance of an Access counsellor, noting she had also played sports.
Kandiurin hopes to graduate in 2023 and then she plans to acquire some additional skills like massage therapy and acupuncture. She is considering the accelerated program for Athletic Therapists to become Registered Massage Therapists. "I have a few more things to do. I plan to work at the hospital in Churchill. I would like to bring my skills back to the community. The more I can do the better."
Kandiurin looks forward to making a difference.
"There are no physical therapists and athletic therapists working in Churchill. Injured people just go to the doctor and get pain killers. It leads to a decreased quality of life for people. My end goal was always to go back home, to take my skills and benefit my community."
With notes from Jennifer MacRae