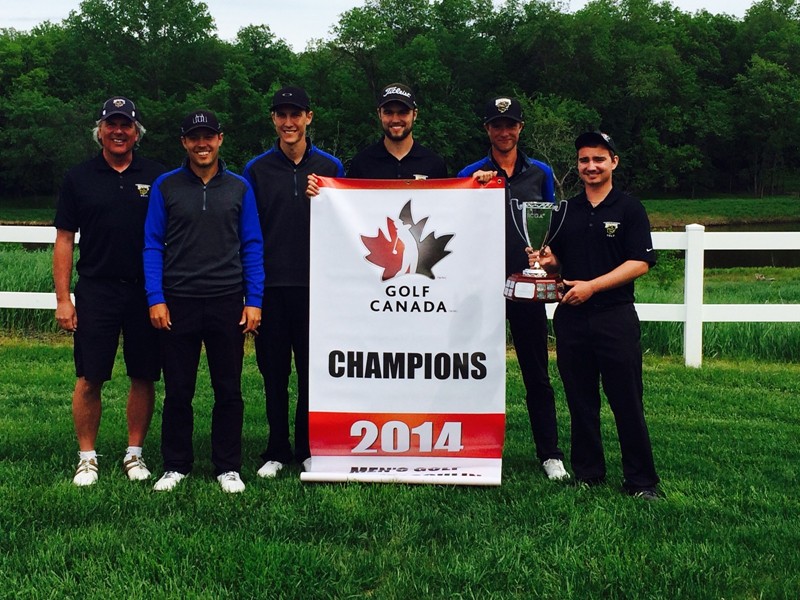 Manitoba Bisons men's golf wins 2014 CIS Championship on home soil
June 9, 2014 —
This is the first time the Bisons have captured the Canadian University/College Championship since it originated in 2003. The best team result for Manitoba prior to this championship was third place (2004, 2006).
The Bisons men's golf team finished the national event in style as they widened their two stroke advantage to a 12 stroke victory over defending champion UBC.
Manitoba posted a +4 (292) fourth round result in very windy conditions (34 km/h) and was the only team to shoot under 300 in all four rounds of the tournament.
Individually for Manitoba in the fourth round, fourth year Scott Mazur shot a fantastic -1 (71) – the only under par score of the round – while fourth year Bryce Barr finished with a Even (72). Team captain and fifth year Josh Wytinck (pronounced Wit-ing) fired a +2 (74) along with third year Brodie Gobin shooting a +3 (75) and fourth year Charlie Boyechko (pronounced: Boy-etch-coh) ended up with a +8 (80) result. Scott Secord, of UBC, won the individual men's title after shooting a -7 (281) overall score after a fourth round +5 (77).
In the overall individual men's leaderboard, Wytinck (74-71-70-74=289) was top Bison at +1 and finished with a fourth place result while Mazur was tied for fifth with a +3 (79-71-70-71=291). Both Wytinck and Mazur were also named to the Championship All-Canadian Team. Barr completed the championship also tied for fifth with a +3 (73-73-73-72=291) plus Boyechko (69-76-72-80=297) and Gobin (77-72-73-75=297) were tied for 16th.
Bison golf head coach Garth Goodbrandson enthused after the championship win, "We had lots of great teams over the years but this is the hardest working team and it is a great feeling to see all their hard work pay off with this success. They really deserved this victory. After the way they handled themselves in the third round, we had all the confidence in the world going into round four. It was an excellent result on the final day."
Heading into this national championship, the Bisons were coming off an impressive 2013 fall season when they won four of six team tournament titles.
Wytinck exclaimed after the championship, "This was a perfect way to cap my Bison career. Everyone contributed throughout the week and that was the definition of a team win. After the first round (nine strokes back), to come back and win by that many is huge and I couldn't be any happier!"
Mazur added, "It was never easy to play the final round and hold a small lead but we all had confidence in everybody posting a score and staying focus on our games. It is so awesome to win and to have the so much success over the last two years with this core and then win the big one. It is pretty incredible and a special day winning and also playing at home."
2014 Canadian University/College Championship from June 2-6 in Winnipeg
*Full results are displayed at: http://golfcanada.bluegolf.com/bluegolf/rcga14/event/rcga144/contest/3/leaderboard.htm
The Bison men's golf team Canadian University/College Championship results for the last 12 years:
–    2014: finished first after all four rounds; First national championship for Manitoba; Josh Wytinck was top Bison as he finished fourth with a +1 (289) score; Wytinck and Scott Mazur named to Championship All-Canadian Team.
–    2013: finished fifth after all four rounds; Bryce Barr was top Bison as he finished tied for 16th with a +9 (293) score.
–    2012: ninth place after all four rounds; Bobby Wiebe was top Bison as he finished tied for eighth with a +1 (285) score.
–    2011: sixth place after all four rounds; Josh Wytinck was top Bison as he finished tied for 25th with a +23 (311) score and was also the first round leader of the national championship after firing the low round with a 68 (-4) score.
–    2010: ninth place after final rain-shortened three rounds
–    2009: 16th after three rounds
–    2008: 16th after three rounds
–    2007: 14th after three rounds of play; Tyler Mancini was the lone Bison golfer to play all four rounds and tied for 15th with a +1 (289) score.
–    2006: third place after all four rounds
–    2005: fourth place after all four rounds
–    2004: third place after all four rounds
–    In the inaugural year – 2003: ninth place after all four rounds
Golf Notes: The Manitoba Bisons men's golf program has had an amazing past three seasons with 12 team tournament titles (2011: three; 2012: five; 2013: four), the most in a three year span since the program started play in 2000 and now hosted plus won the national championship at their club course (Southwood). Garth Goodbrandson was named men's golf coach of the year at end of national championship.