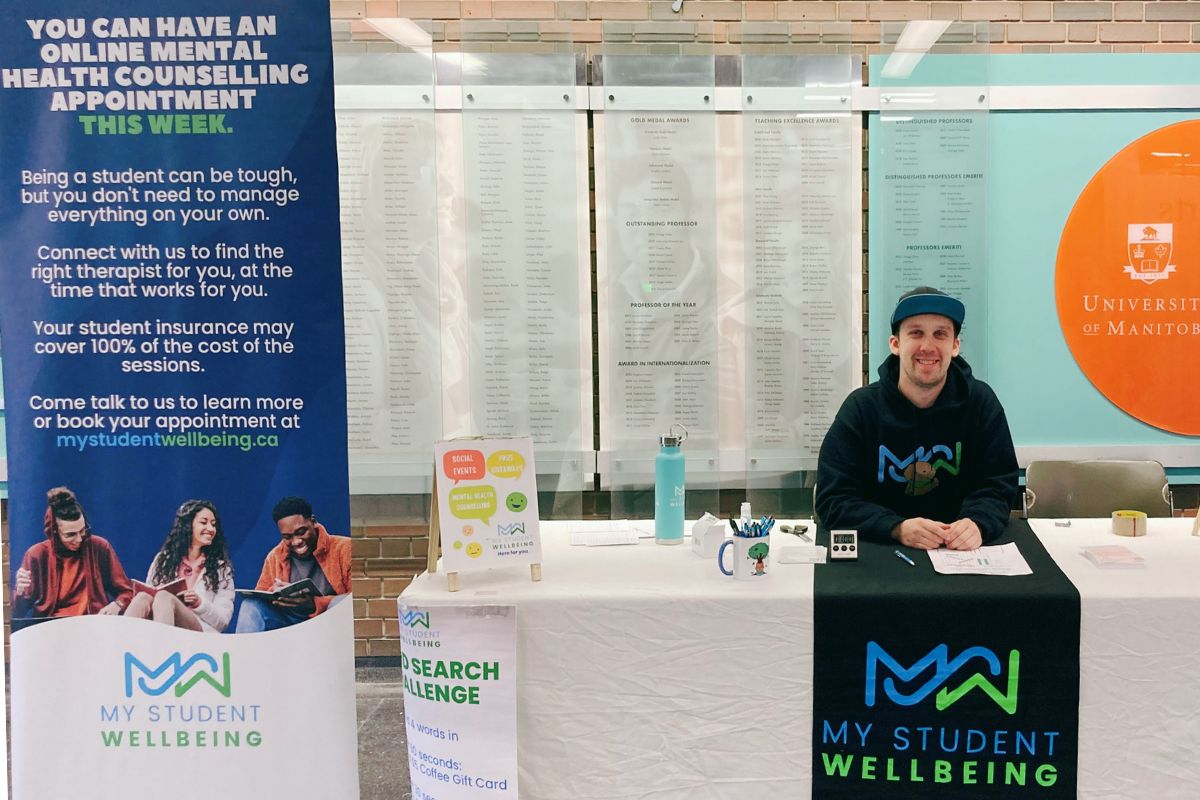 Making mental health services more accessible for students
Tyler Phill, founder and CEO of My Student Wellbeing, leverages Asper MBA to offer unique mental health service
October 27, 2023 —
If you walk through University Centre or peruse r/umanitoba, you've probably come across Tyler Phill [MBA/22].
Phill, a graduate of the Asper School of Business MBA program, is the founder and CEO of My Student Wellbeing, an online platform where university students can access virtual counselling sessions with qualified therapists. A former social worker who gained business knowledge and skills in his MBA, Phill strives to make mental health services more accessible for students.
Whether he is tabling in UC, inviting students to try a word-search challenge or replying to overwhelmed reddit users, Phill approaches his work with a personal touch, intent on making connections to raise awareness about mental health resources for students.
"When I was a student, I recognized a huge need for accessible mental health services and that people are waiting to get help. I saw that students often don't know that they have coverage for counselling," says Phill.
He designed My Student Wellbeing to work with student insurance and offer direct billing and timely service, meaning that students can see a therapist at little or no personal cost to them using their UMSU-provided coverage and that most students can secure an appointment quickly—in just a few days, but often sooner.
Re-energizing social work, inspiring entrepreneurship
Working in frontline social services before his MBA, Phill joined the program hoping to make a greater impact. "I loved frontline work, but I saw staff burnout, funding challenges and organizations that weren't operating efficiently," he says. "I felt I could have a greater impact in any organization as a manager or director. I started the MBA with this in mind."
Phill prepared for a challenge and ultimately found inspiration. "I'd never really thought of myself as an entrepreneur until I started the MBA," he says. "The feedback from my classmates, the case and venture competitions and the opportunities to test my idea in group projects were all invaluable. Eventually, I had looked at My Student Wellbeing from every angle and felt confident that I could launch it. I believed in the idea, and that belief is the most powerful thing for an entrepreneur."
The social solopreneur
This belief carried Phill through competitions where the most common feedback he received was that solo entrepreneurship is a challenge. He doesn't disagree with this assessment, but he is driven by what this career path has offered him despite the challenges of leading it on his own.
"I love the creativity of entrepreneurship and the freedom to build a business that aligns with my values," he says. "Social work is value- and people-oriented. It's about making the world a better place and proceeding with an ethical mindset; it's also rooted in listening—to the community, to staff and to clients. My social work background informs who I am today as an entrepreneur."
From a soft launch in May 2022, Phill has since seen great success, offering a roster of qualified therapists, while he handles all the hiring, social media strategy, website management, finances and operations on his own.
He's benefited from the Stu Clark Centre for Entrepreneurship (SCCE), an on-campus resource for all UM students. From webinars with accomplished entrepreneurs to start-up coaching, the SCCE aims to ignite UM students' entrepreneurial goals and inspire the next generation of entrepreneurs at any stage in their ventures.
Future connections
These days, Phill can also be found tabling in front of the SCCE—updating the team on how far he's come and connecting over a shared passion for entrepreneurship. He's looking forward to what's next for him.
"I want to take My Student Wellbeing national and work with more universities. At Asper, I was captain for our MBA Games team a few times, so I have this amazing network of MBA students and alumni from across Canada to tap into," he adds.
A bone fide solopreneur, who leads so much of the work of My Student Wellbeing himself, Phill has created a platform that taps into connection and accessibility. Despite the long days, he is energized by the work and these connections.
"I've made something that's making mental health services more accessible. That's the best thing I could be doing with my time," he says. "If I can make a difference for just one student—provide a service that gives them some hope—every hour I've put in was totally worth it."
—
Phill encourages everyone to learn more about My Student Wellbeing. Anyone interested in discussing mental health resources, entrepreneurship or My Student Wellbeing can reach out to him directly at admin [at] mystudentwellbeing [dot] ca.