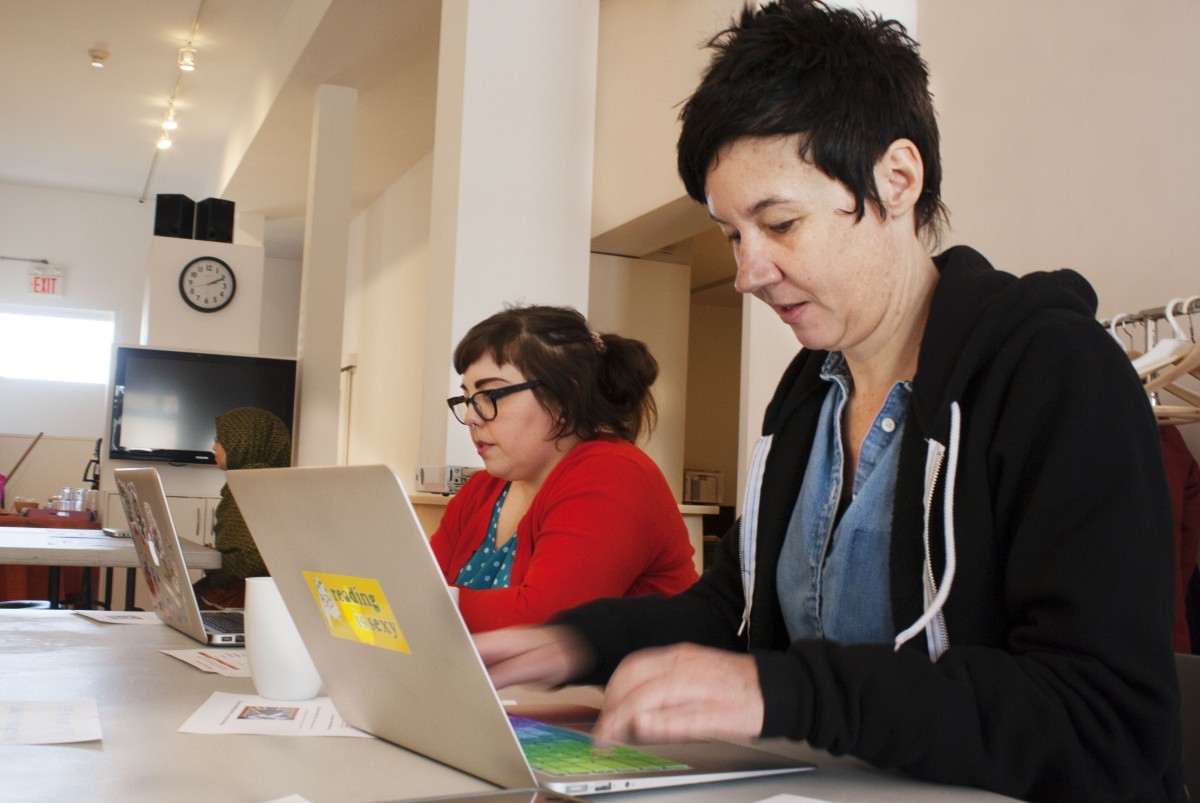 Mahfuzur Rahman, PhD candidate, delivers successful wiki workshop to local Women's art group
March 12, 2015 —
Last Sunday morning, on International Women's Day, Mahfuzur Rahman, a PhD candidate, in the Department of Computer Science, found himself hiking down to Main Street in search of a Women's art group.
The organization known as, the Mentoring Artists for Women's Art (MAWA) collective had advertised a Wikipedia workshop tutorial for their members in celebration of International Women's Day. When their speaker cancelled at the last minute, they contacted the Department of Computer Science and Rahman, an unlikely candidate, happily agreed to volunteer.
Rahman provided basic instructions to the small group of Winnipeg women on how to contribute to Wikipedia, with the goal of improving coverage of women in the arts. The effort was part of a larger International set of events called the Art + Feminism Wikipedia Edit-a-thon. The movement started in New York City last year and has grown to include more than 70 delegate locations in 11 countries this year.
 "The participants discovered that there were either no relevant articles related to renowned local artists and performers, or that the information found on Wikipedia was too brief or lacking in detail. They were excited to be able to create, update and validate the information. I think this is a great initiative and I would like to thank MAWA for organizing the event and inviting me to be part of it."
The list of local artists included a surprising number of notable names, such as renowned painter and founder of Art City Wanda Koop, and Aganetha Dyck, a ceramicist and sculptor who won the 2007 Governor General's Award for visual and media arts.
 "Through collaborative authorship and as e-volunteers, we have the opportunity to enhance and validate the contents of Wikipedia and make it a great source of information."
Rahman's current research interest is in parallel and distributed systems. Under the supervision of Peter Graham, he is studying the efficient resource management of cloud computing and is contributing to studies on the modelling and simulation of cloud computing systems. He completed his Master's degree in Computer Science at the University of Manitoba and his Bachelor's degree at the Islamic University of Technology, in Bangladesh.
For more information:
Department of Computer Science
Winnipeg Free Press article: Celebrating women's success? There's a wiki for that, by Jessica Botelho-Urbanski