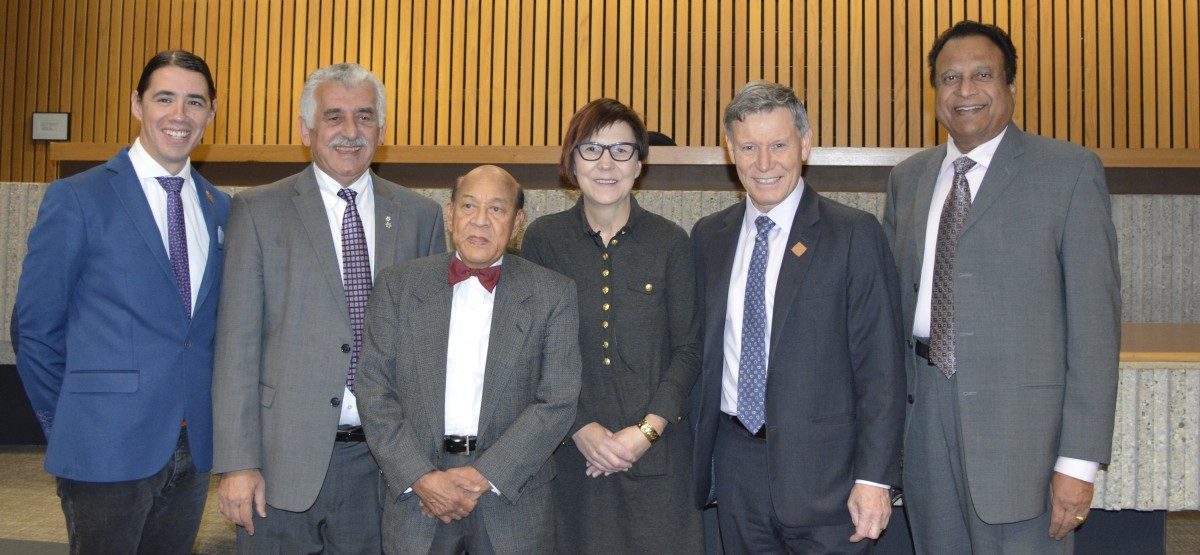 Mahatma Gandhi Peace Award 2018 Ceremony at Robson Hall
Dr. Cindy Blackstock on Reconciliation, Social Justice and Children's Engagement
October 12, 2018 —
Where once a man was silenced for speaking up for the rights of Indigenous children in Canada, this week, a woman was celebrated for doing the same. Child welfare activist Dr. Cindy Blackstock received the Mahatma Gandhi Peace Award of 2018 on Thurs. Oct. 11 at a ceremony held at Robson Hall, Faculty of Law, for her work advocating for equal access to public services for Indigenous children.
Blackstock's First Nations Child and Family Caring Society won a major human rights ruling in 2016 that should have finally brought proper services to First Nation children. Tired of hearing governments say they can't fix the situation overnight, she asked Thursday's audience, "Are we so broke as a nation that the only way we can keep our head above water is racially discriminating against little kids?"
In her remarks after receiving the award, Blackstock told the story of her hero, Dr. Peter Henderson Bryce, the medical doctor who tabled a report on the Residential School system in 1907 that criticized the health conditions he found in the schools. He recommended reforms to ensure the children had access to basic human rights.
Where Bryce was silenced and his report ignored, Blackstock's convictions and tireless advocacy ended up winning a favourable decision from the Canadian Human Rights Tribunal. She said she does not want to fight the government in a courtroom. "I'm a social worker," she said, "I like teddy bears and kids." But her love of teddy bears and children led her to believe firmly in Jordan's Principle, named in honour of a Manitoba child with many medical problems who died never having lived in his family home. The principle states that every child in need should have equal access to public services.
For more on the Mahatma Gandhi Peace Award, please read the article Cindy Blackstock receives Mahatma Gandhi Peace Award by Marjorie Roden in Windspeaker.com.