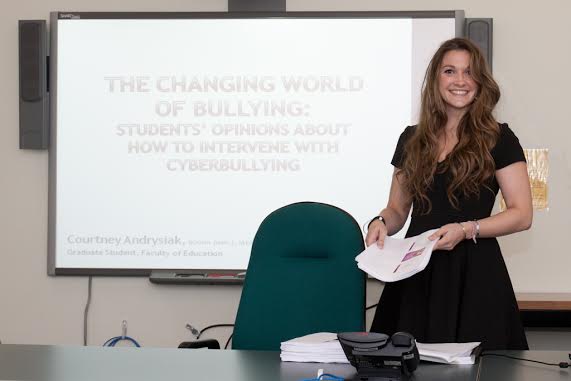 M.Ed. graduate wins national award for cyberbullying research
Thesis, honoured by Canadian Counselling and Psychotherapy Association, explored coping strategies and resilience of bullied students
March 16, 2015 —
Students who have been cyberbullied are quite resilient and use a variety of coping strategies to help get them through, a Masters of Education graduate found while writing her thesis. For her efforts, Courtney Andrysiak recently won a national thesis award.
Andrysiaks's topic, "The Changing World of Bullying: Students' Opinions about How to Intervene with Cyberbullying," has been honored by the Canadian Counselling and Psychotherapy Association. She has been chosen as this year's winner of the CCPA's Master's Thesis Award, which will be presented at the CCPA's annual convention May 21 in Niagara Falls, Ont.
She says she is pleased to have received the nod. But for Andrysiak, who defended her thesis last June and who is now working toward applying for her PhD in counselling or clinical psychology, "the exciting part" is that the summary she wrote will be published in the association's journal, the Canadian Journal of Counselling and Psychotherapy.
Andrysiak's work examined ways that youth who had been cyberbullied in high school made it through those experiences—and in many cases, were able to thrive as adults.
She says she may have been chosen to receive the award because there is little research in this area of cyberbullying. "They said it was a significant contribution to the research."
Most studies, she said, have examined what cyberbullying is or the rates of cyberbullying. "Not a lot of people were studying actual intervention or what youth were doing."
"Courtney focused her thesis on studying cyber survivors of cyberbullying, which is an area in the literature that requires further attention," says advisor Priya Mani, associate professor in the Faculty of Education. "I thought the unique angle that she took to frame her research question would provide Courtney with a platform for further investigation and exploration in a new and emerging field."
The findings
As part of her research, Andrysiak spoke with survivors after they left high school in hopes that they would have some insight about what survival strategies were effective for them. She also interviewed school counsellors and one school administrator about ways in which they supported students who were cyberbullied.
"My main finding was that youth used one of two survival strategies—online or offline coping."
Students who were being bullied on social media or websites did several things to help themselves online, Andrysiak found. That meant changing their contact or email information, cancelling or limiting their social media presence and telling authority figures about the bullying.
Offline strategies were more surprising to Andrysiak. She found a number of students took up mindfulness training, which she didn't expect in such a young group—ages 18-26—when she interviewed them. Others joined support groups or got involved in activities that made them happy, such as volunteering or exercising, to take their minds off the bullying. Some students changed schools.
Andrysiak also found that students had a "natural tendency to be survivors. So they had this mentality of, 'I'm not going to let them win, I'm going to be stronger.'" This helped them continue to be resilient and not let the experience run their lives after the cyberbullying had passed, she says.
In addition, Andrysiak  spoke to school counsellors and a school administrator and found that many of the efforts against cyberbullying in schools were in the area of prevention—including educating students about protecting their identity on social media. Schools also encouraged students to speak up if they were victims of cyberbullying.
Andrysiak says the kinds of bullying students encountered was varied. Some were bullied by groups of people, others by one individual. Some had a one-time experience while others were bullied for a period of time.
She says that both men and women in the group experienced cyberbullying—it wasn't limited to one sex.
For females, she found "there was the classic 'Mean Girls'—a group of people ganged up on one person and all of them contributing," but for both men and women there were other instances where the bullying was instigated by one individual.
Survival instinct
In the end, though, Andrysiak said she found that the students she had interviewed had survived and even thrived after the cyberbullying incidents.
"Most of the individuals—I think 10 out of 11—were pursuing post-secondary education. So they seemed to be well adjusted."
Andrysiak, who is currently taking courses prior to applying for her PhD, hopes to continue her research into coping and resiliency.
"Resiliency is pretty big in the positive psychology movement. I would really like to take my findings and make it into an intervention strategy and see if it is effective. Either a one-on-one counseling scenario or a group counselling scenario."
Mani says she is impressed with the work Andrysiak has done so far.
"I consider her an invaluable emerging researcher and I believe that she will continue to make important contributions to both the scientific and service components of the counselling psychology field."