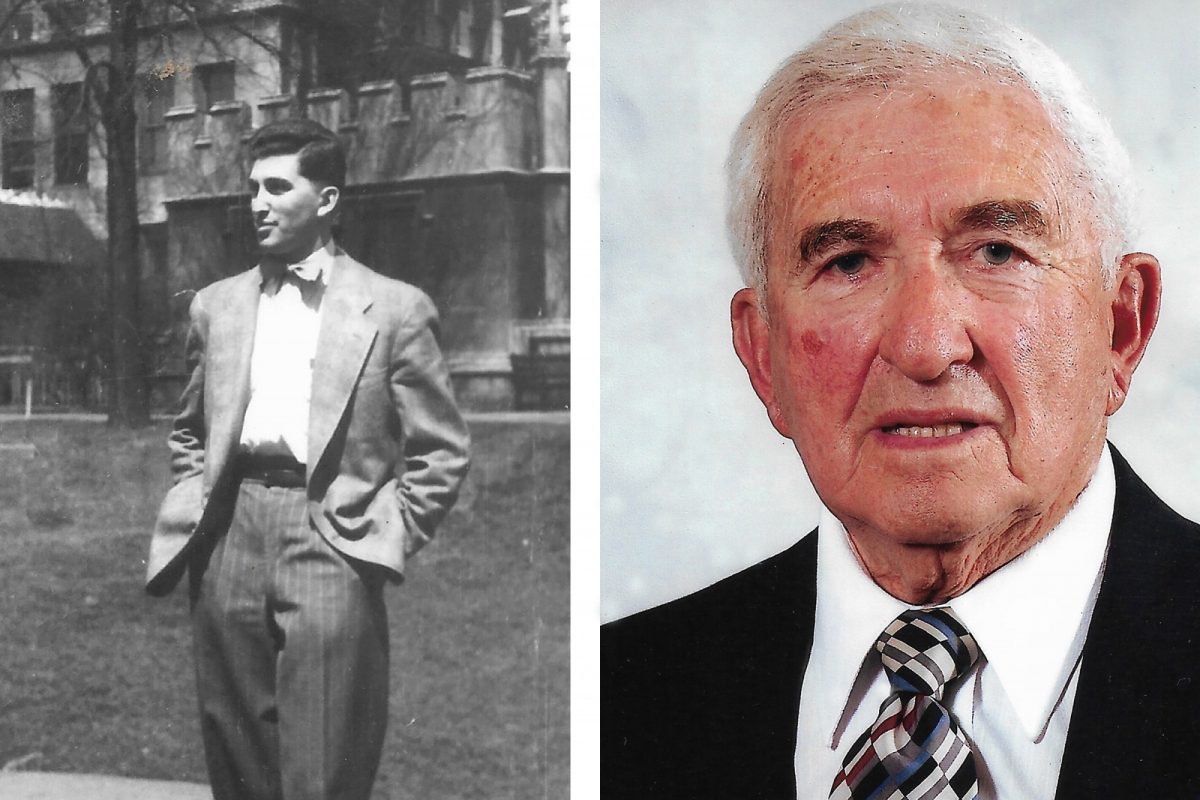 Looking Back on a Lifetime of Academia
An interview with Asper alumnus
January 27, 2021 —
This fall semester marks 70 years since Dr. William Lazer [LLD/87, BComm/49] taught his first marketing course at the University of Manitoba. An offhand decision to be a professor set Lazer on his life's path. Lazer attended high school at St. John's Tech in Winnipeg, and then joined the Royal Canadian Air Force. After World War II, he decided to attend the U of M because he had some RCAF benefits to use towards his tuition.
"I thought maybe I'd study history, but learned that for Commerce at that time, the grade point average was 65 to pass, versus 50. I thought I'd find out whether I was of university caliber, so I enrolled in commerce," It was a good choice. Lazer has written almost two dozen marketing books, lectured around the globe, and established friendships with some of the greatest entrepreneurs of our time. He says he owes it all to the University of Manitoba. "I've had more opportunities than most. I really have been very fortunate," says Lazer, from his home in Boca Raton, Florida.
"The University of Manitoba changed my whole life. I never thought I would attend university. I never realized that life could be this good."
After completing his Commerce degree, Lazer earned his MBA at the University of Chicago. He returned to the U of M in 1951 to teach marketing and helped develop the first executive program in the School of Commerce, "I had a ball with the students. My goodness, I was having so much fun."
Next came a PhD from Ohio State University, which at the time, was a premier school for his marketing specialty. He also enjoyed stints as a post-doctoral Ford Foundation Fellow at Harvard and MIT. In 1955, Lazer joined Michigan State University, where he taught for nearly 30 years. He was designated Professor Emeritus, Honorary Alumnus, and received Michigan State's highest academic honor– the Distinguished Faculty Award.
In 1982, Lazer settled into his role at Florida Atlantic University as the first Eugene and Christine Lynn Eminent Scholar in Business Administration.
"I was invited to lecture at FAU and then they offered me the Eminent Scholars Chair. I accepted, and found that some faculty wanted to play golf and tennis, and weren't too interested in working," Lazer laughs. "Well, I just kept on doing my thing. Joyce and I were fortunate enough to travel the world over doing so. We were at home as much in Japan or Singapore as we were in the U.S., we thoroughly enjoyed international experiences and other cultures."
Asper School Dean, Dr. Gady Jacoby has called Lazer a "prolific academic". He published more than 20 books, has written myriads of articles, and monographs for professional journals and business periodicals.
"There are actually a couple of hundred articles, I just never kept track of the number," Lazer chuckles. "I know others do, but to me, once it's published, what the heck is the significance of keeping score?"
While recognition is clearly not important to him, Lazer has received notable honours including: US Embassy Scholar Fellow of the Royal Academy of Arts and served as President of the American Marketing Association; Honorary Fellow of the Academy of Marketing Science; Honorary Fellow of the Marketing Institute of Singapore; and Honorary Director of the Japan Marketing Association. He was a member of the U.S. Presidential Blue Ribbon Committee on Trade Negotiations under three US Presidents. The University of Manitoba conferred upon him the degree of Doctor of Laws, honoris causa, in 1987.
Over the years, Lazer has formed friendships with some of the greatest success stories of the last century, including Sam Walton of Wal-Mart and Masatoshi Ito, founder of Seven and I Holdings (7-Eleven) among other entities. Lazer always got a special kick out of these experiences and what they brought into the classroom.
"When you're an academic, in front of an executive group, within the first 20 minutes, someone is going to challenge you. They force you to demonstrate your knowledge and competence to address their issues. "That was wonderful, because I had wondered if I could hold my own with business and government leaders. It was so personally satisfying to be able to do so."
Looking back on a lifetime of academic success beyond his belief, what was the best part of it all? Lazer met his wife, Joyce [BA/53], at the U of M. They raised two children Randy and Simone, and enjoyed 61 years of marriage, until she died in 2015. "Joyce was the best gift I ever received. The University of Manitoba is very special to me. It opened up an unbelievably rewarding profession and lifestyle beyond my wildest expectations."