Limited edition print fundraiser to enhance the experience of Indigenous students studying at the School of Art
November 1, 2021 —
Take home a piece of the School of Art Gallery collection in support of University of Manitoba Students – The School of Art has launched a limited edition print fundraiser to enhance and support the experience of Indigenous students studying at the School of Art.
On Sale: Robert Houle limited edition print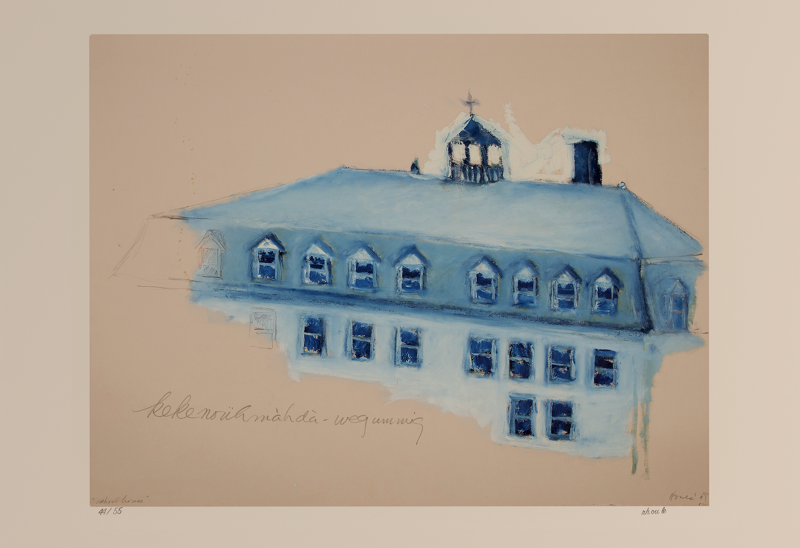 schoolhouse
(from the Sandy Bay Residential School Series)
2018, Printed on Epson Somerset Velvet by Trevor Baziuk in an edition of 100 with 10 artist proofs
Editions 11-55 are available through the School of Art
18" x 15" unframed
$250.00
The artist has generously permitted the School of Art, University of Manitoba, to create this reproduction.
All proceeds from the sale of this print will be used to enhance and support the experience
of Indigenous students studying at the School of Art.
Visit the School of Art Shop or contact the Gallery to learn more: gallery [at] umanitoba [dot] ca
About the Sandy Bay Residential School Series:
Robert Houle's Sandy Bay Residential School Series is comprised of twenty-four drawings, drawn over consecutive days. The work was triggered, in part, by a nightmare about an incident that the artist had repressed. The dream, of elementary school abuse, occurred after Houle returned to Sandy Bay for a funeral, and shortly after the Government of Canada's Official Statement of Apology to residential school survivors. Loose sketches rendered in oilstick depict the school playground, dormitory beds, and religious figures as remembered, fragmentary and haunting. Handwritten Saulteaux texts, inscribed in pencil, capture thoughts that resurfaced as the artist worked on these drawings. Forbidden from speaking his maternal language as a child, thinking and writing in Saulteaux was a part of Houle's process of healing by letting go of conflict in his mind—a traditional counterpoint to concepts of reconciliation and forgiveness.
About Robert Houle:
Robert Houle is a contemporary Anishinaabe Saulteaux artist, curator, and writer. A member of Sandy Bay First Nation, Manitoba, Houle lives in Toronto. He received a BA in Art History from the University of Manitoba, a BA in Art Education from McGill University, and studied at the International Summer Academy of Fine Arts in Salzburg, Austria. He is the recipient of numerous awards including the Founder's Achievement Award from the Toronto Friends of the Visual Arts (2020), two honourary doctorates, the 2015 Governor General's Award in Visual and Media Arts, the Eiteljorg Contemporary Art Fellowship (2003), the Toronto Arts Award (2001) and the Janet Braide Memorial Award for Excellence in Canadian Art History (1993).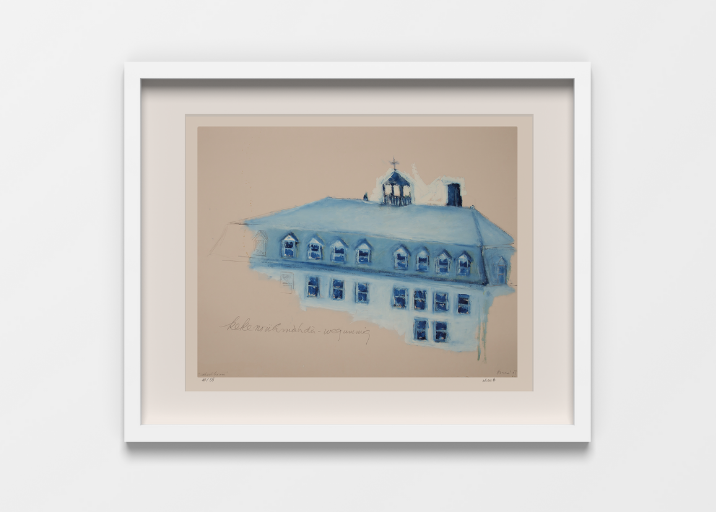 (FRAME NOT INCLUDED)