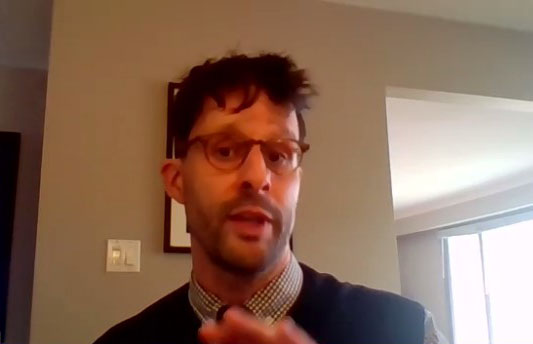 Lifelong learning is transformative, leading to personal development and success
Extended Education experts talk lifelong learning
September 29, 2021 —
In the past 10 years, over one third of UM alumni have studied with Extended Education, taking our courses and short programs to complement their education and advance their careers.
The Division of Extended Education has existed at UM in some form since 1949 and as the need for lifelong learning continues to evolve, so too does the Division. At our Sept. 24 UM Homecoming webinar, Talk Lifelong Learning, we looked at the concept and the history of lifelong learning, how the world is changing, and how we are responding with programs like our new Certificate in Building Information Management (BIM), developed in consultation with both industry and university experts from the Faculties of Architecture and Engineering. BIM launches this winter, with a micro-certificate in Artificial Intelligence: Machine Learning Solutions (AI). The AI program was also designed in consultation with both industry and university experts and the intent is to show professionals how AI and Machine Learning can solve the most important challenges in a business or organization.
People, knowledge, action
"At Extended Education, we have learned a lot about translating knowledge into action," says Paul Jenkins, Manager, Program Delivery. "We have come to realize that our programs are all about people and empowering them. Our programming fuses sound theoretical learning with practical applications."
The term 'lifelong learning' has been around for centuries, says Rod Lastra, Associate Dean (Academic), noting writers and philosophers have reflected on it for some time. But one of its unifying concepts is the acknowledgement that formal learning never really ends. Gone are the days where one degree led to one career, he says; "lifelong learning will be essential."
Lifelong learning is bigger than adult education, says Jenkins. "Education and learning are very different things. Learning is much broader, more transformative than education. Human learning is about being and becoming. It's a mindset, a process and practice of learning throughout life. It's the silver bullet, part of the human experience. It's tied to individual development, professional advancement, and social advancement. It's an unending process."
Taking agency on your future
Lastra agrees. Lifelong learning is more than just continuing education, he says. "Learners are increasingly becoming agents when it comes to their own future. Our alumni are doing it on their own initiative."
University continuing education units including Extended Education were "born of a major transformation in society," says Lastra. "We have a wealth of experience and expertise. The core questions of the 21st century are different but our core remains the same- combining sound theoretic knowledge and applied learning. We need to understand economic trends, skills mapping, and what we need to offer. We need to understand our learners from those who are foundational learners to those who need to upskill and reskill."
The learning environment has changed, with so many web and other resources now available. Learners are more sophisticated and we have to acknowledge and respect that, he says.
"The skills gap­­­ — the gap between what employers seek and what employees have — has widened. That's driving change. Our role is to respond."
A need for collaboration
Jenkins says, as society and the economy become more complex, the education system is changing. There is a need for more collaboration and conscious integration with industry and all of the various parts of today's dynamic education eco-system. "There is a shift away from fixed knowledge towards a set of cognitive capabilities and a focus on the agility and one's ability to learn and to evolve. Far and away, the most dominant and recurring theme is evolution. We are seeing this everywhere." The key is greater collaboration, a conscious integration of education. "Lifelong learning is a valuable lens to keep it all in focus."
Extended Education is embedded within a global institution, the university, and it informs our initiatives, says Lastra. "Human cognitive ability cannot be micro-credentialed so the degree will continue to hold its value over time. But micro-credentials, or credentials of short duration based on high-demand skills, will augment degree programs. Their outcome will be controlled by learners."
An undergraduate education will continue to have currency, Jenkins says. "It's a question of skills gaps. Smaller, focused programs will be necessary and complementary to degree programs. We need to think about integrating them within degree programs. But first we need a clear definition of what they [micro-credentials] are. Then we can integrate them in a meaningful way."