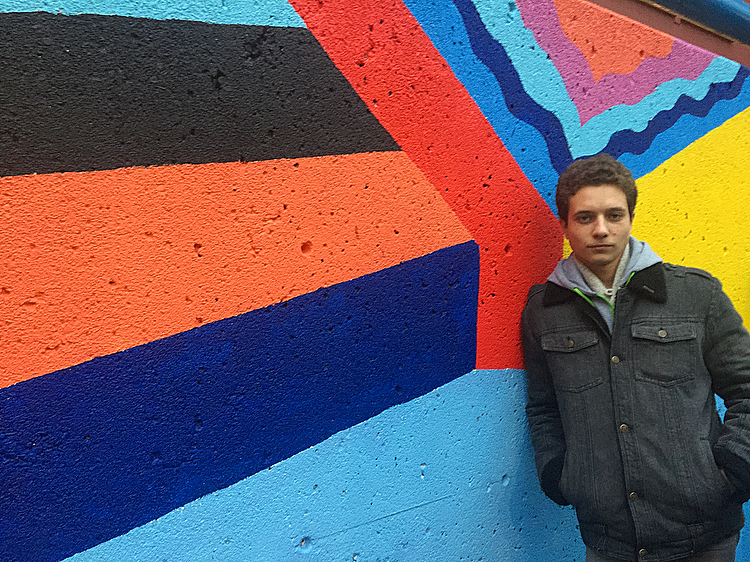 Life among the stars
21-year-old U of M student nominated for two Young Entertainer Awards
April 2, 2019 —
Nazariy Demkowicz grew up with a passion for science and exploration which resulted in incredible research opportunities and experiences. A past Schulich Leader Scholarship nominee destined for a career in science, Demkowicz shifted his academic focus at the University of Manitoba to further delve into his lifelong interest in film. His enthusiasm and talent for film was unmistakable and the science and film student is nominated for two Young Entertainer Awards being presented on April 7 in Hollywood, CA.
UM Today caught up with him before he leaves for the awards show this week.
HOW WAS IT LEARNING YOU WERE NOMINATED FOR TWO YOUNGE ENTERTAINER AWARDS?
It was thrilling! It was truly a pleasure to work on Siberia and Channel Zero with such amazing and dedicated cast and crew; I am grateful to have had those experiences. To be recognized for your work is very humbling and it makes me very happy, having received two nominations from the Young Entertainer Awards in Hollywood is encouraging to continue pursuing that passion of mine. I am honored to have been asked to present as well! I look forward to the event at Warner Brothers Studios, and to supporting the young talent in this industry.
CAN YOU TALK A LITTLE ABOUT YOUR EXPERIENCE AT THE UNIVERSITY OF MANITOBA AND HOW YOU ENDED UP SHIFTING FROM SCIENCE TO FILM?
I am grateful to have been able to try different things in University due to the generous scholarships I received going into my first year; they allowed me to ultimately find a more specific focus in my studies and enjoy my time in University whilst pursuing an education. I have managed to study multiple subject matters over the course of being at the University of Manitoba, including following through with science and film in parallel. Upon taking numerous courses over a broad range of topics in science I found myself interested in our physiology and how it is affected by the things we consume, finding a more specific route for my degree in the area of nutritional sciences moving towards dietetics. I have continued through film studies as well, taking courses on filmmaking, acting, and theory, ultimately receiving award nominations and wins for my student film projects in previous years. I could not have achieved these accomplishments without the support of my professors with a big willingness to help their students.
AS A PAST SCHULICH LEADER SCHOLARSHIP NOMINEE, WERE YOU ALWAYS INTERESTED IN SCIENCE?
I am very honored to have been nominated for a Schulich Leader Scholarship by Elizabeth Bergen at Kildonan-East Collegiate. I studied in the Advanced Placement program throughout high-school and was accepted into their Biomedical Internship program. From signing out science experiment books from the library in junior high to completing a 100-hour internship observing surgeries and shadowing various professions of the medical field at Concordia Hospital through the Biomedical Internship Program, science is a passion of mine that has held my interest over a number of years. What helped me continue through my studies whilst pursuing both passions was the wonderful guidance offered by the teachers throughout my academics.
WHAT ATTRACTED YOU TO BEING A CAREER AS AN ACTOR?
My first role came to me on the set of the Academy Award Winning Feature Film Capote directed by Bennett Miller, starring the distinguished Philip Seymour Hoffman. I played Paul Dewey, son of lead detective Alvin Dewey portrayed by Chris Cooper; it was all very new and exciting to six-year-old me! As I was exposed to the film industry over time I developed a curiosity for how a film is made and the amount of work that goes into making what looks to be even a simple five-minute scene! I was amazed by the sheer amount of people that contribute to the project as a whole; sometimes hundreds of people running around doing their own important job to make the final take perfect, all while not getting into each other's way and working as a team is simply incredible. Especially in a place like Winnipeg, where the sources of support are so great and the community so welcoming, this definitely contributed to my continued interest.
DO YOU HAVE ANY HOBBIES?
I have many! I always love trying new things, adding a new skill to my toolbox, and working on bettering my technique. I enjoy going on adventures with friends; playing the violin; ballroom dancing; and have currently gained an interest in taking on poi, staff and rope dart as a part of flow art performances. I enjoy volunteering and taking part in events such as Folkloramma. Being a member of the Ukrainian Canadian Student Society allows me to collaborate with fellow peers, including taking part in the Ukrainian Canadian Students' Union (SUSK) Congress connecting students in post-secondary education from across Canada. Being fluent in Ukrainian, I am also in the University of Manitoba Language Exchange program having fun learning about different cultures whilst sharing my own.
WHERE DO YOU HOPE TO TAKE YOUR CAREER IN THE FUTURE? WHAT'S NEXT?
I am incredibly fortunate and grateful for the accomplishments I have had so far both in academics and the film industry; I look forward to continuing the pursuit of science and film and seeing where they take me. With the wonderful growth of the Manitoba film industry, I am proud to have had my start in this city and to have the privilege of working in its community. I know that wherever I go I will take both science and film with me, and I can't wait to see how they might possibly even merge someday in the future.