Libraries acquires rare medieval Scandinavian book
A first edition of Ole Worm's "Runir, seu, Danica literatura antiqvissima" added to Icelandic collection.
August 8, 2022 —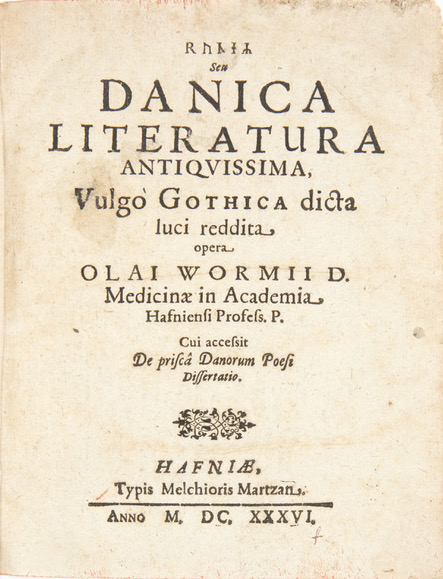 UM Libraries, Archives & Special Collections has recently purchased the first edition of Ole Worm's Runir, seu, Danica literatura antiqvissima (Runes, or, the ancient literature of the Norse people) with the support from Endowment Funds managed by the Valuing Icelandic Presence committee.
More commonly referred to as Literatura Runica, the book is one of the most significant early scholarly texts on medieval Scandinavia, which enriches the Icelandic collection's runology and magic publications.
"In addition to this work being of value to Icelandic students, it could also allow Latin students a closer inspection of medieval Latin as it was written by Northern Europeans during the 17th century," says Peter John Buchan, head of Icelandic studies, University of Manitoba.
The rare book was written in the 17th century by Ole Worms, an influential Northern European antiquarian, best known as the caretaker and namesake of an extremely important Old Icelandic manuscript — Codex Wormianus.
Worm's position in runology influenced American horror fiction author H. P. Lovecraft to create a character of the same name, Olaus Wormius (Latinized form of Ole Worms), who translated the fictional Necronomicon (Book of the Dead) from Greek to Latin.
The book consists of three Old Norse texts in Icelandic (rendered in runes) and Latin:
Krákumál (Speeches of the Crow) is a monologue of the legendary Viking hero, Ragnar Loðbrók as he dies in a snake-pit.
Hǫfuðlausn (Head's Ransom) is attributed to the Icelandic poet Egill Skallagrímsson in the anonymous Icelandic saga that bears his name.
Skáldatal (Catalogue of Poets) is considered as the first literary history of Iceland and translated in Latin only in the book.
"It is also an important work for the history of print, representing early print culture. The typefaces for printing runic letters were unavailable and had to be created to produce this work. It may very well be the first work to print runes with movable type," adds Buchan.

The pandemic has changed the future of research by breaking geographical boundaries. Online Icelandic resources, including a dictionary, a newspaper, a magazine and audio books, have been added to the Libraries Archives & Special Collections, allowing students and researchers to keep connected with the materials virtually and achieve their academic goals.
This book is currently housed in the Archives & Special Collections Rare Book Room in the Elizabeth Dafoe Library. Contact Katrín Níelsdóttir, Special Collections Librarian to schedule an appointment to view the content, and visit the library catalogue for more information.
Some materials in the Icelandic Collection are also available in English, check our Icelandic Collection subject guide for the latest news and collection information.