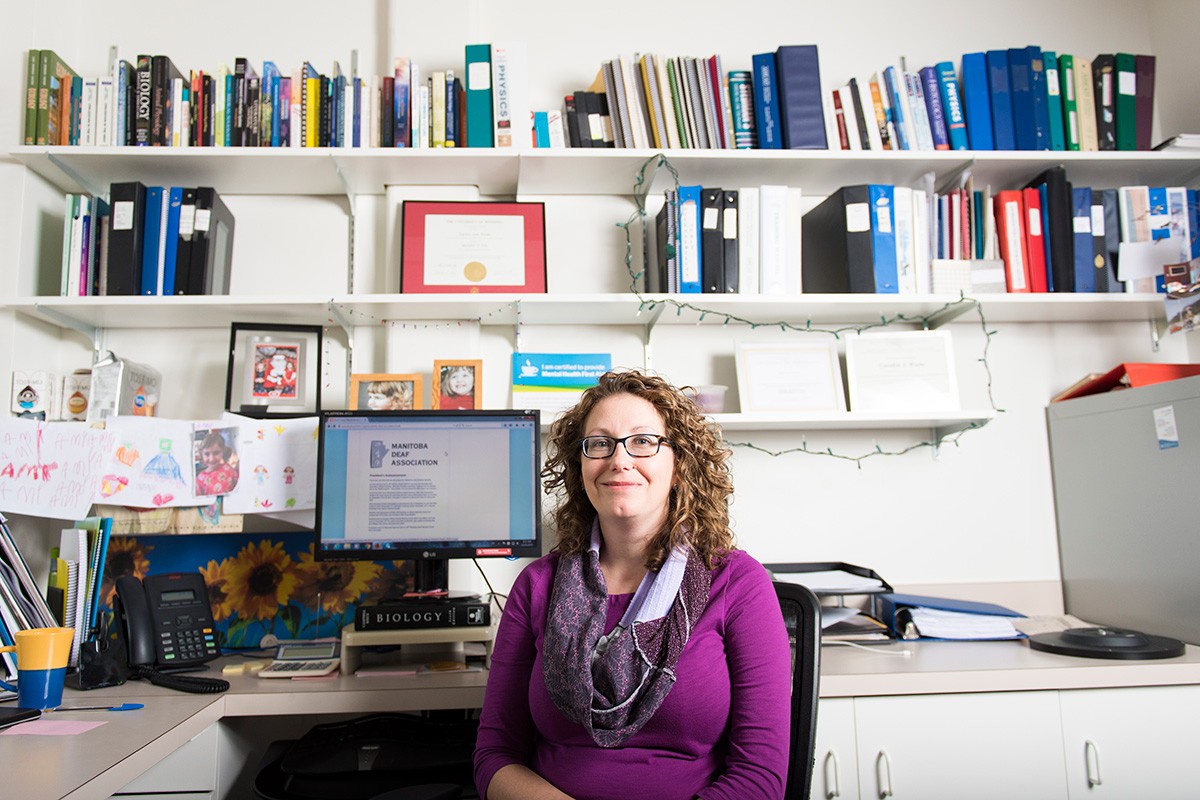 Levelling the playing field
How a program is breaking new ground to reduce barriers for students with disabilities
April 25, 2016 —
Andy Fenwick lay motionless in the intensive care unit, staring at a screen over his bed that for hours taunted him to make a move.
The DVD player was stuck on the intro screen—the opening graphic that asks the viewer to press play to launch the movie.
Ten-year-old Fenwick just wanted to watch the super-hero blockbuster Hulk. Paralyzed and unable to speak or breathe on his own, he couldn't budge or call out to the nurse who hadn't realized her oversight.
"At the time I remember being super mad because I couldn't move. It was just the play screen over and over," says Fenwick, now a third-year arts student at the University of Manitoba. "That is one of the worst things I remember from the hospital."
His new reality hit hard. A doctor at a walk-in clinic had mistaken Fenwick's appendicitis for constipation so he was rushed to the ER only once his body had gone into septic shock, his ruptured appendix spreading tox­ins from head to toe.
Fenwick remembers little about those first moments in hospital. He was put in a wheelchair. He was brought into a room. And then, everything went black.
A month later, he awoke from a coma. In order to survive, his body had essentially eaten up its muscle and fat. He weighed less than a kindergartener. Fenwick had to re-learn everything his parents taught him as a toddler: how to talk, how to eat, how to move.
Gone was the kid who'd just run a 30-kilometre relay race for his elementary school track team. The kid who had aspirations of joining a football team—maybe even getting a football scholarship. The kid who cheekily declared: When I grow up I'm going to be a rich lawyer.
After a decade of surgeries, physical therapy sessions and hard work, Fenwick gets around in a wheelchair and is intent on practicing law.
"I still want to be a law­yer," he says, "but now I know why I want to fight— not for the prestige—but by being a lawyer, hope­fully in the future, I can help out people who are oppressed or put down by society, who don't live equally."
Fenwick says an ini­tiative recently launched by the University of Manitoba to improve accessibility for students with disabilities is a move in the right direction. The U of M is set to become one of the first universities in Canada to outline Bona Fide Academic Requirements (BFAR) for its programs. These are the minimum academic requirements—in terms of skills, abilities, knowledge and attitude—that students must demonstrate in order to grad­uate with a given degree.
BFARs could relate to motor or perceptual abilities, and technical, lab or computer skills. They might also speak to whether a student can show professionalism, empathy, or collaborate face-to-face.
If a program's must-haves are identified up front, then students can make more informed decisions when planning their educa­tional path. A student with a physical disability, for example, doesn't want to find out in the third year of a program that they are required to lift 50 pounds in order to graduate. "BFARs help make essential elements—that might be common sense for the professors in a program—explicitly known to students," says Laurie Anne Vermette, a faculty specialist in educational inno­vation at the U of M's Centre for the Advancement of Teaching and Learning.
Exploring these requirements opens the door to a discussion about possible accommodations available for students while still protecting the academic integrity of the program.
The ultimate goal is to create a more inclusive environment, says Vermette. "A defense of a thesis is typically done orally but it doesn't mean that is the only way it can be done," she notes. "A student with a hearing impairment can successfully defend a thesis with the use of an authorized and appropriate aid—in this case, a sign language interpreter."
The university began planning the BFAR initiative in 2012, in anticipation of the provincial government's Accessibility for Manitobans Act, which outlines mandatory accessibility stan­dards and became regulation in December 2013.
An accommodation could be something as simple as re­serving a particular seat in class. A student with an anxiety disorder may need to sit near a window, or a student with poor vision might require a spot up front.
At the U of M, there are academic attendants on hand to guide students—including those on the autism spectrum— and help them stay on track, keep deadlines and interact effectively with their instructors. Special consideration is also given to students living with conditions like multiple sclerosis, bipolar disorder and fibromyalgia.
There are voice recognition systems for students who need to recite rather than write, and resources to turn conventional texts into large-print or braille. Ten sign language interpreters and about 50 note-takers are at the ready for students with limited use of their hands—like Fenwick—and for those who are hearing impaired.
In 2013, the U of M graduated Manitoba's first deaf doctor. As a student, Megan Jack used a special stethoscope that provided a visual to show a patient's heart rate and used an interpreter in the classroom and the operating room.
Students who are not only deaf but also blind participate by touching the hands of interpreters as they sign. Or a note-taker will type what's happening in class and the transcription pops up on a refreshable braille screen for the student to read.
Students who require accommodations come to Carolyn Christie's fifth-floor office in University Centre. A coordi­nator with Student Accessibility Services (SAS), Christie will ask them: What are your dreams? What do you want to achieve? And then SAS works with students and their profes­sors to find accommodations to help them reach their goals. "I want everybody to know that students with disabilities are capable of the same things that the rest of our student body [is] capable of. It just means that they might take a different route than others," she says.
When Christie started at the U of M, the department was just two people and there were about two dozen contracted staff to help meet accommodations. In 15 years the team has grown to more than 100. The number of students registered with SAS now tops 2,000. About half are considered active users. "Not only are students coming to university and expecting a certain level of service, but they're also feeling more comfortable to talk about why they might need support," she says.
Fenwick sees himself as an advocate. A councillor for the University of Manitoba's Students' Union representing students living with disabilities, he's often wheeling around campus tunnels testing elevators to make sure they're in working order and checking inclines on ramps to make sure they're easily navigable.
Fenwick does what he can to achieve equality but cautions about labelling people with disabilities as inspirational. He got a kick out of a TedTalk in which a woman in a powered wheelchair called out people who see her in a classroom and assume she must be a motivational speaker, rather than her actual role of sub­stitute teacher. Fenwick says it similarly irks him when he gets high praise for simply living his life.
"I am still pretty young, so I do go to bars and I do party, and I have lots of people come up to me all the time and say 'Oh man, you're so inspirational for coming to a bar in your wheelchair,'" Fenwick says. "I don't think I'm inspirational. I'm just doing whatever any other 20-year-old would do."
Vermette welcomes student voices like Fenwick's to inform the BFAR process. Deans and BFAR liaisons within some of the university's 145 graduate studies programs are already drafting these requirements (undergrad programs will eventually follow). In addition to students and professors, the nine-step process involves repre­sentatives from the Centre for the Advancement of Teaching and Learning, Student Advocacy and Accessibility, the Office of Human Rights and Conflict Management, and the Office of Fair Practice and Legal Affairs.
"The more creative voices that are at the table, the more ways we can find accessible practices that include as many students as possible," says Vermette. "A creative student might say, 'Have you heard of this new assistive technology? Or this new software that gives students a new way to access course material so that they can fully participate?"
Through workshops, Fenwick hopes to teach other stu­dents how to be advocates, too. He agrees with Vermette that levelling the playing field is key.
"We're people living our lives like anyone else," he says. "It's not negative. It's not positive. It's what we have to deal with."