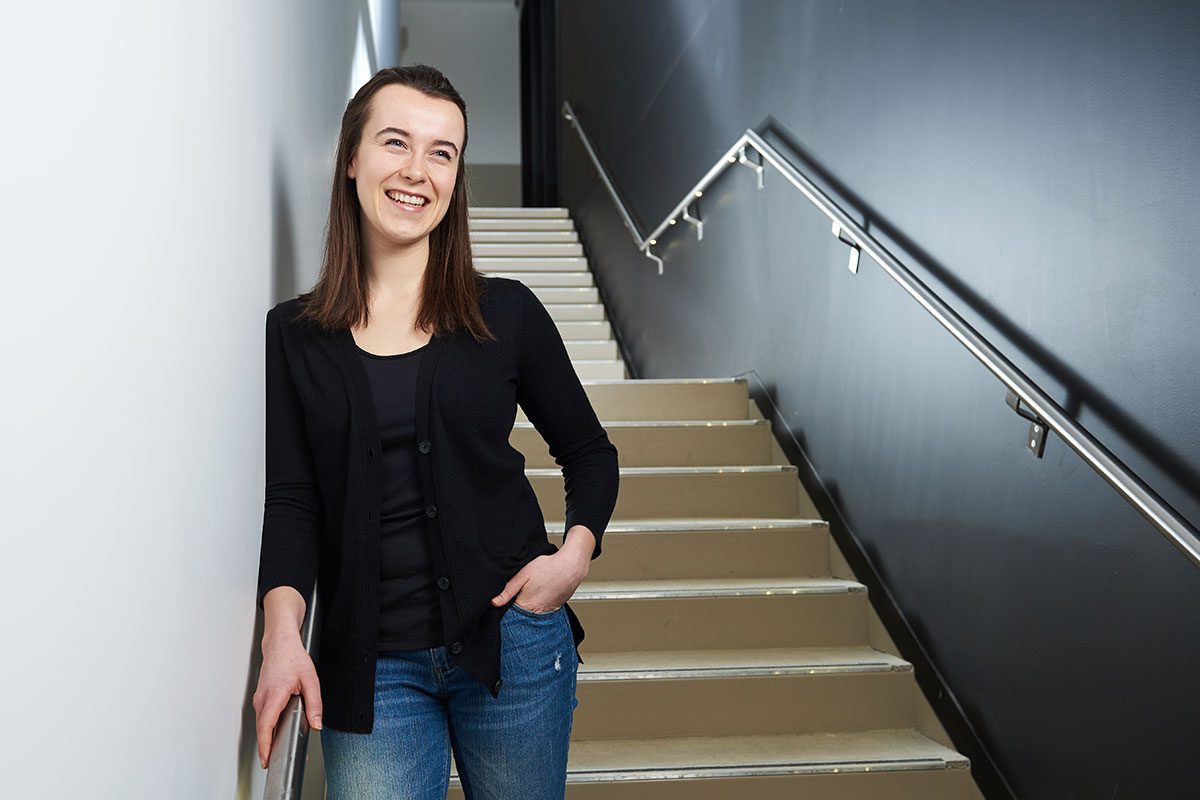 Learning a universal language
Donor support opened the door to unique opportunities for 4th-year vocal student
July 20, 2018 —
This summer marks the 10th anniversary of Marcel A. Desautels' $20 million investment in the University of Manitoba's music faculty—one of the largest gifts in Canadian history to a department, school or faculty of music. To celebrate, we're taking a look at just a few of the students who have received a Desautels Scholarship over the last decade.
Music often serves as its own language, articulating that which can't be said, and creating bonds among friends, strangers and even different cultures. Kira Fondse, a soprano undergraduate, embraces it all.
"To collaborate with students who love the same things I do, to work with people who can connect me to the music industry, and to see the connections I can create in the outside world," says Fondse. "Music, and specifically, the Desautels Faculty of Music, has been a huge blessing to me."
For starters, Fondse has spent the last five years learning from Tracy Dahl, one of Canada's greatest sopranos.
"I was accepted by another school, too, but a four-year renewable Desautels Scholarship and the chance to study with Tracy? I definitely made the right choice," laughs Fondse.
Beyond world-class instruction, she says the most precious aspect of the Desautels gift is the freedom and flexibility it creates for students. Instead of having to save up for tuition fees, she's used her own money to embrace opportunities and life-altering musical experiences.
"I spent a month in Papua New Guinea visiting a remote tribe. They asked me to show them my skills. So I used what I knew, and that was music. I ended up teaching 50 students how to sing in four-part harmony. It was amazing that we could communicate that way. Music really is a universal language."
This past summer, Fondse appeared in a production called The Dream Catchers. It toured across the country, with participants from every province and territory, and focused on themes of inclusion and reconciliation.
"The purpose was to awaken Canadians to the realities that many of our Indigenous citizens go through, to share the dreams of these young kids and to give them hope," says Fondse. "When you combine powerful poetry with emotive music, it's just a force that can't be stopped. It can't be reckoned with."
The experience profoundly affected Fondse. In fact, it has set the course for her future.
"I've applied for a theatre internship, because I've realized incorporating my music skills into theatrical productions is an amazing way to break down barriers, start conversations and make a difference," she says. "And I couldn't have come to that realization without Dr. Desautels' gift."