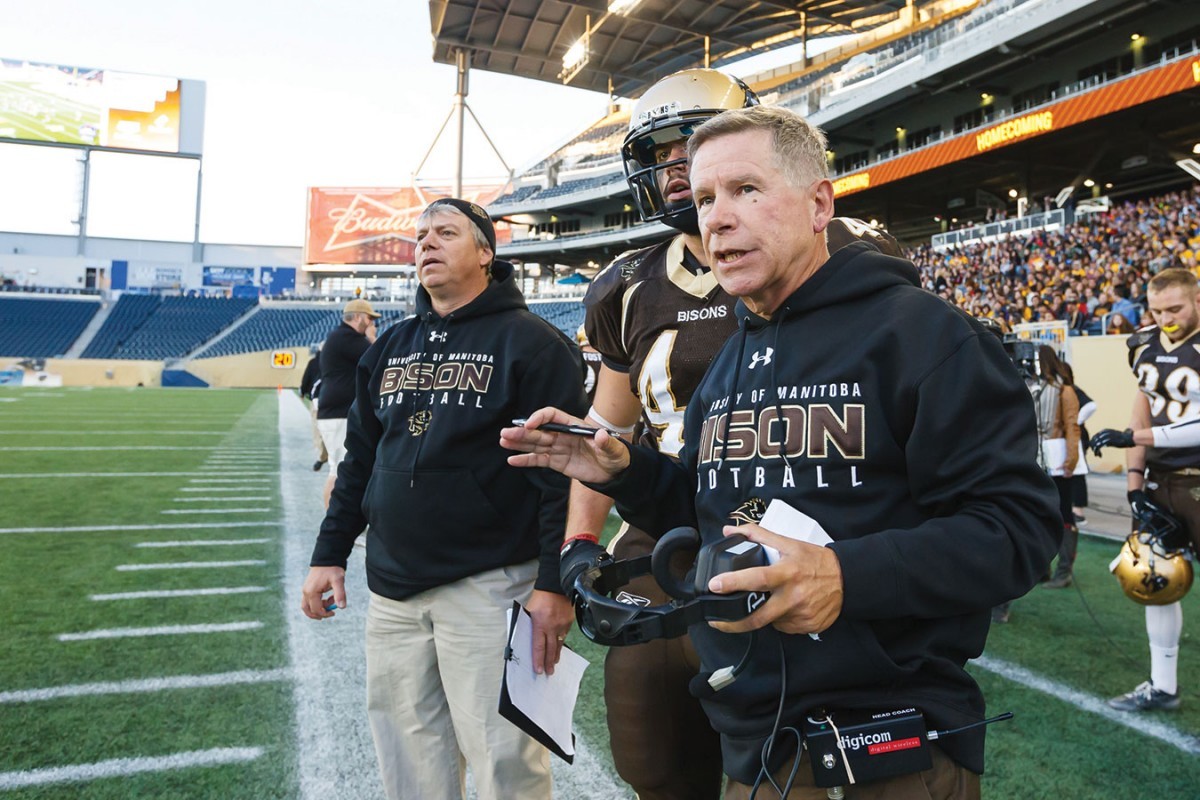 Leading the herd
Three Bison coaches celebrated major milestones in 2015
December 26, 2015 —
A few coaches with the Manitoba Bisons celebrated major milestones as heads of the herd in 2015.
Bison football coach Brian Dobie marked his 20th season on campus with the team.
"For the past two decades, I've walked into the office and do what I love," said Dobie. "How lucky am I to have my dream job?"
Dobie was a player for the Bisons and knew he wanted to coach one day. After much patience, he landed the role and has never looked back.
"There are two things I love in life: My family and my job," he said. "I'm so proud of the Bison football program and where we've elevated it to. We're really proud as Bisons and athletes to represent the University of Manitoba on the national stage as well as locally through the community."
Bison men's hockey bench boss Mike Sirant is also celebrating 20 years of coaching on campus.
Sirant played for the Bisons for four years in the 1980s and is the winningest coach in the 63 years of Bison men's hockey history. His Canada West coaching record is 272 wins, 227 losses and 47 ties (as of November 24, 2015).
He also had the honour of serving as head coach for Canada's National Student Team, which won a bronze medal at the 1997 Winter Universiade in South Korea.
Bison women's volleyball head coach, Ken Bentley, is celebrating 30 years with the team this season.
52-year-old Bentley started his coaching career with the Bisons in the 1986-87 season and guided the program to a National Championship final match against Winnipeg in his first year. Over the years, Bentley has become the winningest women's volleyball head coach in Bison program history and in the CIS.
In addition, Bentley was head coach as the Bison women's volleyball program became the only program to qualify for 16 consecutive CIS women's volleyball national championship appearances. At the 2014 CIS WVB championship, the Bisons also made history as the first ever team to go a perfect 9-0 in sets at a CIS Championship in the rally point era, which begun in the 1999-00 season.
"It truly is a privilege to be a part of this university and this program," said Bentley. "As a coach you are always looking forward to the next season, the next challenge, and then all of a sudden someone tells you that you have been at it for 30 years! I am so grateful to have worked along side and for so many dedicated and passionate people and athletes over the years."