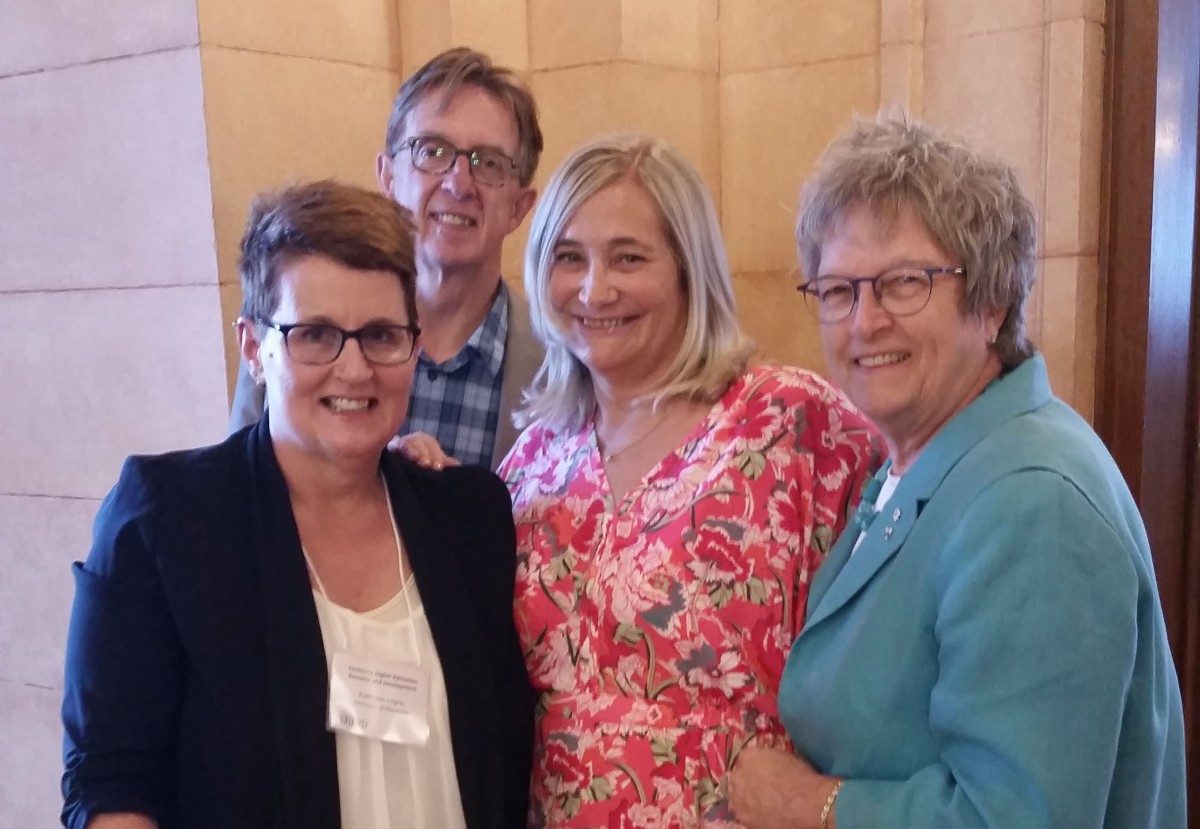 Leadership in Changing Times: SUAC 2018
The Senior University Administrators Course
June 27, 2018 —
Nearly 50 senior academic leaders, administrators and managers from across Canada gathered in Winnipeg at the Fort Garry Hotel from June 10 to 15 for the Senior University Administrators Course (SUAC) 2018. This year, CHERD's SUAC and University Management Course (UMC) programs were both held in Winnipeg, providing a unique opportunity for joint sessions with expert guest speakers.
At SUAC, the instructional team of Michael Atkinson from the University of Saskatchewan and Maureen Mancuso from the University of Guelph led this year's participants in thoughtful consideration and discussion of the topics.
At the opening session, Atkinson said, "There's an awful lot of experience in this room."
Mancuso, who spoke about leadership, said, "It's always good to hear from someone else you are on the right track."

A few highlights
This year's event took a more active and interactive approach, with the addition of guest speakers.
Among the speakers was Peter MacKinnon, lawyer, legal academic, and past president of the University of Saskatchewan. As opening keynote speaker, MacKinnon reflected on 40 years of university life, and shared his thoughts on freedom of expression and more from his book University Commons Divided.
MacKinnon's comments included: "Freedom of expression is under attack in the commons. It requires our attention…. The issues require preparation, deliberation and leadership… Universities exist to develop the human intellect. They don't have a mandate to pursue social justice."
Margaret Kierylo, director, Integrated Planning at Athabasca University, called his presentation "An excellent and engaging conversation!"
On Monday morning, the 48 SUAC participants were joined by 29 mid-managers from Canadian universities who were also in Winnipeg but attending CHERD's UMC program to hear Bonnie Patterson, previous president of the Council of Ontario Universities and former president of Trent University, speak about Trends in Higher Education.
In a second joint session, Kevin Lamoureux, education lead, National Centre for Truth and Reconciliation at the U of M, explored Understanding Indigenization. Toronto student Adam Kuhn called Lamoureux "a rockstar".
Other speakers included: James Currie and Rebecca Luce-Kapler on Understanding Indigenization, Brenda Whiteside on Student Issues, David Attis on Budget Models, Katherine Frank on Onboarding, and Michael Kennedy on Legal Issues in Higher Education.

An annual opportunity
The Senior University Administrators Course (SUAC) is an annual opportunity to connect and grow, with new ideas and new colleagues. Participants worked together in teams to create solutions for their challenges. They looked at themselves as leaders, to identify their own personal styles and to consider how to adapt to become even better and more effective professionals. They reflected on their experiences.
From fiscal constraints to accountability, new budget models and an evolving educational context, The Centre for Higher Education Research and Development (CHERD) at the U of M knows senior university administrators face so many challenges. That's why, for over 30 years, CHERD has offered SUAC. It was designed specifically for presidents, rectors, principals, provosts, vice-presidents, associate vice-presidents, deans, associate deans, registrars, chief librarians, and senior directors of services.
Learn more about the Senior University Administrators Course