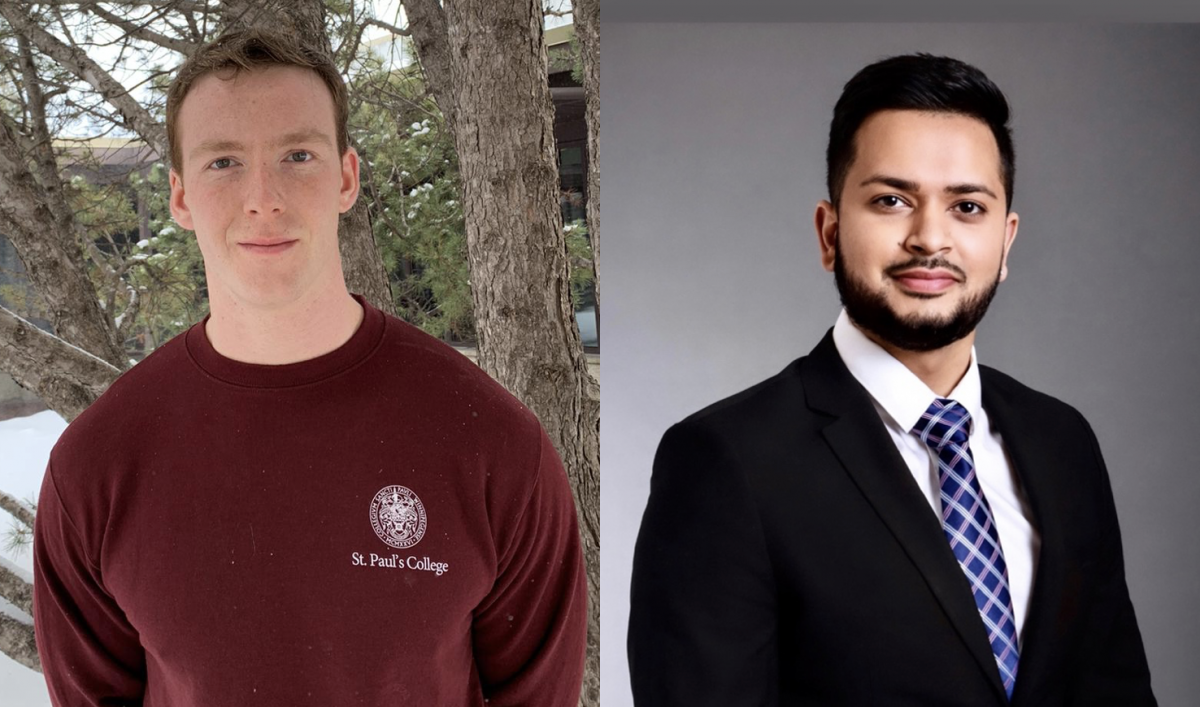 Law students' hard work and quests for knowledge awarded
Undergraduate Research Award & Donich Entrepreneurial Scholarship land at Robson Hall
February 2, 2022 —
Coming out of a particularly challenging fall term that combined both pandemic and faculty labour action, two University of Manitoba law students started the New Year with some good news. Kyle Wilfer (1L) took third place in the Undergraduate Research Award program's Poster Competition for the category of Social Sciences and Humanities, and Hardeep Suri (2L), won the Donich Entrepreneurial Scholarship.
Unconventional ways to share legal research
With the 2022 Undergraduate Research Awards application deadline extended to February 14, Wilfer encourages law students to apply. "I have been a recipient of the URA for the past two summers and during this time I have learnt an abundance of research skills and legal methods that significantly helped me throughout my first semester at Robson Hall," he explained.
Wilfer first applied for the program after his second undergraduate year in the Faculty of Arts. He had been taking Catholicism and the Law with Law's Dr. Mary Shariff, and was instantly interested in her area of research.
"Since High School, my goal has been to attend Robson Hall, and I thought that researching with a law professor would give me a great head start towards achieving my goals." – Kyle Wilfer, 1L
In his first summer with the program, he took part in the poster competition and while he recalls it was a great experience, the results were not what he had hoped for. This past summer, however, he had another successful research term working on projects with Dr. Shariff. "I continued to home in on my research skills, which bolstered my interest in the various topics we were covering," he said. "I decided to enter the poster competition once again, this time with a poster titled: Allowing Mental Disorders as a Sole Underlying Condition in Canadian MAID Law (MAID MD-SUMC)."
This time, he was awarded third place in the Social Sciences and Humanities category. "Creating a poster for legal topics is not a traditional method to portray topics in legal research," he explained, acknowledging that the practice of creating posters to explain research is mostly found in the sciences.
I find that a poster is a great way to condense research material in a way that still gives the reader as much information as they need to get the main point across. After creating these posters, I certainly advocate for this method to be used more frequently in the Faculty of Law."
Hard work, perseverance, and service
Hardeep Suri has also always been interested in a legal career, and worked as a legal assistant before starting law school at the University of North Dakota. With a Bachelor of Arts degree in Criminal Justice from the University of Winnipeg, and legal assistant training from Robertson College under his belt, transferred to Robson Hall for his second year of law to be able to graduate and practice in his hometown. He will be working at Taylor McCaffrey LLP as a summer student at the end of this term.
Crediting his prior education and work experience with strengthening his passion to be a lawyer, Suri admits he is most proud of his work ethic – which is something the Donich Entrepreneurial Scholarship was especially designed to support. "Over the years I've really focused in on managing and prioritizing my responsibilities, so that I can prove myself to be a reliable young lawyer," Suri shared. "I hope to work towards bettering our community and to represent individuals who may come from similar upbringings as myself."
This hope is why, when Suri learned about the Donich Entrepreneurial Scholarship (applications for which are due annually on November 30), he was determined to "give it a shot."
"It was a very rewarding moment when Jordan Donich reached out to congratulate me – especially since this scholarship comes from a law firm in Ontario, where the competition is quite extreme to begin with! I am glad to be putting this award toward my education and eventually advocating for our community." – Hardeep Suri, 2L
The scholarship's terms of reference describe Donich Law, a Toronto-based firm, as being "built on hard work, perseverance and dedication to customer service." Since 2018, the firm presents a $1,000 award each year to an undergraduate or law student distinguished by work experience and academic achievement. "It was the perfect opportunity to explain why my experiences (educational and career-wise), along with my upbringing, made me an ideal candidate," said Suri.
Suri thanks his parents and how they raised him for why he maintained a mindset of working hard and giving back to community. "They moved to Canada in the early '90s and started a life from very little," he explained. "After my siblings and I were born, we witnessed firsthand what hard work, determination, and generosity was, but more importantly, why it was necessary to have these values to be successful. Thanks to them, we are able to enjoy the "Canadian dream"!"