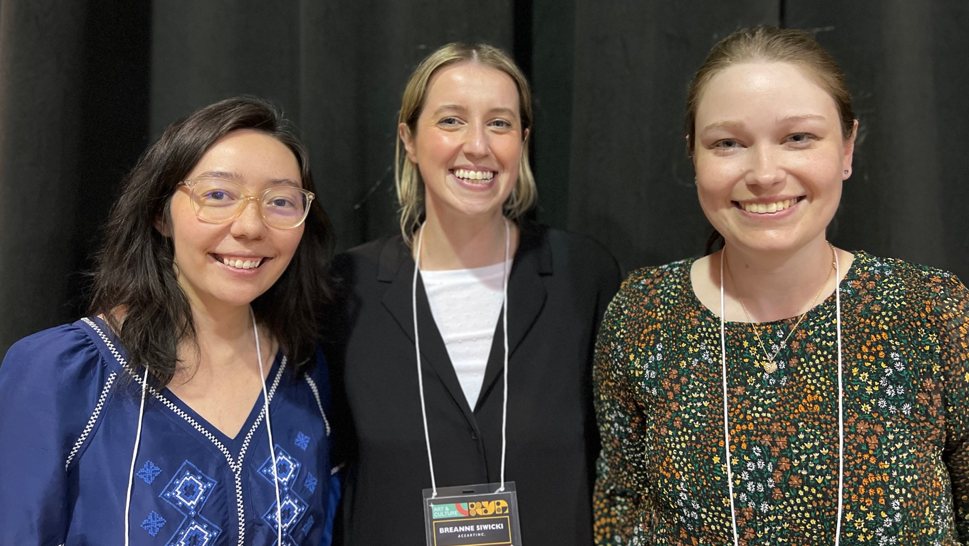 Law Students at Arts Summit
Business Law Clinic summer students gain ideas to help arts & culture sector
July 17, 2023 —
On June 15, law students from the Faculty of Law's L. Kerry Vickar Business Law Clinic attended the Arts & Culture Ideas Summit at the Centre Culturel Franco Manitobain (CCFM). Presented by the Manitobans for the Arts and Creative Manitoba, the event brought together artists, cultural organizations, arts supporters and community members to engage in a collaborative exploration of the arts and culture sector. The summit provided a platform for exchanging ideas, fostering connections, learning from one another and discussing how the arts and culture sector can rebuild and thrive in the changing times. This article reflects on this enriching event including some thoughts from attendees.
Renowned Métis/Ojibwe playwright, Ian Ross, made the keynote address. It was witty, humorous, and came from a place of tremendous love for the arts and culture community of Manitoba. From Ian's perspective, art is the highest form of human existence – art is serving other people. Ian Ross is an award-winning playwright who is a 1992 graduate of the University of Manitoba Bachelor of Arts degree program with a major in film and a minor in theatre.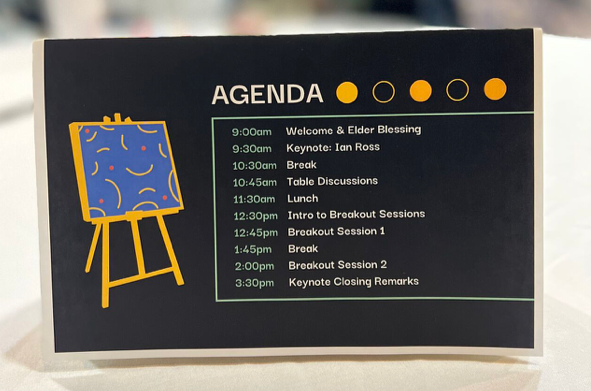 There were several breakout groups where attendees brainstormed ideas for overcoming current challenges facing Manitoba's arts and culture sector. Many discussions highlighted the negative impacts of Covid-19, including the continued decrease in attendance at events/shows and less volunteer participation. Some solutions included bettering accessibility to events, reaching new audiences through social media, collaborating with other organizations, and incentivizing attendance, for example by offering discounts, as well as cross-promoting other Manitoba products.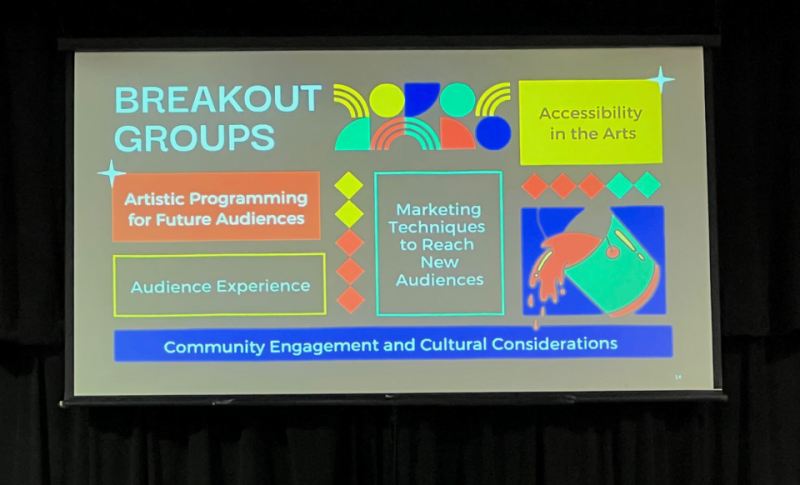 Students from the Clinic were fortunate to chat with Breanne Siwicki, the Director of Finance and Administration at aceartinc. Breanne is also a ceramics artist and co-chair of First Fridays, as well as a 2019 Master of Fine Arts graduate from the University of Manitoba School of Art. As many in the arts sector wear multiple hats, Breanne is also Vice President of the Board of Directors of the Manitoba Institute of Sculptors and Artists (MISA), a non-profit mixed media arts studio providing a community based, friendly and highly creative environment for artists in clay, painting, stone carving and assemblage in the Exchange District.
First Fridays is a monthly event, held in the evening of the first Friday of each month. It has become an opportunity for everyone to enjoy the art community in Winnipeg's Exchange District and surrounding areas.
"First Fridays! [They are] something I feel extremely passionate about," says Breanne. "Lots of arts organizations use this day for certain public events. It's a great way to have an introduction to our lively art scene, that otherwise might be hidden from plain sight!"
Breanne shared the purpose and mission behind aceartinc. "Aceartinc. is an artist-run center and is first and foremost an exhibition space for emerging artists. We foster a diverse and demystified dialogue around contemporary art," says Breanne. "Aceartinc. is a space for emerging creatives to exhibit, collaborate, interrogate, network, and receive mentorship with and from the community."
Breanne expressed the need for better access to legal services for artists in Manitoba.
"Supporting oneself as an independent artist can come with challenges. Having a space to discuss the legal topics, whether needing oversight on a contract, or may it be a copyright infringement, it's often very costly for artists, with then little to no ability to pursue their rights," says Breanne.
"I think this is an important initiative—the creation of space for legal conversation in the arts. It is often a topic that gets swept away," says Breanne.
Lisa Haydey, a Student-at-Law working for the L. Kerry Vickar Business Law Clinic had some thoughts following the event. "I think that it is exciting that we are also working on a soon to be launched made-in-Manitoba Legal Clinic for the Arts, which will provide free legal help to creatives who can not afford legal services. This is very timely, an exciting time, and definitely will help artists in all communities in Manitoba. This will also enable law students to gain experience, while directly contributing to help make the arts and culture sector across Manitoba even more vibrant and successful. The arts and culture sector deserves to be supported by everyone, and is a big part of who we all are in Manitoba!"
The Arts & Culture Idea Summit served as a catalyst for dialogue, inspiration, and collaboration within the arts and culture sector. It emphasized the significance of celebrating diversity, nurturing partnerships, improving accessibility, embracing technology, and fostering sustainability. The event provided students from the L. Kerry Vickar Business Law Clinic with valuable insights on the challenges that face artists and art and culture organizations. By implementing the lessons learned from the summit, Manitoba's creative community can continue to inspire and contribute to the social, economic, and cultural fabric of the province.
Looking to support Manitoba creatives? Get involved! Experience a performance, volunteer, and tell a friend! Attending the Winnipeg Fringe Festival July 19 – 30, the Gimli International Film Festival July 26 – 30, The Icelandic Festival of Manitoba Aug. 4 – 7, Folklorama Aug. 6 – 19 or the Harvest Sun Music Festival Aug. 19 – 20 are just a few ways to enjoy Manitoba's arts and culture scene and show your support.