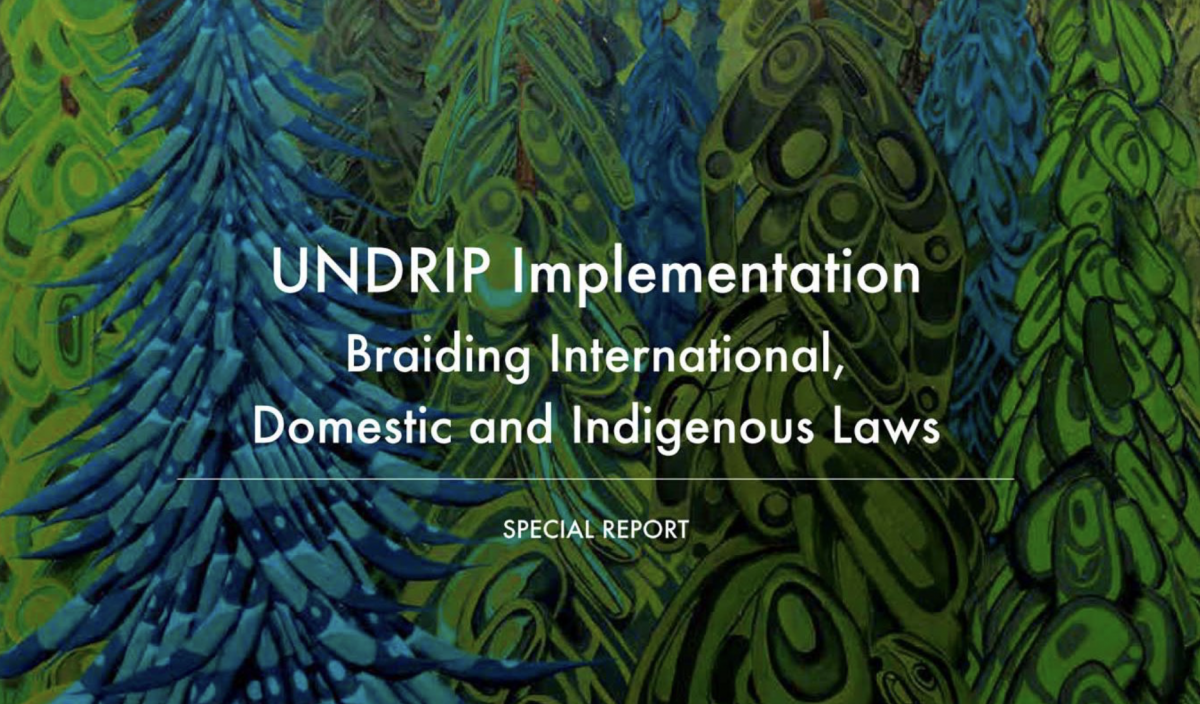 Law Professor Promotes International Indigenous Rights Advocacy at UN
May 16, 2018 —
Brenda Gunn, an Associate Professor at the University of Manitoba's Faculty of Law, has worked for years in the area of International Indigenous Rights Advocacy, attending the United Nations Permanent Forum on Indigenous Issues (UNPFII) at least 10 times in the past 14 years. Each time, she attends in some capacity to present, learn, discuss, or raise awareness of international issues affecting Indigenous people in Canada. This April 17, she organized and participated in a side-event at the Forum, which served to share different perspectives on the theme of lands and resources.
Since she started attending the annual event as a University of Toronto law student in 2004, Gunn has become a leading Indigenous legal academic in Canada working on the particular subject of advocating implementation of the UN Declaration on the Rights of Indigenous Peoples. Gunn wrote and produced Understanding and Implementing the UN Declaration on the Rights of Indigenous Peoples: An Introductory Handbookin 2011, in partnership with the Indigenous Bar Association and the University of Manitoba Faculty of Law.
Sponsored this year by the Centre of International Governance Innovation(CIGI), the panel Gunn organized was titled "Protecting Indigenous Lands: Braiding Together International, Indigenous and Domestic Law". Panelists besides Gunn, who is also a CIGI Fellow, included Christina Grey, a CIGI research associate, Cheryl Knockwood, the Membertou First Nation Governance Coordinator, and Risa Schwartz, a lawyer advising First Nations on International Trade. As mentioned in the event abstract, the discussion focused on approaches to implementing the UN Declaration on the Rights of Indigenous People that would lead to greater protection of Indigenous peoples' lands. Specific issues the panelists considered included "challenges to land rights faced by the Mi'kmaw community of Elsipogtog in Canada by fracking, challenges and opportunities to protect land rights through international trade agreements, and the need to bring in a gendered analysis when discussing sustainable development of Indigenous peoples' lands" (abstract).
All of these topics built off the recent CIGI publication UNDRIP Implementation:Braiding International, Domestic and Indigenous Laws. As the event abstract summarized, this document proposes that "Braiding together international, domestic and Indigenous law promotes encourages a shift from domestic law being used to dominate Indigenous peoples toward equal weight given to all three legal systems. There is strength in unity, and so by braiding together all three legal systems, all systems are strengthened and supported."
Gunn estimated that about 25 UNPFII delegates attended the event, including representatives from the Sámi people of Northern Europe, Indigenous women from Nicaragua, several Indigenous chiefs from Canada, and advocates, allies and lawyers from Canada. The panelists fielded questions from the audience, which in turn gave some excellent feedback, Gunn said, that will help her develop the paper she presented further. Her paper in particular looked at the need to include a gender perspective when taking action to protect land, because men and women in Indigenous communities have different roles, responsibilities and laws that they hold and carry out. Gunn said she came away from the panel discussion with new perspectives and a sense of new interconnections to consider when going forward with her research. "It was good to exchange these ideas" she said, "and see the issues from four different perspectives."
As a professor of courses like "Advocating for the Rights of Indigenous People in International Law", Gunn has invited law students at Robson Hall to attend in the past, including those who have worked with her on actual cases. "They're always welcome to come," she said, but the ability of students to attend often depends on funding.
"This is definitely an area of legal research that is picking up momentum and interest," Gunn said. "It's been growing over the past 15 years. Where once it seemed that there was less interest in the area of International Indigenous Rights Advocacy, people are now calling me almost weekly to give presentations."
At the end of this year's UNPFII session, Gunn said a select group of academic experts from around the world including herself, were invited to be part of an independent and informal academic network that would support the work of the UNPFII. By attending the UNPFII, Gunn is able to connect with people, to develop future collaborations and to inform ongoing research. "There's going to be a lot of work going forward," said Gunn.