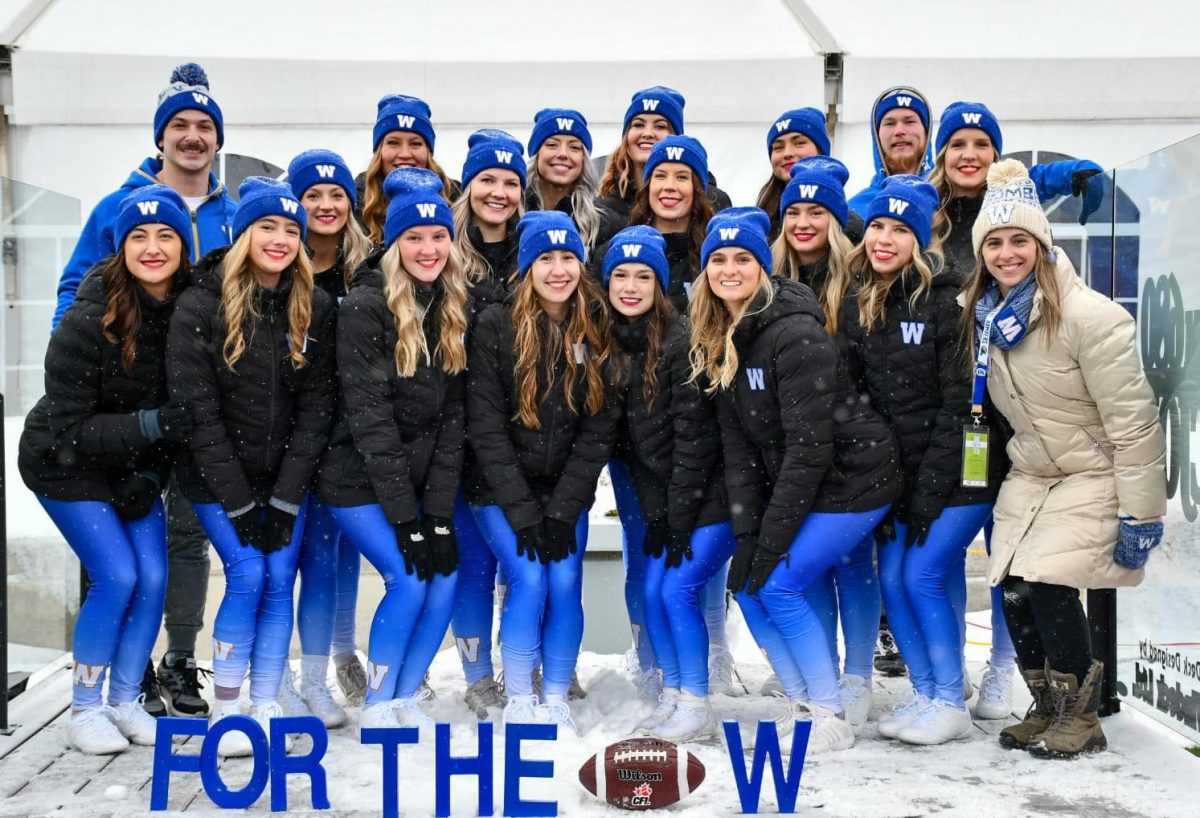 Law Grad Studies staff off to Grey Cup
Blue Bombers Cheer & Dance team member a professional athlete at Robson Hall
November 17, 2022 —
Master of Laws and Master of Human Rights students will not be able to reach Lexa Moorehouse, Research and Graduate Program Assistant at the Faculty of Law, until after next Tuesday. She's away from her desk at the moment, cheering on the Winnipeg Blue Bombers at the 109th Grey Cup in Regina, Saskatchewan. Not from the stands, but from the Astro turf on the field below, performing exciting and dangerous acrobatic and dance routines with her fellow professional athletes on the Blue Bombers Cheer and Dance Team.
Before Moorehouse turned on her work email auto-reply, packed her bags full of warm clothes and headed west for the weekend, Law Communications had a chance to ask her about her life as a Bombers cheer team member, and the exciting opportunity to perform at the Grey Cup.
How did you get involved in cheerleading for the Bombers?
The most "professional" you can get with cheerleading is by being a CFL cheerleader. Bombers Cheer hosts a try out every season in February for the upcoming season. I attended the six-hour try out, followed by an interview, and made the team.
Do you have to have a background in dance or gymnastics?
Yes, I've been a Elite cheerleader for 12 years, I travel around Canada and parts of USA to compete at competitions. My highest achievement in Elite Cheerleading is attending the Cheerleading World Championships (you can only attend by Bid Invitation only) in Orlando, FL in 2022.
Is it hard to do (ie. complicated choreography, or set, standard formations)?
Yes, adaptability is extremely important when it comes to learning a routine or stunt. Changes and adjustments will be made and your expectation as a professional athlete is to rise and make those changes the first time with minimal to no mistakes.
Do you have set routines for certain plays? How does it work?
Each Home game we are to perform two routines: one before the ball is kicked, and one at the three-quarter mark. Each routine is two minutes. Then we must prepare what we call "sideline stunts" something to engage the crowd and to be performed in commercial breaks or breaks in the game, after touch downs, field goals, good plays etc. This year we've had to learn approximately 25 different sideline stunts on top of performing two different routines each game.
What's your favourite routine or move and what's the scariest?
My favourite skills to perform is what we call "field goal" that is when we have two stunts beside each other, then we throw a girl in the middle to create a "field goal" illusion (see photo). The scariest/thrilling would be what we call a "back tuck basket," that is, when a top person is free flipping in the air and caught in a cradle position. That is not a skill you can just "throw" it is very technical and if performed correctly, can be a crowd favourite. But if the slightest thing is off, it can become dangerous for both top person and those that are catching at the bottom. Free flipping skills are normally only thrown by "adult" aged athletes (17+) as it can be dangerous.
How do you deal with the cold weather?
LAYERS! For the Western Final game I had four layers under my jacket, three pairs of pants, two layers of socks, mitts and toque!
Everyone at the Faculty of Law is cheering Lexa and her team on this weekend. #goblue!