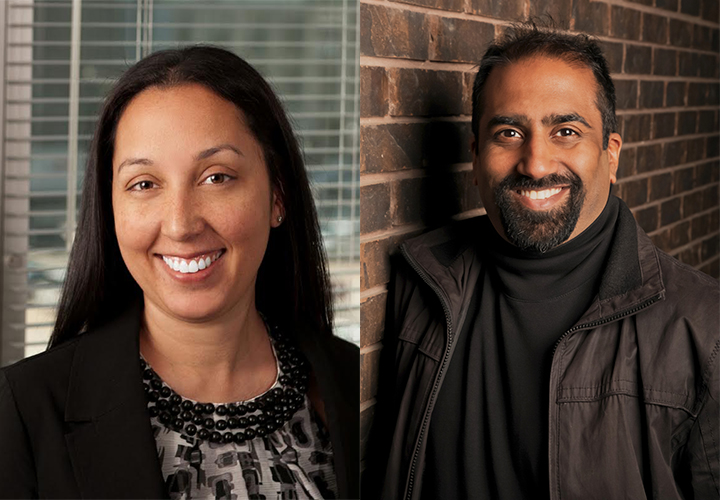 Law Faculty Teaching Awards announced
Robson Hall legal educators' enthusiasm and commitment make students proud
December 18, 2020 —
In a normal year, the Faculty of Law's two major teaching awards would have been announced at the annual Grad Dinner, but due to the new normal, the Faculty was forced to postpone the selection process until the fall term. On December 10, Acting Dean David Asper was pleased to announce that Associate Professor Dr. Amar Khoday had won The Barney Sneiderman Award for Teaching Excellence, and that Natasha Brown [BEd/01, LLB/05] had been selected for the The Deans Award for Teaching Excellence for Sessional Instructors (Practicing Professionals).
The Faculty's Selection Committee shared that one of the nominations for Dr. Khoday described the professor of Criminal Law and Procedure, and Administrative Law as "well-known to students at Robson as one of the most affable, approachable, caring, and genuinely engaged professors in the faculty. His enthusiasm for the law, this school, and his students, is clear. He makes us all proud to be part of Robson Hall." Committee chair Dr. Mary Shariff in reply stated that, "The committee couldn't have agreed more." Dr. Shariff further commented, "Known for his excellent classroom instruction, his encouragement of students, and innovative teaching methods, the committee was pleased to recognize Dr. Khoday as an "outstanding" teacher."
Citing nominations for the Dean's Award, Shariff shared that, "The committee was delighted to recommend Natasha Brown for this teaching award," with the committee describing her phenomenal commitment to students as "above and beyond"."
"Natasha Brown is a true mentor to students both inside and outside the classroom setting, supporting students with compassion and generosity," said Dr. Shariff. Dr. Shariff continued, "[A]nd as described in the nominations, Natasha Brown is a "passionate" Family Law teacher who brings her wealth of experience to "bridge the gap between the academic side of the law and the actual practice of law"." Natasha Brown was one of the "driving forces in establishing the Western Canada Family Law Negotiation Competition" held in March 2020 with students describing it as a "huge success" and an "incredible experience".
Committed to an "intellectually engaging learning experience"
"I am tremendously honoured to have been nominated and selected for this award," said Khoday, who joined the Faculty in 2012. While he had never met Sneiderman, Khoday said he had heard anecdotes from colleagues who knew the beloved professor as an excellent teacher and good-humoured person. As such, he felt "privileged" to have received the award. "Like many of my colleagues, I am passionate about working with students as we examine various subjects. Whether it is in a lecture-style or seminar course, I strive to make it an intellectually engaging learning experience," Khoday shared. "I've been grateful that numerous students have responded positively and with enthusiasm. I'd like to express my gratitude to the students who nominated me and who took time to do so even in the midst of a pandemic, as well as all those who helped make me a better teacher during my time at Robson Hall."
A graduate of Robson Hall herself, Brown has taught Family Law as a sessional instructor for a number of years. "Working with law students brings me such joy and fulfillment," said Brown. "It is especially meaningful to receive this award now as I have missed engaging with the students in person this fall. When I switched careers paths from education to law, I would never have guessed that the paths would connect one day. I am so thankful for the opportunity to be able to use both of my degrees at the same time. I wish to express my sincere thanks to those who nominated me."
The Barney Sneiderman Award was named in memory of the much-loved Robson Hall professor who taught from 1969 to 2006, and was a devoted educator both in the classroom and beyond. His family and friends thought it fitting to start a fund to honour one faculty member annually who demonstrates excellence in teaching.
The Dean's Award is presented each year to a practicing professional who has taught at Robson Hall and made great contributions through commitment beyond the call of duty to the student experience.