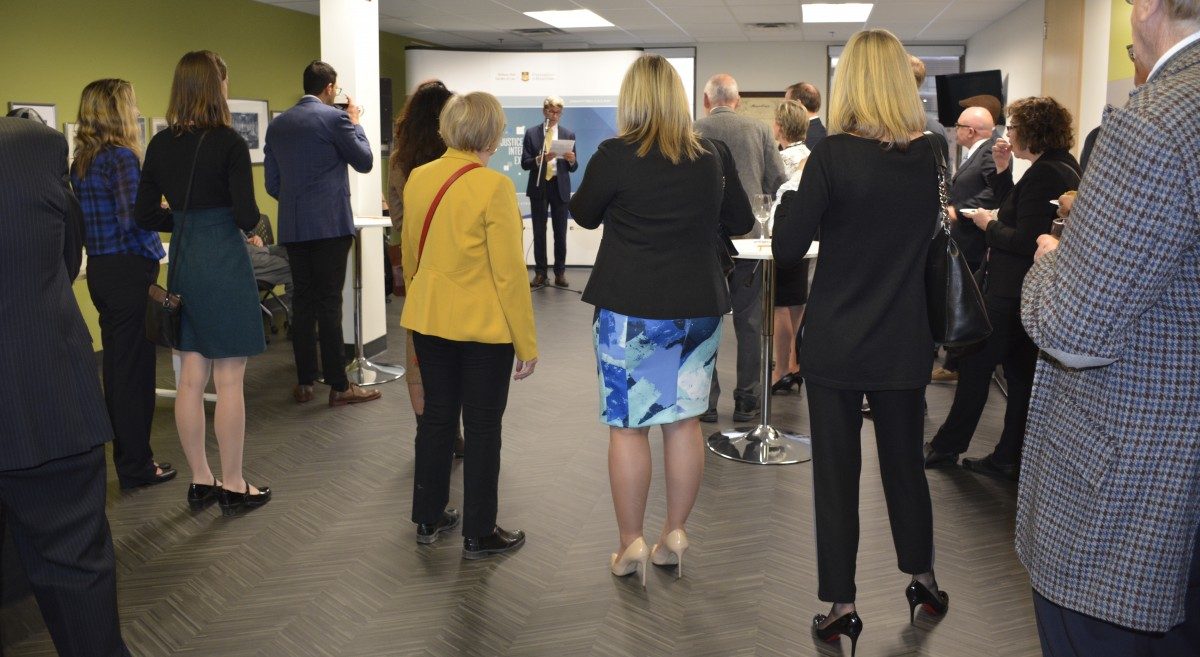 Law Faculty Homecoming and the Law Society
An essential collaboration
October 5, 2018 —
Without the University of Manitoba's Faculty of Law, the Law Society of Manitoba wouldn't have lawyers, and without the Law Society of Manitoba, there would be no place in Manitoba to license graduating law students for practice. It makes complete sense for the two organizations to work together regularly, and during the University of Manitoba's Homecoming week Sept 24 to 30, 2018, the close relationship between the two couldn't have been more clear.
As Law Society President Ms. Kathy Bueti noted during her remarks given at the Faculty of Law's 2018 Homecoming Reception on Thursday, September 27th, it was the first event other than a Continuing Professional Development (CPD) class, to be held at the Law Society's new offices located on St. Mary Avenue in downtown Winnipeg. Many of the lawyers attending had just spent the day at a very special CPD workshop on Indigenous Law at Sagkeeng First Nation, which had been co-sponsored by the Faculty of Law and the Manitoba Bar Association.
Dr. Jonathan Black-Branch, Dean of Law, who had attended the CPD that day, took the opportunity to share with alumni present, the new directions the Faculty of Law is taking, including ensuring the implementation of the Truth and Reconciliation Commission's Call to Action #28, which calls upon all law schools in Canada to teach law students about Aboriginal people and the law. Dean Black-Branch also set out for alumni, the faculty's Values, which consist of Excellence, Understanding, Respect, Openness, Professionalism, and Accountability, and through which the Faculty seeks to train members of the legal profession to be leaders who promote social justice and progress through economy and human rights, and to serve the public good.
Alumni and Faculty members enjoyed visiting with old friends and meeting new, and pouring over old yearbooks to find their graduation photos. Some dared to take a humorous quiz that tested their memories of Latin Maxims, and advice learned from professors in law school. Door prizes of items with Robson Hall logos were given to those brave enough to take the quiz. Several memorable lessons alumni shared included advice from the late Dean Cliff Edwards that, "The history of the Courts of Chancery is not boring," and that law students should, "Stop whining. Medical students have it way worse." Some excellent advice one alumnus remembered from Professor John Irvine was that "Laughing is good." Finally, in response to the question, "What was the most important thing law students talked about almost daily when you were in Law School?" and "What does it seem to be now?" was "Then: Who's winning at crokinole? Now: How can we make the world a better place?"
Times have indeed changed!