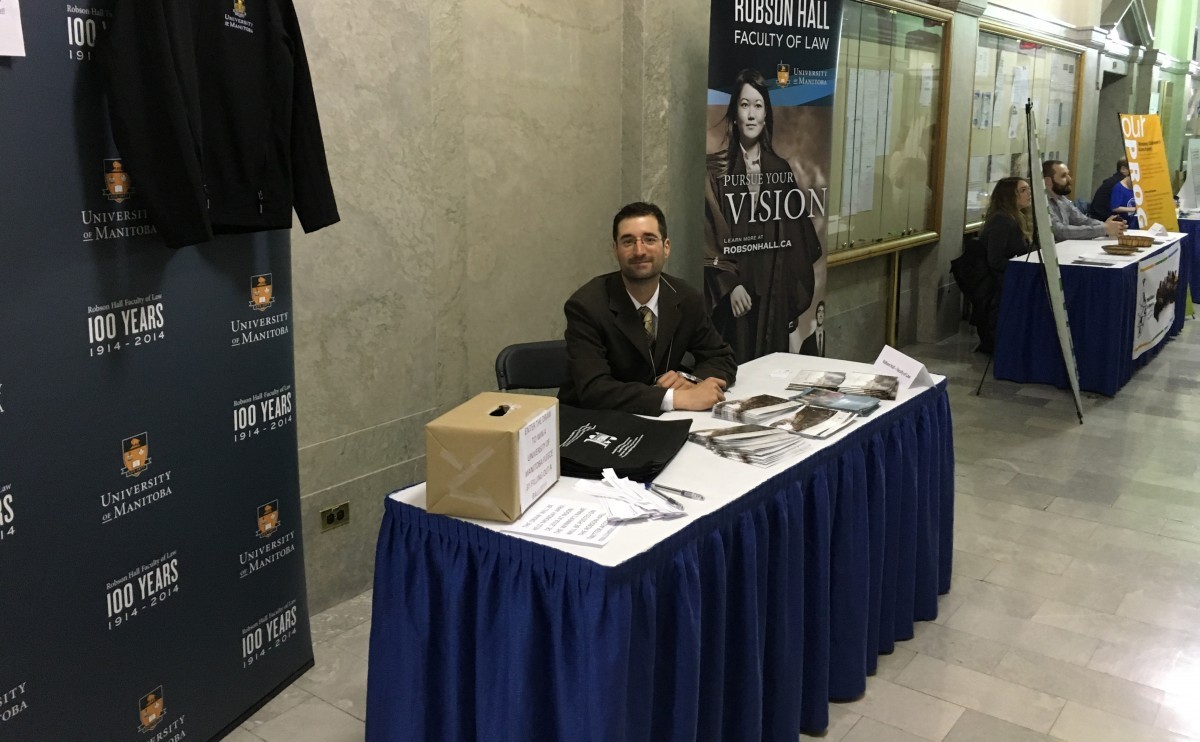 Law Day shows Manitobans their justice system
April 26, 2016 —
Lectures, mock trials and courthouse tours may sound like law-student territory, but last Sunday – the Manitoba Bar Association's Law Day – hundreds of people from across the province got hands-on with our justice system.
On Sunday, April 17, Guillaume Dragon – Robson Hall French Language Program Coordinator – represented Robson Hall at the Manitoba Bar Association's Law Day event. He spent the day chatting with people about law school, access to justice and Robson Hall's role in training future advocates.
"Talking with people about access-to-justice issues and initiatives is always rewarding," said Dragon. "Law Day really highlights the efforts and dedication of our legal community here in Manitoba. Everyone's committed to better access to justice – it's wonderful to see."
Every April, Bar Associations across Canada celebrate Canada's Charter of Rights and Freedoms with provincial Law Days. The Day's events are meant to teach interested members of the public about law, the legal profession and the legal institutions that make up the cornerstones of Canadian democracy.
"Events this year included a Sheriff's lock-up tour, a police dog demonstration, legal advice and information sessions, high school mock trials, guided courthouse tours and more," said Dragon.
The event is open to anyone and sees particular influx by elementary and high school classes. Members of the legal profession use the opportunity to teach students and others about the role of lawyers and the judiciary in providing an open, independent and unbiased judicial system.
One lucky attendee, Christopher Okello, is walking around in a University of Manitoba fleece jacket after winning one at the event.
"We received over 120 entries for the jacket," said Dragon. "Heartfelt thanks to everyone who stopped by to say hello at Robson Hall's booth – I'm looking forward to seeing you all again next year."