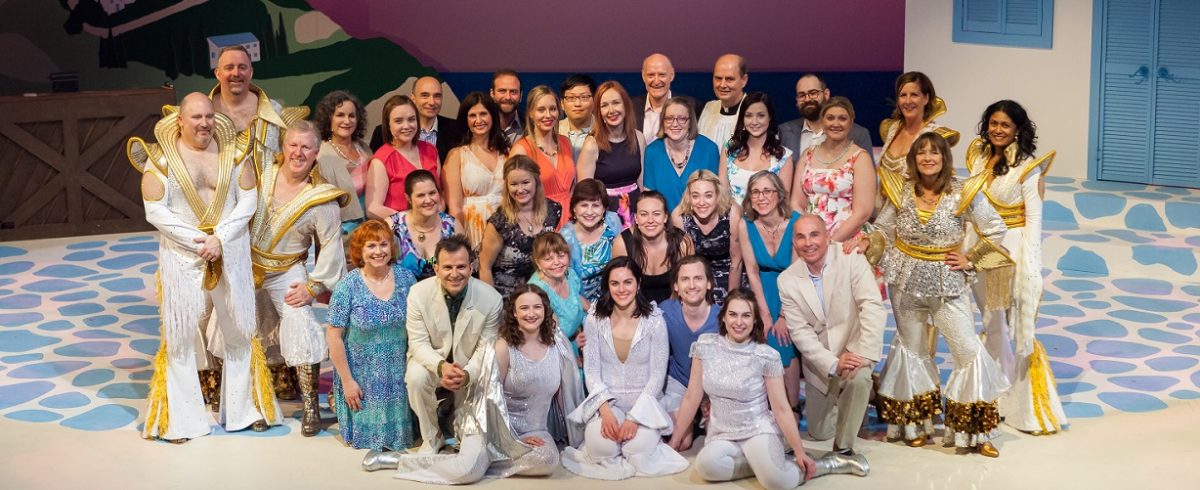 Law alumni, students, contribute to charity in remarkable way
Manitoba Bar Association's annual collaboration with Royal MTC showcases talented legal community
May 16, 2019 —
When Gail Asper stepped onstage in the role of Donna, an aging hippie whose daughter Sophie is determined to identify her real father through the music of ABBA, the audience roared, whistled and cheered. For the next two hours, the respected Winnipeg lawyer, philanthropist and President and Trustee of the Asper Foundation delivered a solid performance, acting, singing and dancing alongside more than 30 other members of Manitoba's legal community in Mamma Mia!, this year's Lawyers Play. The annual production took place May 7 to 11 at the Tom Hendry Warehouse and featured a number of sparkling costumes that included bell bottoms and platform boots.
Since this collaboration between the Manitoba Bar Association and the Royal Manitoba Theatre Centre first began in 1990, the Lawyers Play has raised more than $1,090,000 for the RMTC's activities that include introducing school kids to theatre and encouraging new artists and their works through the Winnipeg Fringe Theatre Festival. Each Lawyers Play features a cast made up entirely of MBA members who often go from practicing law full-time by day to running to rehearsals by night. Each year, a number of law students still completing their studies at Robson Hall, Faculty of Law at the University of Manitoba, also take part.
Dr. Jonathan Black-Branch, Dean of the Faculty of Law, commented "I was especially impressed by the talent of the performers. Our colleagues, alumni and students are full of talent, that may have been buried during the pursuit of legal studies and careers, but came to the forefront for the purpose of supporting a worthy cause. This is an excellent event with superb acting and the music truly is the sound track of our lives."
Robson Hall is pleased to have been able to support the play several years in a row by sponsoring a reception before and after one of the evenings of the play's run.
Next year's Lawyers Play will be Steve Martin's comedy Picasso at the Lapin Agile.
Related:
Having the Time of their Lives: Robson Hall alumni, students, trade robes for costumes in annual Lawyers Play