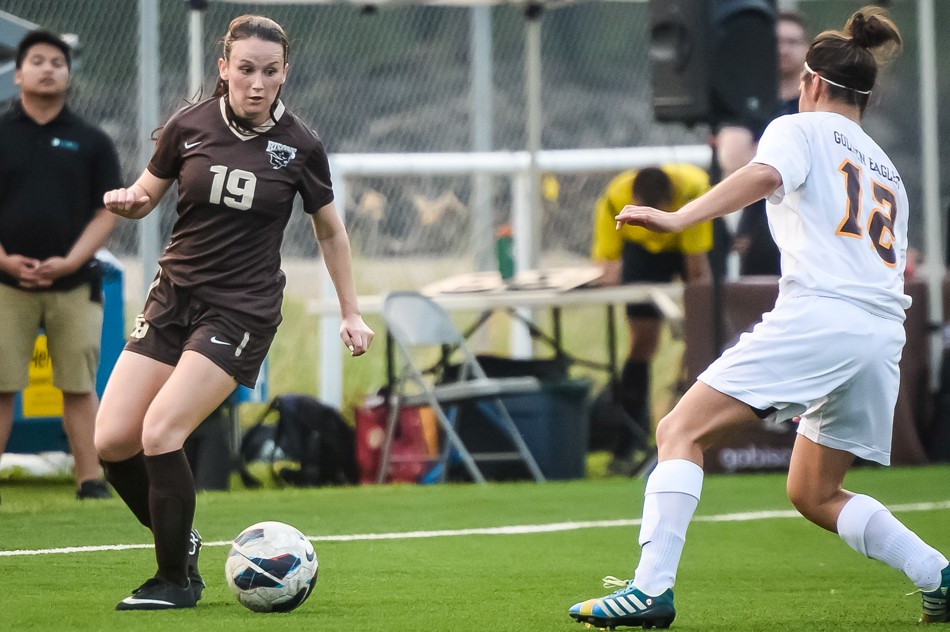 Kicking off the regular season
Bison women's soccer begin 2015 Canada West season at home by hosting Thompson Rivers on September 4.
September 2, 2015 —
The Bison women's soccer team is ready for their 11th season in CIS action.
The Bisons host the Thompson Rivers WolfPack on September 4 at 6pm. On September 5, the herd takes on the UBC Okanagan Heat at 4pm.
Due to severe weather, the game on September 4th has been moved to the Winnipeg Indoor Soccer Complex, 211 Chancellor Matheson Road.
Saturday's game will be held at the Turf Fields – West Field. Tickets are available at the door and field for $5.
Third-year Bison head coach Vanessa Martinez Lagunas has lead an intense and competitive training camp, plus pre-season schedule, for Manitoba's 25-person roster.
The Bisons have nine rookies along with six sophomores and four players in their third year. Two Bisons are playing in year four. There are only four players as fifth-year seniors (captain and goalkeeper Chloe Werle, midfielder Megan Graca, defence Elyce Molyneaux and midfielder Alyssa Robinson).
There is a new format for qualifying for post-season in Canada West for women's soccer this season: The top six in each of the two regions will qualify for playoffs. There will be 14 regular season games as opposed to 12 in 2014.
In pre-season action, the Bisons had a 3-2 record.

Loading ...
A stadium spectacle
Bison women's soccer, in partnership with the Winnipeg Blue Bombers, will play at Investors Group Field for the first time on Friday, October 9 at 6pm versus Winnipeg.
"This will be the first time in the history of our Bison women's soccer program that we get to play a home league game at this amazing venue and we will become the first University in the world to offer this great chance to our soccer student-athletes," said coach Martinez Lagunas. "We want to show that our sport can also attract many fans in our local community and hopefully get to a point in future years where our team has the opportunity to play more home league games at this world-class facility."
Tickets for this special event will be available on Ticketmaster here for $10 plus fees.