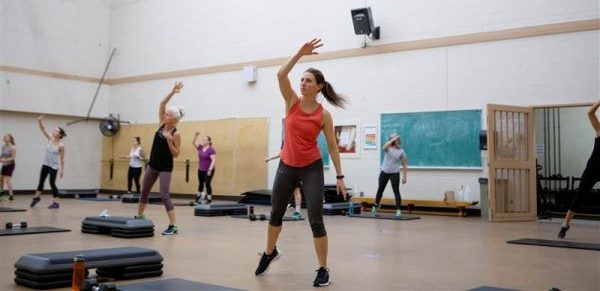 Kick off your summer with Staff Appreciation Week on June 12
UM Faculty and Staff have the FREE opportunity to get active this summer!
June 2, 2023 —
Join Us for Staff Appreciation Week and Celebrate UM Faculty and Staff!
It's time to show our appreciation to UM Faculty and Staff for their hard work and dedication throughout the academic year. Join us for Staff Appreciation Week from June 12th to 16th at the Fort Garry and Bannatyne Campus Recreation Centers. This special week is dedicated to saying thank you and encouraging our staff to prioritize their well-being by participating in various activities such as group fitness, open gyms and courts, climbing, and working out.
Discover the Benefits of Staff Appreciation Week:
Unplug and Recharge: Take a break from your desk and allow yourself to mentally rejuvenate. Reducing stress is crucial for maintaining a healthy work environment and boosting productivity.
Connect with Friends and Colleagues: Utilize this opportunity to connect with friends and colleagues from across the university at Recreation Services. Engage in conversations, spend quality time together, and enjoy the benefits of being active.
Explore New Hobbies and Recreation Activities: Staff Appreciation Week offers a chance to try new things and discover new interests. Whether it's joining group fitness classes, conquering our climbing walls, or utilizing our state-of-the-art facilities, there's something for everyone!
Listen to Our Members:
"I prioritize my workouts to set a good example for my young family. Since joining the ALC, my family has noticed positive changes in my mood, weight loss, and overall health." – Bryan.

"The sense of community at the ALC is unmatched. People here motivate me to be the best version of myself in every aspect of life." – Dahlia.

"What I love most about the ALC is the shared goals and support among everyone. It's a fantastic facility that fosters a great atmosphere." – Rebekka.
How to Participate:
Come to the customer service desk with your staff card and complete a waiver and you can come all week for free. We also have 8 daily climbing spots so complete this form to be added to the open climb (evening) time.
Staff Membership Perks:
Staff can enjoy a recreation membership for as little as $17.00 bi-weekly through convenient payroll deduction. Add your spouse and dependents too. Locker and towel services available. Inquire at the customer service desk.
Don't miss out on this opportunity to celebrate Staff Appreciation Week and prioritize your well-being!