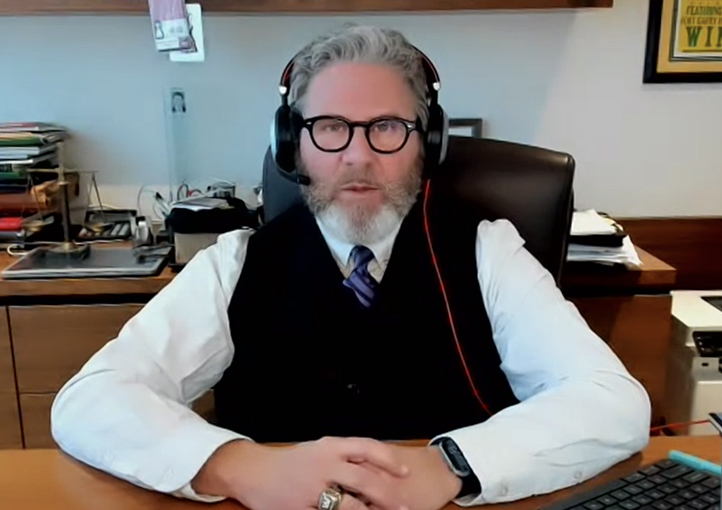 Kerry Vickar Business Law Clinic goes virtual
U of M Faculty of Law partners with Stu Clark Centre, North Forge to expand experiential learning & community service
February 1, 2021 —
At the start of winter term, the University of Manitoba's Faculty of Law launched a virtual version of its L. Kerry Vickar Business Law Clinic. This new incarnation of the Faculty's experiential learning course for third-year law students is now operating entirely online as well as collaborating on initiatives with the Stu Clark Centre for Entrepreneurship at the Asper School of Business and other organizations.
Taylor McCaffrey, LLP continues as the course's educational partner with its lawyers sharing their professional experience with students through a series of presentations and discussions focusing on the life cycle of a small business. North Forge Technology Exchange and other partners likewise support the Clinic's real-world educational professional experiences. The Faculty is still recruiting new business law mentors from the broader legal community including law firms and in-house legal departments.
"Reviving this clinic is a crucial part of better preparing our students for the labour market, for the day you leave law school," Acting Dean David Asper, Q.C. told students in his welcome remarks at the start of the first class. "Experiential learning, clinical learning, is a big part of that. It's going to be really important to rebuild this clinic in a way that keeps going after you're gone. We'll be looking to you as graduates, to come back and help us the way Taylor McCaffrey is doing, and to help sustain this into the future so that it really becomes a permanent institution, and part of our law school. So with that, I wish you well. Enjoy it."
Named for its benefactor, alumnus L. Kerry Vickar [LLB/80], the Clinic has offered numerous Manitoba law students the chance to get hands-on, practical experience in business law since 2014. Students learn skills including client, risk, and transaction management, entity choice and formation, drafting techniques, legal research, regulatory compliance, good governance, stakeholder activism, and social responsibility. The goal of the Clinic is to expose students to the practical aspects of corporate and commercial law carried out with professional responsibility and sense of public obligation.
Normally limited to 12, the Clinic welcomed 31 law students this year, numbering close to a third of the 2021 graduating class. This increase in capacity is a direct result of both the online virtual nature of the new Clinic, and the increased need for access to legal services during the COVID-19 pandemic.
"The future is now," said lawyer Nick Slonosky [LLB/79], one of the re-vamped Clinic's organizers, along with former Associate Dean (Academic) Lisa Fainstein [LLB/79], now a program advisor. "We are actively using technology to overcome social distancing and isolation in both learning and meeting with clients," Slonosky said.
Slonosky emphasised that the current effort to build a totally functioning virtual pro bono business law clinic is to help others in the most practical way possible as a response to the COVID-19 pandemic. "The L. Kerry Vickar Business Law Clinic will be operating 100% virtually," said Slonosky, "using a world-class modern online Practice Management and Client-Intake System which Clio [a leading cloud-based law practice management system provider] is providing on complimentary basis under its Academic Access Program."
Part of the new online presence of the Clinic will involve a website, the content for which will be created in part by the students. The idea, according to Fainstein, is for the Clinic to operate "like the most modern of law firms where everything is done virtually. Students, instructors and others assisting are themselves working remotely and separated by distance."
"In effect, what the students will be doing is creating a start-up themselves," said Fainstein. "In this case a highly automated technology-rich all-virtual firm capable of providing efficient, highquality, pro bono services, which will be teaching students what being a lawyer is all about."
The Clinic will operate beyond the academic term during summer months and will employ law students to continue to help small businesses, start-ups, entrepreneurs, non-profits, charities and others that cannot afford legal service on a pro bono basis.
At the first class held January 18, Charlotte McCurdy [LLB/91], a Partner with Taylor McCaffrey specializing Corporate and Commercial Law introduced the teaching teams of lawyers who would be leading each seminar. Teams included Katherine Bayer and Ryan Turner, Kevin Nenka and Doug Finkbeiner, Q.C., Elona McGiffert and Colin Findlay, Paul Prendergast, Mark Alward and Brittany Goodman, Jack Fleming and McCurdy herself.
"The L. Kerry Vickar Business Law Clinic provides real world experience to students interested in practising business law," added Suraj Lakhi. "As a third-year student nearing the end of my formal legal education, the clinic provides me with a bridge between the classroom and the realities of practising business law."
Students enrolled in the course are eager to get hands-on experience, which has been hard to come by since the start of the pandemic. Poised to graduate this spring, Alexandra Philippot said, "This is an invaluable experience which will assist in the transition from law school to articling. During COVID-19, this is particularly important, as the job market has prevented many students from getting jobs and volunteering positions that provide them with this sort of experience."
Reid Buchanan added, "Being able to take this course means that I will have the opportunity to gain practical skills while also helping local businesses in what has been a challenging year for many."
Students like Adele Lee welcome the virtual aspect of the Clinic as part of today's reality. Attending class from home, she said, "I am excited to be able to apply my legal education to provide small business owners with practical solutions during these hard times," she said. "The clinic will also be an invaluable learning opportunity as we will become accustomed to using virtual platforms to meet with clients and work collaboratively."
"It's a very tough time for all business people and lawyers are no different," said Fainstein. "As we all learn to operate virtually, clients are learning to operate with virtual lawyers. It's a new day for legal services."
The Business Law Clinic will be able to provide remote assistance to anyone in Manitoba that has an internet connection.
Upcoming Public Events
April 7th, 2021 – Stu Clark Webinar Series: Legal Fundamentals for Start–ups
As part of the course, Clinic students will be collaborating and presenting an online public webinar on as part of the Stu Clark Webinar Series, on the subject of Legal Fundamentals for Start-Ups, produced in collaboration with the Stu Clark Centre for Entrepreneurship at the Asper School of Business. Register here.
Acknowledgements
The Faculty of Law and the L. Kerry Vickar Business Law Clinic acknowledge and thank the following contributors for their generous support for this initiative:
Nick Slonosky, Lisa Fainstein and Acting Dean of Law, David Asper, Q.C. who have each taken a personal interest in this course and the Business Law Clinic it is creating, as well as the success of the students participating in the Clinic which will serve others;
Taylor McCaffrey, LLP who have for years been this course's educational partner in sharing their professional experience through a series of presentations and discussions focusing on the life cycle of a small business and on which much of the Course outline is built;
The Canadian Corporation Counsel Association (CCCA) for generously providing complimentary access to the CCCA Bootcamp 2021 online webinar series on a collection of subjects for the students to view;
The Law Society of Manitoba in granting permission to use of the Law Society's Knowledge Centre Practice Resource materials for Corporate and Commercial Law as well as to Darcia Senft [LLB, 1987], General Counsel, Director of Policy and Ethics;
Collaboration of the Stu Clark Centre for Entrepreneurship; and, North Forge Technology Exchange, as well as others, for cooperating and supporting the Clinic's real-world educational professional experiences;
Clio® for provision, on a complimentary basis, of Clio®'s world-class cloud-based Legal Practice Management System and Client Intake Software for use by students and the Clinic.