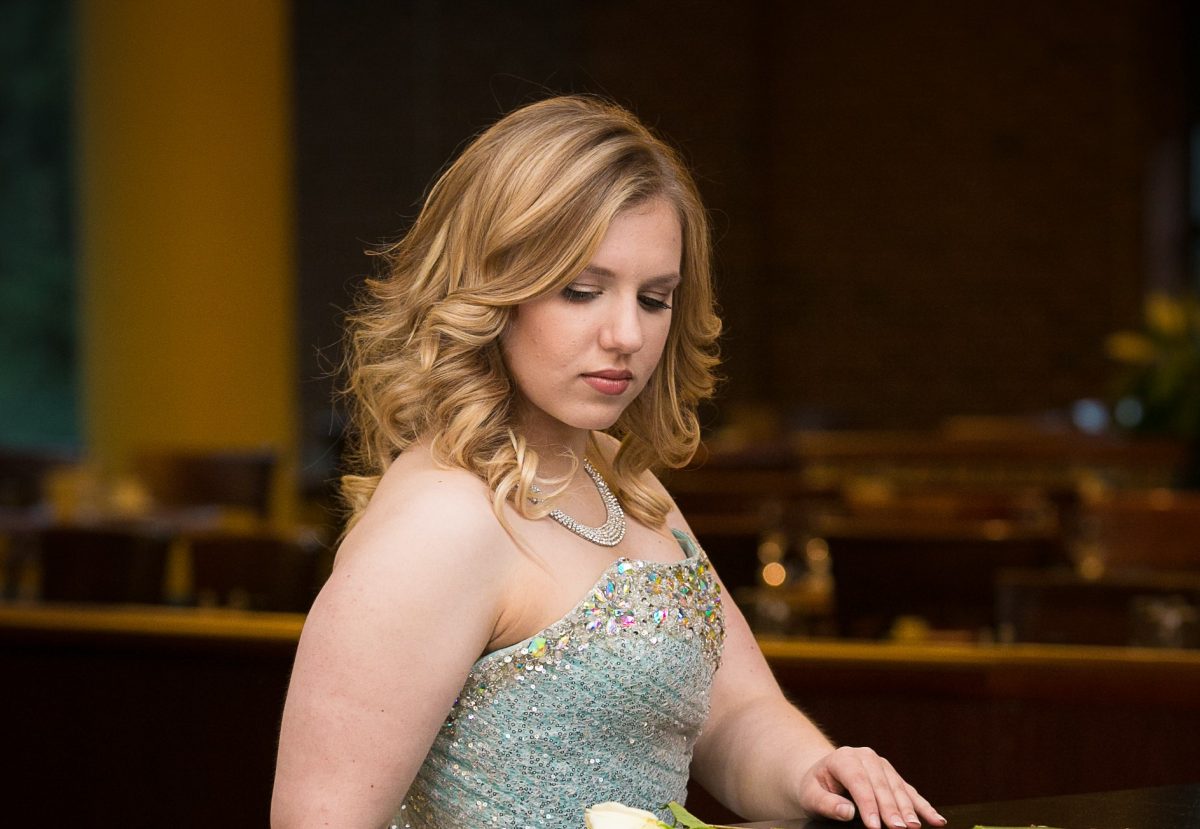 Kelsey Ronn has true talent and true grit
2020 DFOM graduate Kelsey Ronn always works hard, and it doesn't show!
July 3, 2020 —
NOTE: We in the Desautels Faculty of Music are incredibly proud of our students. While COVID-19 is sidelining in-person commencement ceremonies around the globe, we want to find alternate ways to celebrate our graduates and give them the recognition due to them. Until we can gather together to properly applaud the years of study and practice that have led to this milestone, please join us in congratulating our 2020 Desautels Faculty of Music graduates.
Today we celebrate Kelsey Ronn!
Kelsey Ronn is a born performer.
"I started to sing as soon as I could speak," says Ronn.
She has taken music lessons since she was young, and while she has nurtured her love of music ever since, it wasn't until she was 16 that she realized she wanted to become a professional musician.
"I knew I wanted to pursue a career in music after attending Joanne Hounsell's SMUS Summer Academy Opera Camp in Victoria, BC," she says of the summer that changed the course of her future.
"It was my first role in an opera, and the entire experience was magical," she says.
"I met many remarkable individuals including Lorna MacDonald, Michael Drislane, Bernard Turgeon and Teresa Turgeon to name a few," Ronn says of the experience.
The coaches she met at the camp lovingly and emphatically encouraged her to think about music as a career.
"Turgeon approached me and said, 'Kelsey, you have a special gift and people must witness it. Please consider going into music once you graduate high school,'" she recalls.
"Following our conversation, the beautiful Joanne Hounsell came to me and said, 'you have the instrument, the personality and the intellect for this industry. Let me give you a list of teachers from various universities to look into,'" Ronn says.
Fatefully, Hounsell included someone who carried Ronn across the Prairies, from her hometown of Saskatoon, Saskatchewan, to the University of Manitoba.
"On that list was Miss Tracy Dahl. If it had not been for Joanne and Bernard, I would never have enrolled at the University of Manitoba," she says.
Now, five years later, with many impressive milestones along the way, she has earned her Bachelor of Music in vocal performance.
In the faculty
After a successful audition for the Desautels Faculty of Music, Ronn delved into both solo and group performance, working with the University of Manitoba Opera Theatre ensemble, the Women's Chorus, the University Singers, and the Cantata Singers.
In the UM Opera Theatre, Ronn's hard work was rewarded with starring roles in both Cendrillon (Cinderella) and Paul Bunyan.
In the Cendrillon scene, performed in UM Opera Theatre's production of opera scenes Surprise, Surprise!, in which each song reveals something unexpected, Ronn played the titular role, dreaming of a new life while fairies working in administration help to coordinate her future. The coloratura soprano delivered a beautiful performance full of yearning and optimism. The role marked one of her favourite moments in the faculty, not least because her grandmother traveled from Saskatchewan to see her perform. We're positive her Baba was proud of her, too, because she put on a gorgeous, artistically perfect performance!
The following year, in the same ensemble's production of Tall Tales, featuring scenes that recount mythical stories, Ronn traded in her ballgown for some overalls and an axe as she played Tiny, the daughter of mythic folk hero Paul Bunyan, whose mother has recently died, and who is navigating her grief while taking on the American frontier. In the scene, she effortlessly moved between emotions of grief, new love, and hope for the future.
Outside of ensemble work, Ronn has also enjoyed phenomenal success in many other ventures. Most notably, she won the Winnipeg Music Festival's Tudor Bowl in 2018. The trophy is awarded for competition's "most outstanding performance in a competition of Grade B vocalists."
In 2019, fresh off her Tudor Bowl win, Ronn saw an explosion of success. After winning the Winnipeg Music Festival's Myrna-Lou (Mickey Rourke) McGregor Memorial Scholarship in March, she followed up with a first place win in the Desautels Faculty of Music's Zita Bernstein Competition, in which vocalists compete in the category of German Lieder. Then, in May, she traveled to her home of Saskatoon to win the Kinsmen Scholarship in vocal performance in the 2019 Saskatoon Music Festival. After giving herself the briefest of rests, Ronn then traveled to Grand Forks, North Dakota for the North Dakota-Manitoba District Metropolitan Opera National Council Auditions, where she won first place, and the Audience Choice Award. Finally, the following month, she rounded it out by winning the Desautels Faculty of Music Concerto Competition, which will see her perform – either in the upcoming year, or whenever the pandemic subsides – as a soloist leading either the University of Manitoba Symphony Orchestra, or the University of Manitoba Wind Ensemble and Concert Band.
Phew! It was quite the schedule, especially for someone who was tackling upper-level university coursework simultaneously!
Credit recital
Due to the disruption caused by COVID-19, the Desautels Faculty of Music had to cancel all of its remaining events for the 2019-2020 season. In addition to final ensemble performances, about 40 student credit recitals were cancelled, including those of graduating students, whose final credit recitals serve as a sort of capstone project showcasing what they have learned throughout their studies. Unfortunately, Ronn's final recital was among the cancelled.
For her recital, Ronn had planned to perform works including "Alleluia" from Exsultate, jubilate by W.A. Mozart, "Race For the Sky (Voices of 9/11)" by Richard Pearson Thomas, Ukrainian art songs by Yakiv Stepovyi and Stefania Turkewich, French art songs by Debussy and German art songs by Wolf and R. Strauss.
Faculty mentors
Those who think that Ronn has coasted by on talent alone would be wrong. She is at once truly determined, curious, and insightful in her relentless pursuit of knowledge and skill, traits that all of her professors and instructors repeatedly highlight in their praise of Ronn. She never backs down from a challenge, and works tirelessly to understand and sculpt each role and song she performs. She faces constructive criticism with grace, and weaves it beautifully into her resulting performances.
"Throughout my degree, I am thankful to have had Mel Braun, Katherine Twaddle and Laura Loewen as my mentors," says Ronn of the faculty members with whom she worked most closely.
"Kelsey Ronn … wow!" says Katherine Twaddle, who worked with Ronn in her role as the Opera Studies coordinator and director of the UM Opera Theatre.
"Such exciting growth over her time at the U of M. One of the things that impresses me most about Kelsey is the way she takes responsibility for her learning. She asks probing questions that illustrate her determination to understand and take ownership of what is being taught, making her a true partner in her education. I look forward to seeing where this curiosity and tenacity will take her," says Twaddle.
"Kelsey's voice, a force of nature in its own right, is connected to a deep musicality that allows her to fill a room with soul. Hard working and generous, she is the epitome of a Bel Canto singer," agrees Mel Braun, area head of the DFOM's voice department, who also worked with Ronn in the UM Opera Theatre.
Kelsey was always SO determined to do justice to the works she performed," says Laura Loewen, associate professor of music in the DFOM, collaborative pianist, and the incoming associate dean for undergraduate studies.
"She posed such insightful questions, was unafraid to ask for clarification when she didn't understand, and owned her educational journey. She has such a beautiful, curious spirit that reveals itself in her performances," says Loewen.
"The mentor who will continue to impact me is Tracy Dahl," says Ronn.
"I am very blessed to have been a part of Tracy's studio. Throughout my five years of being her student, she has helped mold my artistry and technique while simultaneously providing honest feedback," she says of what she has learned from Dahl.
"Kelsey's evolution over the past five years has been remarkable," says Dahl, Ronn's major practical study instructor and a voice instructor in the DFOM.
"Her signature energy is still there in all its enthusiasm, but it is now grounded by her commitment to her musical preparation," Dahl says.
"Kelsey took seriously her journey in our program and every year made strides forward. Her final year was especially rewarding as we saw her success in auditions for masters programs and the Metropolitan Opera Council auditions, making it to the Regionals in Minneapolis," Dahl adds.
Dahl also notes that Ronn's background may have contributed to her current success.
"Her background as a competitive figure skater has helped her in the less academic and musical side of being a musician. Music is also a competitive field and her experience as a skater and her passion for music, coupled with her determination to succeed create a bond that will make her very strong," says Dahl of the intersection between athletics and music.
"I always appreciated Kelsey's efforts to dig deeper into the music and make connections to the theatricality of her performances. She is a good story teller and has that special quality in her instrument and in her stage presence," says Dahl.
This fall, Ronn will be taking her grit, talent, and curiosity to McGill University, where she has earned a place in their Master of Music program. We know she will continue to impress her professors.
As she departs the Prairies for Quebec, Ronn has some advice for incoming DFOM students.
"Do not be afraid of failure!" she says emphatically.
"Take advantage of the safe academic environment you are in. Discover, ask questions frequently, make mistakes, experiment and learn how to use your instrument properly. Musicians and young artists tend to strive for perfection. However, perfection does not exist. It is a figment of the imagination. Instead, do your best and don't give up!" she says.
"I wish to thank the teachers and collaborative pianists for continually dedicating themselves to their students/colleagues. My words fail when having to articulate my gratitude," she says in closing.
"However, I promise to pass your gifts along and share them with the world!" she says.
We know you will, Kelsey, and the whole world will soon know your name! We have been so incredibly fortunate to have you in the faculty, and we are excited to watch your journey forward!