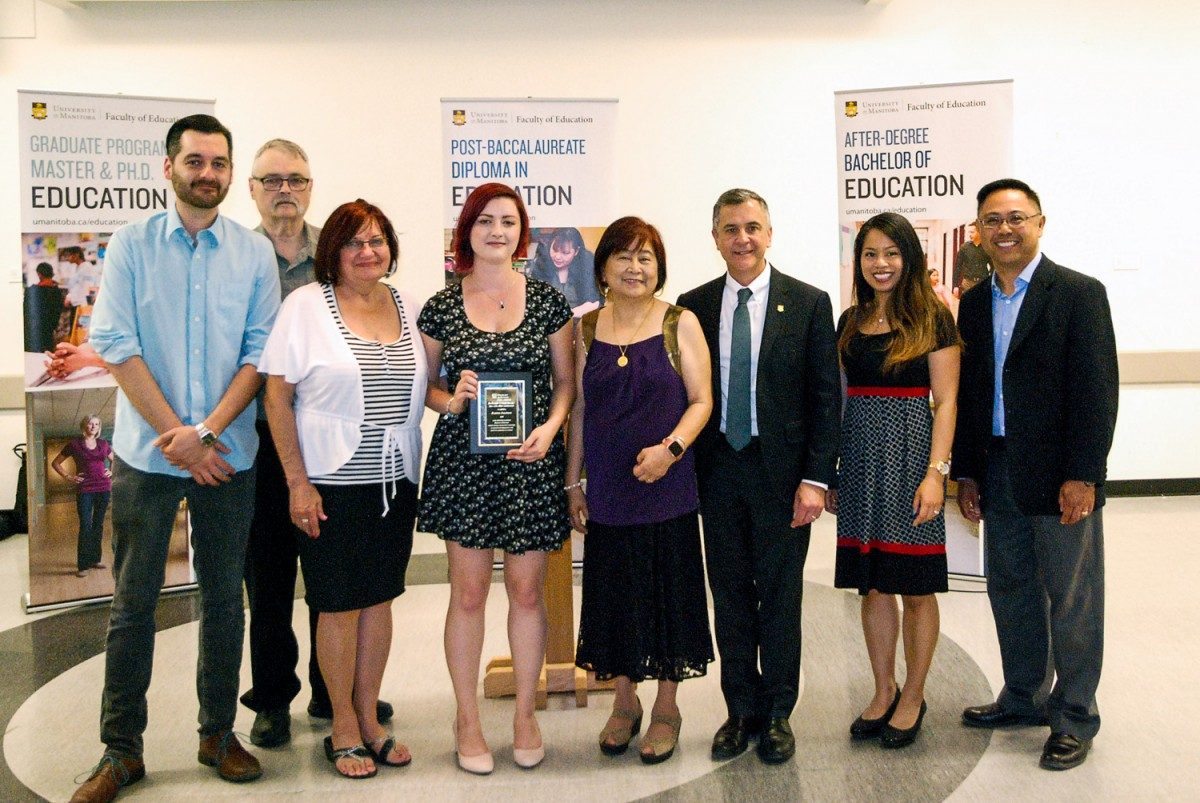 'Keen scholar' first recipient of Magsino award
BEd graduate humbled to receive honour
June 26, 2017 —
The Faculty of Education's first recipient of the Dr. Romulo and Patricia Magsino Prize in Education is described as "a keen scholar, an exceptional leader, and is highly active in community involvement."
Kristen Erickson was nominated by Dr. Michelle Honeyford, who taught the BEd graduate in two classes and worked with her on a four-month research project.
"Kristen is an exceptional teacher candidate, a strong scholar, and insightful researcher," Honeyford wrote in her nomination letter.
In receiving the award, Erickson's said she was grateful and humbled to receive a leadership award in the Magsino family's name.
"Knowing how much Dr. Magsino had contributed to the faculty as a former dean, as well as the family's continued championing for the Filipino community and cultural diversity in Manitoba, it was an honour to have been acknowledged for my own small contributions during my time as an education student," she stated in an email.
In addition to pursuing her studies at the Faculty of Education, Erickson also volunteered with CanU, a mentorship program pairing children from challenged neighbourhoods with university students. She also volunteered at J.H. Burns Collegiate on a citizenship education project, helping students to create multimodal representations of their heroes.
"I am grateful to my mentors who encouraged me and provided me with support as I pursued these opportunities, and look forward to a long career in education where I will continue to find ways to contribute to the community inside and outside my classroom," Erickson said.
"It is my belief that Kristen exemplifies the scholarship, leadership, and community service that this award seeks to recognize," Honeyford wrote in her nomination letter.
Other student award winners include:
University Gold Medal (Highest Academic Standing in the Faculty):  Ashley Brekelmans
Alexander McIntyre Prize in Education (best combination of scholarship and leadership): Charla Anderson
Alex Noble Memorial Scholarship (special interest in and aptitude for science instruction): Nicole Ramsoomair
Nels & Elvira Pearson Scholarship (distinction and promise of teaching competence): Donovan Alexander
Bessie Turner Memorial Prize (promise of professional competence in primary teaching [Early Years]): Janis Stern
Isabel Wettlaufer Scholarship (Human Ecology program in the Faculty of Education): Glynis Gomez
Truesdale Medal and Prize (for a student graduating who has demonstrated great promise for excellence in classroom teaching): Courtney Van DeKerckhove
Dr. Robert Fletcher Medal and Prize in Education (highest promise of teaching competence):  Janis Stern
Faculty of Education Program Medal – Early Years Stream:  Ashley Breklemans
Faculty of Education Program Medal – Middle Years Stream:  Nicole Ramsoomair
Faculty of Education Program Medal – Senior Years Stream: Jami Reimer
In all, the Faculty of Education graduated 143 BEd students, 63 PBDE students, 35 MEd students and three PhD students.
Click here for a full list of graduates.