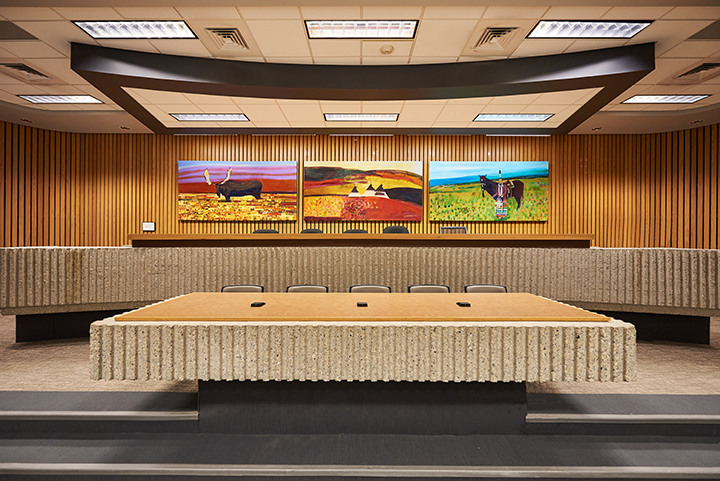 Kawaskimhon Moot 2021 raised much-needed conversations
Looking back on invaluable student experience in view of changing paradigms
May 15, 2021 —
With Bill c 15, An Act respecting the United Nations Declaration on the Rights of Indigenous Peoples (UNDRIP) having undergone another examination before the Senate Standing Committee on Aboriginal Peoples on May 10th, the way this year's Kawaskimhon Moot unfolded is indicative of changing paradigms. The Faculty of Law's team of students came away from the annual Indigenous moot experience seeing first-hand how much more work there is to do in Indigenous law in Canada and in rethinking of how it is taught in Canadian law schools.
The moot was hosted by the University of Saskatchewan in Iqaluit, Nunavut on March 12-13, 2021. While the moot bundle, which is a collection of items representing each host location and intended to heal or teach, made it there, the teams including Binesi Boulanger, Jenna Jeffrey, Anisha Sahota and Tyler Swan from Robson Hall, attended virtually. The team was coached by UM Faculty of Law Professor Brenda Gunn, whose research focuses on UNDRIP, and who has testified as an expert witness at the Bill c 15 Senate Standing Committee meetings.
While the team would have loved to have travelled to Iqaluit and meet the other student participants in person, Jeffrey said she and Boulanger, who sat at a virtual table together, "made an effort to have a conversation with each team at our table after the first day."
"I had a great experience at our table for this moot," said Boulanger. "Jenna's and my table was made up predominantly of Indigenous students, including quite a few I knew from the Indigenous Bar Association conference or through friends."
"We also had a NILSA [National Indigenous Law Students Association] meeting the next day where we were able to debrief even further as a few other executive members had also participated," Jeffrey added.
The Kawaskimhon (Cree for "speaking with knowledge") stands apart from other moots in that it is not actually competitive, but rather draws on Indigenous customs of consensus-building alongside provincial, federal and international law.
With the focus more on collaborative problem solving as opposed to an adversarial approach with "winners", I think this moot deserves more attention. – Jenna Jeffrey
The 2021 problem posed by the University of Saskatchewan dealt with a land title issue that asked teams to create legislation to be relied upon by a fictional Métis Nation to deal with the effects of COVID-19. Teams were assigned to represent the various parties involved including federal and provincial governments, the Métis Nation, the RCMP, the National Centre for Truth and Reconciliation, and the Métis National Council.
A bit of controversy arose with the moot problem when a facilitator pointed out that it was based on certain colonial assumptions about land title that had been established as being incorrect. According to Boulanger, however, that criticism of the problem "set a great tone for our table and our table's facilitator did a good job of centring" the criticism.
The fact that things were destabilized from the vacuum of the problem we were working in and brought back to reality with [the objecting facilitator's] criticism made the experience tangible despite the online format. – Binesi Boulanger
From Jeffrey's perspective as a Métis student, the opportunity to work on this problem was invaluable, because it was about COVID-19 issues and a fictional Métis Nation. "The Kawaskimhon Moot provides a unique opportunity for Indigenous students to incorporate external knowledge and experiences with concepts we learn in school from classes such as advocacy and negotiations," said Jeffrey, adding, "As a First Nations student, Binesi brought in a wealth of COVID response information from Manitoba communities, allowing us to offer real-life examples and back up our suggestions at the negotiating table."
Despite the questions and challenges raised by the moot question itself, the students still found the whole experience well worthwhile, for aspects of networking, engaging with important problems affecting real-life situations, and identifying and addressing lingering colonial assumptions and perspectives. "It is hard to say what the moot will look like going forward, but these are conversations that need to be had, not only as part of this moot, but in the broader legal community as well," said Jeffrey.
She added, "It is a marathon weekend as we negotiate for the better part of two days and discuss intense material but I am very grateful to have participated in this moot with my teammate and friend Binesi Boulanger."
Weeks later, their coach's words spoken before the Senate Standing Committee resonated on a possible future of the questions this moot puts before its students. In her testimony, Gunn said, citing the Bill c 15 preamble, "We have to accept that the only way to reconcile is to recognize the rights of Indigenous peoples and shift the relationship from a colonial one to a relationship based on justice, democracy, respect for human rights, non-discrimination and good faith."