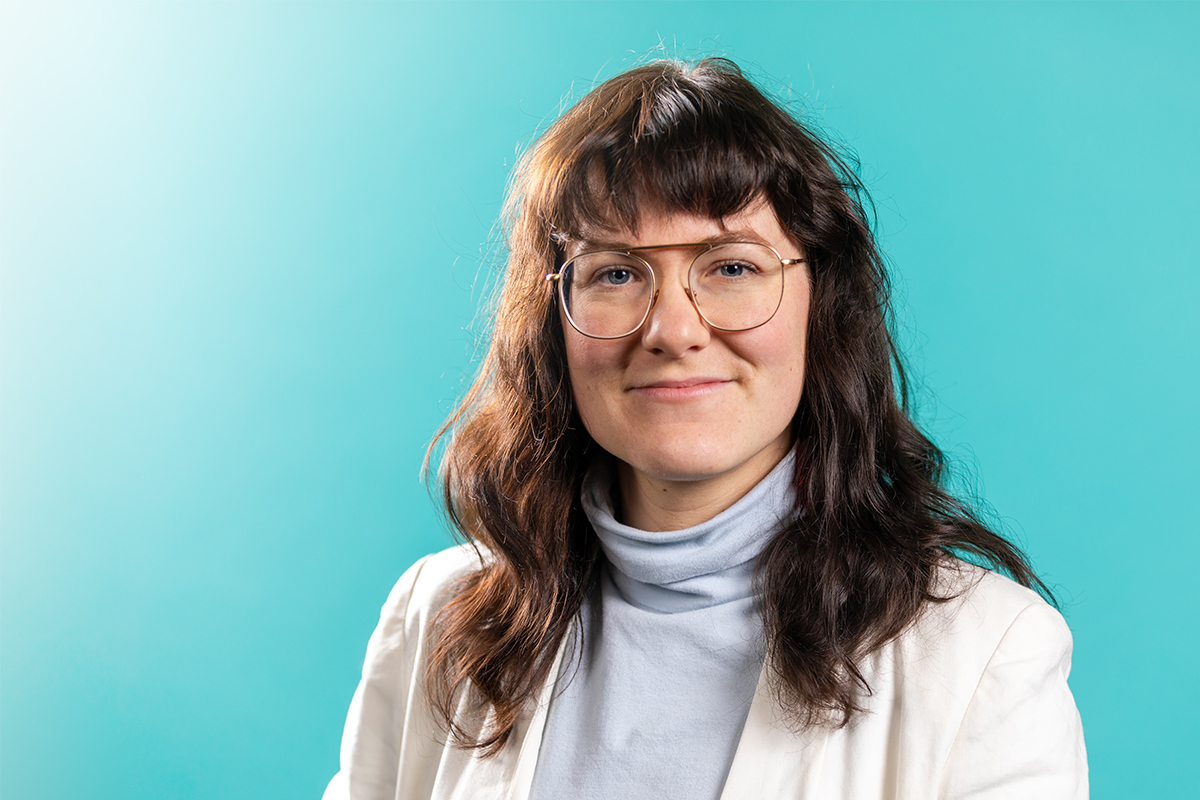 Katherine Boyer awarded for achievement in research and creative work
May 1, 2021 —
This Spring, School of Art faculty member, Katherine Boyer has been named the recipient of the Terry G. Falconer Memorial Winnipeg Rh Institute Foundation Emerging Researcher Award for creative work. Established in 1973, the award, and research grant of $12,000, honors UM academic staff in the early stages of their careers who display exceptional innovation, leadership and promise in their chosen fields.
"I can't even describe this feeling right now!" said Boyer. "I am forever grateful to Sarah Ciurysek for her incredible hard work and to the UM selection committee for their support in my nomination."
A multidisciplinary artist, whose work is focused on methods bound to textile arts and the handmade – Boyer's work and research encompasses personal family narratives, entwined with Métis history, material culture, and architectural spaces (human made and natural). Her work often explores boundaries between two opposing things as an effort to better understand both sides of a perceived dichotomous identity. This manifests in long, slow, and considerate laborious processes that attempt to unravel and better understand history, environmental influences, and personal memories. Methods and perspectives expanded on in her critical and exploratory essay, The Foreground Is Blue — Katherine Boyer, Viewpoints, FOLD. Boyer holds a BFA from the University of Regina (Sculpture + Printmaking) and an MFA at the University of Manitoba.
"What wonderful news that an artist and researcher as deserving as Katherine Boyer is receiving the Falconer Emerging Research Rh Award!" said Sarah Ciurysek, Associate director – graduate programs and research, School of Art. "Boyer's creative research, featuring beadwork and woodworking, highlights the living connection between the historical and the contemporary. Boyer re-frames and re-activates historical Métis objects, and she creates new artworks which contribute to Métis material culture."
Boyer's work also contributes immensely to the SoA – While developing her own successful practice, she has remained a constant source of expertise and creativity for students and faculty. Widely respected within the academy but also in the community, Boyer is dedicated to a student-focused model of art education that encourages students to find success and voice in the things they love to do.
"And it's no wonder" added Ciurysek. Boyer's work "is innovative, exciting, of the highest calibre, and, importantly, it is needed. She consequently has a busy research program, with many upcoming exhibitions, residencies, a book publication, beading workshops, and more. We're thrilled that Katherine Boyer is being honoured with the Falconer Award!"
In these extraordinary times, SoA is proud to acknowledge Katherine Boyer for her research and dedication to excellence that have made SoA what it is today, a leader in impactful, creative research.
Please join us in applauding Katherine Boyer for this achievement!
About the Terry G. Falconer Memorial Winnipeg Rh Institute Foundation Emerging Researcher Award:
The Winnipeg Rh Institute Foundation was established with the objective to support the advancement of knowledge in all fields; and it derives funds for this purpose from royalties arising from the sale of serums and medical formulae.
The purpose of the Terry G. Falconer Memorial Winnipeg Rh Institute Foundation Emerging Researcher Awards, which were established in 1973 and renamed in Mr. Falconer's memory in 2016, is to recognize academic staff who are early in their research, scholarly work and other creative activities; and who (i) display exception promise, (ii) demonstrate high qualities in innovation and (iii) stimulate research colleagues in their own and related disciplines.
Prospective honorees are nominated by members of the UM community and selected through a vigorous review process led by a committee appointed by the Senate Committee on University Research. Nominees must exceed the criteria outlined in the following categories: impact, critical review and reception, and a strong connection to the UM community.
Each award consists of a research grant of $12,000. Which must be utilized within three years and is non-transferrable.