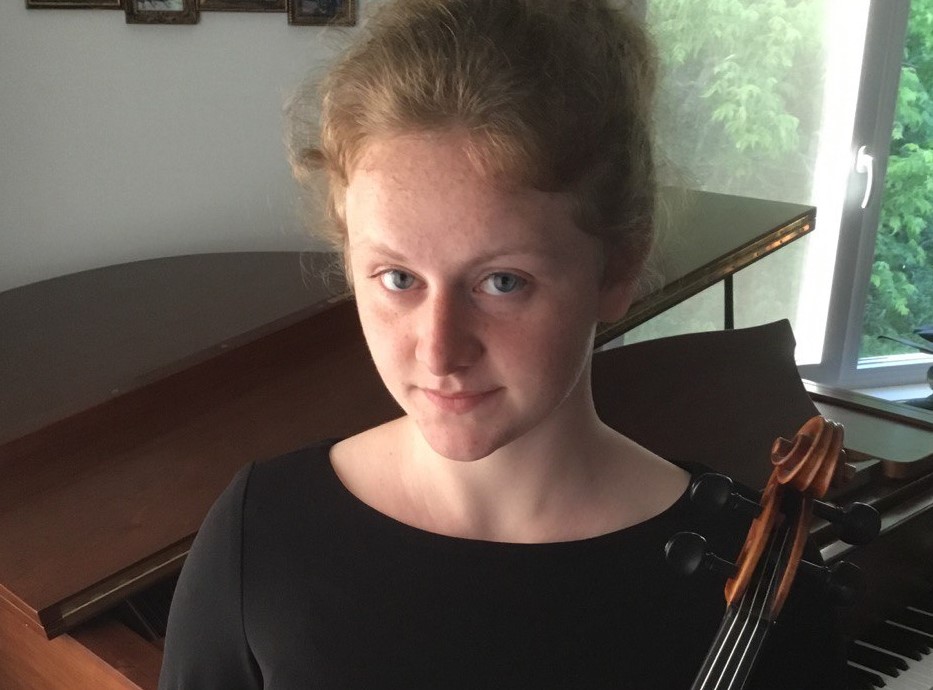 Katharina Fuchs is a 'shining light'
2020 DFOM graduate Katharina Fuchs is a multi-talented wonder who will be teaching some very lucky students!
July 10, 2020 —
NOTE: We in the Desautels Faculty of Music are incredibly proud of our students. While COVID-19 is sidelining in-person commencement ceremonies around the globe, we want to find alternate ways to celebrate our graduates and give them the recognition due to them. Until we can gather together to properly applaud the years of study and practice that have led to this milestone, please join us in congratulating our 2020 Desautels Faculty of Music graduates.
Today we celebrate Katharina Fuchs!
Pursuing music was never a question for Katharina Fuchs.
"Music was my passion from childhood and I always knew that I wanted to pursue music as a career," she says.
At an age when most children are still trying to master the gross motor skills needed to tie their shoes, Fuchs was already playing both violin and piano, instruments that the Steinbach, Manitoba native now plays with great skill and beauty.
As soon as she entered the Faculty of Music, majoring in violin with minor practical study in piano, the hardworking as busy musician began performing with a number of ensembles, including the University of Manitoba Symphony Orchestra. She also performed in multiple small chamber groups in both instruments, playing with a violin quartet, and in a piano duo, trio, and quintet.
This past year, she even offered up her impressive violin skills for the Manitoba premiere of Handel's Chamber Opera Rodrigo, with the Desautels Chamber Opera Group.
We're not entirely sure how she managed to juggle so many performance and collaboration opportunities – it's baffling and impressive – but her advice to incoming students in the DFOM provides a hint.
"Always keep going, never give up, and take time to play or sing just for fun," she suggests to those who come after her.
"Take up as many opportunities to perform as you can, as it will make you stronger," she adds.
Students would do well to take her advice. Fuchs is a recipient of multiple scholarships in the DFOM, including the Marcel A. Desautels Faculty of Music Scholarship, the Allan McKean Memorial Scholarship, and the Sam and Mary Szach Scholarship for study in Russian language.
Credit Recital
Due to the disruption caused by COVID-19, the Desautels Faculty of Music had to cancel all of its remaining events for the 2019-2020 season. In addition to final ensemble performances, about 40 student credit recitals were cancelled, including those of graduating students, whose final credit recitals serve as a sort of capstone project showcasing what they have learned throughout their studies. Unfortunately, Fuchs' recital was among the cancelled.
For her recital, Fuchs had chosen a wide-ranging repertoire to showcase her versatility as an artist.
"I would have performed four absolutely wonderful pieces ranging from Baroque to Romantic style," she says.
The pieces would have included Niccolò Paganini's "Caprice for Solo Violin," Op. 1 No. 20; Beethoven's Sonata No. 6 in A Major, Op. 30, No. 1; J.S. Bach's "Courante" and "Sarabande" from Partita No. 2 in D minor for Solo Violin; and Granados-Kreisler's Spanish Dance.
Faculty mentors
Fuchs has found no shortage of DFOM professors and instructors for whom she is thankful. At the top of her list is her Major Practical Study instructor, Professor Oleg Pokhanovski, the DFOM's area head for strings.
"I would like to sincerely thank my violin professor Dr. Oleg Pokhanovski, who guided me with encouragement and patience throughout my degree and pushed me to my best in development as a violin player," she says.
"He always knew how to bring out the best in my playing," she adds.
"It was such a pleasure to have Katharina Fuchs as a violin student," says Pokhanovski.
"Very well-mannered, respectful and hard-working, she was a model student. She made a huge progress as violinist and musician, and learned to play with wonderful tone, delicate phrasing and great musicality," he says.
"Katharina made a decision not to audition for the performance degree at the end of her second year. However her playing at the end of this year was truly of the Master's level. She is considering auditioning for her master's [degree] next year and is an excellent candidate for the program," he says of his student.
"As a string player UMSO is a very big part of our study, I would like to thank our former conductor Julian Pellicano and our new conductor Dr. Naomi Woo," Fuchs adds.
She is also thankful for the guidance she received from the faculty members who led the many chamber ensembles in which she performed.
"Thank you to the Small Chamber Group coaches that I had the privilege of working with – Dr. Minna Rose Chung, Dr. Judy Kehler Siebert, Dr. David Moroz, Dr. Oleg Pohkanovski, Jeremy Buzash, and Daniel Scholz and Karl Stobbe from the Clearwater Quartet," Fuchs says.
"Katharina has been a wonderful student in our faculty and her dedication to her violin studies has reached an impressive level to which much congratulations is owed to her professor, Dr. Oleg Pokhanovski and our wonderful ensemble programs," says Minna Chung, associate professor of music, cello instructor, and coordinator for UMSO and multiple chamber ensembles.
"Katherina expressed her desire to continue her graduate degree at the Desautels Faculty of Music in order to maximize her ability to teach advanced repertoire and continue her love of the violin, chamber, and orchestral literature. Over the years, her personality and shining light has made a tremendous impact in our program and we celebrate her achievements!" adds Chung.
"Thank you to my former Musicianship Professor Karla Dawe and to all History and Theory Professors – Dr. James Maiello, Dr. Kurt Markstrom, Dr. Colette Simonot-Maiello, Dr. David Byrne, Dr. Charles Horton," adds Fuchs of the professors with whom she built and broadened her musical knowledge.
"In her time in the Desautels Faculty of Music, Katharina was a model musician and music student, because she excelled in several different fields, each of which influenced each other," says David Byrne, associate professor of music in the DFOM.
"Her work in my theory and orchestration classes was not only consistently of great skill and polish, but also very expressive and musically effective, reflecting her instincts and experience as a performer," he says.
"And Katharina was always enthusiastic, eager and ready to learn as much as possible about music – exactly the qualities that make for a great musician and music teacher," Byrne adds.
Colette Simonot-Maiello, associate professor of music, agrees.
"Katharina took my Music History class on the Romantic period. I really enjoyed teaching her because she always seemed so enthusiastic to learn about all of the different topics we discussed in that class," Simonot-Maiello says.
"I tend to give students a lot of freedom in choosing a focus for their research projects and Katharina took full advantage of that to really dig into some ideas and pieces that she wanted to know more about," she adds.
Fuchs also wishes to acknowledge the two deans who have led the faculty during her tenure as a student.
"I would also like to thank our former dean Dr. Edmund Dawe [who retired in 2018] and our new dean Dr. Edward Jurkowski," she adds.
Next steps
While considering a master's program, Fuchs has dove into the music job market, and the talented musician already has plans lined up for the upcoming year.
"I am currently teaching at the Steinbach Arts Council, and in the coming school year I will also teach through Signature Music at the Steinbach Christian High School," she says.
"I want to continue passing on the love of music and the joy of playing violin to my students that I teach," she says of her work in music education.
As for herself, Fuchs is incredibly keen on filling her life with all things music.
"I want to further my knowledge in music, continue learning new pieces and build my knowledge in all varieties of repertoire," she says.
Acknowledgements
In addition to the aforementioned members of the faculty, Fuchs would like to offer the following acknowledgements:
"Thank you to all professors and faculty staff, I sincerely appreciate your continuous support, encouragement, and dedication to all students. Thank you for providing us with all we needed to achieve our goals and excel in everything we do," she says.
"I wish my fellow graduates and everyone of the Desautels Faculty of Music a blessed future!" she says in closing.
Katharina Fuchs' future is already blessed, as well as incredibly bright – just like her! For our part, the Desautels Faculty of Music has been blessed to have this outstanding violinist and pianist in our faculty, and we know she is going to do amazing things in her future!
Congratulations, Katharina!