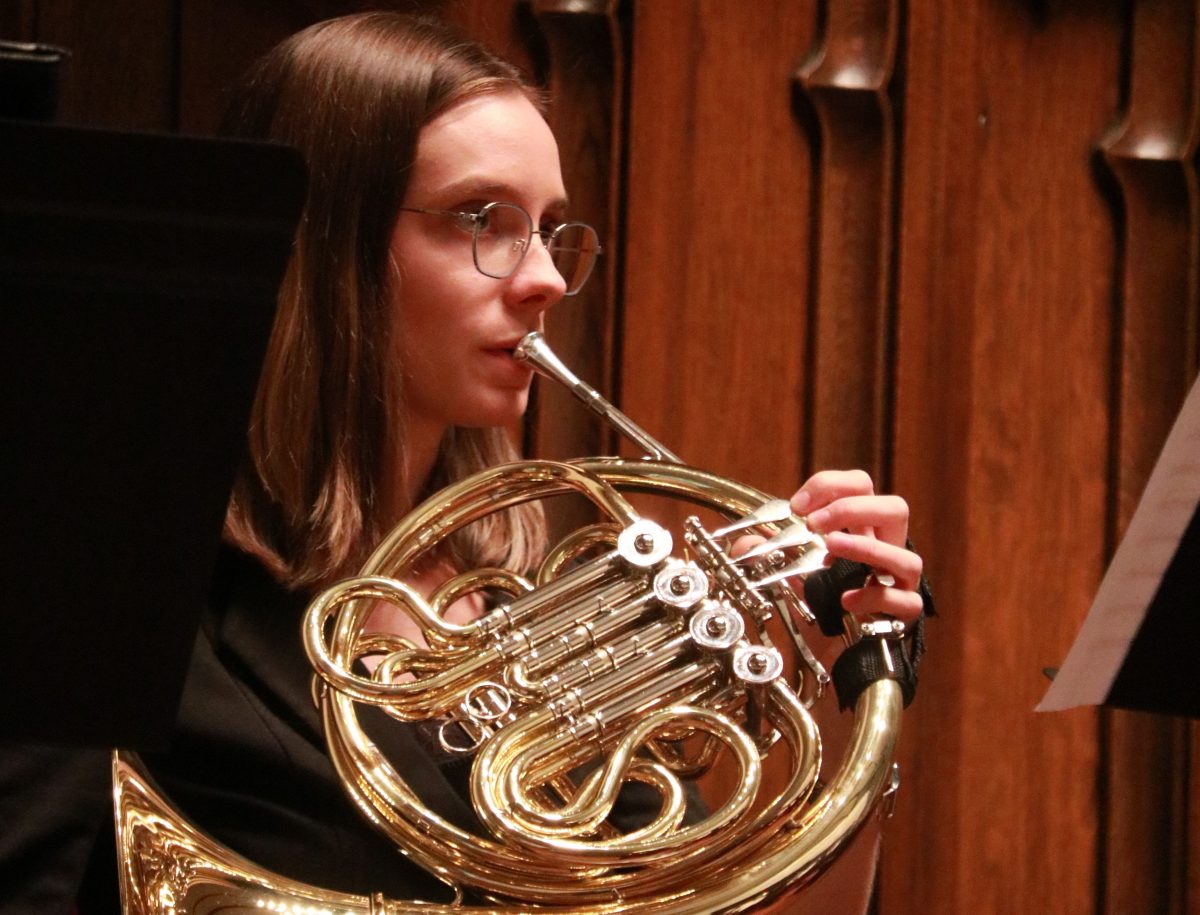 Karen Sigurdson will change your life for the better
2020 DFOM graduate Karen Sigurdson wants to help people improve their mental health, and she's already begun.
June 11, 2020 —
NOTE: We in the Desautels Faculty of Music are incredibly proud of our students. While COVID-19 is sidelining in-person commencement ceremonies around the globe, we want to find alternate ways to celebrate our graduates and give them the recognition due to them. Until we can gather together to properly applaud the years of study and practice that have led to this milestone, please join us in congratulating our 2020 Desautels Faculty of Music graduates.
Today we celebrate Karen Sigurdson!
Karen Sigurdson has never missed an opportunity to engage.
Sigurdson, who grew up in East Selkirk, Manitoba, began playing piano at age 6, picked up trombone in fifth grade, and then switched to French horn, her instrument of focus in the DFOM, in seventh grade.
"I didn't know what I wanted to pursue until part-way through grade 12," she says of her choice to study music in university.
"My experience in my high school performing arts program meant so much to me that I decided to audition for music school," she says.
Driven to succeed
After a successful audition for the Desautels Faculty of Music, Sigurdson was named a President's Scholar at the University of Manitoba, a designation given to only a select few students at the University of Manitoba. High school students must enter university with a 95% grade average, and continuing student who wish to remain President's Scholars must achieve a 4.0 for each year. Sigurdson was a President's Scholar for all four years of her degree, a monumental feat in itself.
Not satisfied to rest on her academic laurels, Sigurdson immediately absorbed every opportunity she could.
In addition to playing in the University of Manitoba Wind Ensemble for four years, and the Symphony Orchestra for two and a half years, Sigurdson also diversified her musical portfolio during her time in the faculty.
"I played in two different woodwind quintets and a brass quintet, was an alto in Concert Choir in my first year, performed a couple of times with the Jazz Orchestra on horn, and once with the Percussion Ensemble as a tam-tam player," she says.
"Karen immersed herself in the vibrant culture of the Faculty of Music, serving on the students' association and volunteering for many activities," says her MPS instructor Ken MacDonald, who notes that Sigurdson also worked at the University of Manitoba Active Living Centre (how does she find that time?!).
Sigurdson has served on the Faculty of Music Students' Association (FMSA) as the faculty's senate representative, and as the vice stick during her third and fourth years.
"The Faculty of Music Students' Association has been an important part of my degree," says Sigurdson.
"Being a member of the FMSA has allowed me to learn so many new skills, explore areas of the university that I would not have otherwise encountered, and forge so many friendships. I am so grateful for all the experiences that I was able to have as an FMSA councillor," she says.
One of those explorations may well have changed the trajectory of her career.
Well, well, well
Sigurdson was part of the FMSA team that wrote, designed, and implemented the Desautels Faculty of Music's first comprehensive wellness program, which the group created to help music students strengthen their physical, emotional and mental wellness.
The program emanated from of FMSA's successful grant proposal for the University of Manitoba's Success Through Wellness campaign, a facet of the Campus Mental Health Strategy.
Having intimate knowledge of the unique stresses and mental health risks that music students face, the group researched and prepared a series of workshops for music students, which included yoga, stress management, and self defense classes.
Sigurdson's work with the French horn makes her keenly aware of the postural stresses that arise from playing an instrument that requires asymmetric posture, and she was heavily involved in implementing the Feldenkrais movement workshops that FMSA held.
"Within the past year or two, I realized that music is not something that I want to pursue as a career," says Sigurdson.
"I have become very interested in the field of mental health, and would love to become a counsellor or psychologist," she says of her inspiration to shift her career aspirations.
Sigurdson plans to spend the next few years to pursue some of her other interests, travel "if it becomes safe to do so," and then will return to school to study psychology.
"I couldn't be more pleased and proud of her!" says MacDonald of Sigurdson's change in career plans.
"Our Faculty of Music graduates have gone into law, medicine, air traffic control, finance, the military – a diversity of careers that all prize the diligence that comes with studying music at such a high level," he adds.
Of academics and performance
Sigurdson has valued learning performance pieces in the Faculty of Music.
"My favourite solo piece to learn was Richard Strauss's Horn Concerto No. 1 in E-flat Major," she says.
"I love Strauss's writing for horn," she says of the composer.
"My favourite ensemble piece to perform was Tchaikovsky's Symphony No. 1 in G Minor 'Winter Daydreams,' with the Symphony Orchestra, and I also enjoyed playing Symphonic Metamorphosis by Hindemith, Symphony in D Minor by Franck, and The Planets by Holst in brass orchestral reading sessions," she adds.
She credits her MPS instructors Ken MacDonald, and, this past year, Patty Evans, with helping her to excel in music.
"I would like to acknowledge my horn teacher, Ken MacDonald," she says.
"Ken is a fantastic musician and a great teacher. I have learned so much and grown as a horn player over the past four years thanks to his guidance and patience," she adds.
"Karen digs deep into the many issues that confront a horn student, such as specialized physical demands, emotional growth, and communication through music. I always appreciated Karen's perseverance. I think that is one facet of character that an education in music really cultivates," says MacDonald of Sigurdson.
"I would also like to acknowledge Patty Evans, whom I studied with this past school year. She is another excellent musician, and studying with her this year reinvigorated my horn playing at a time when I was feeling stagnant. I feel lucky to have been able to study with not just one great horn player, but two," adds Sigurdson.
Many of Sigurdson's proudest moments in the faculty, however, stem from her work in music theory and history courses, further highlighting the love for research that will help her to become an incredible psychologist.
"I am proud of many of the projects I completed in my upper years' classes, including my final project for Form in Tonal Music, about the form of the first movement of Mozart's "Paris" Symphony, No. 31, and my final project for Analytical Approaches to Rhythm and Metre in Dance [a music theory course in the Faculty of Music, taught by Dr. Rebecca Simpson-Lidtke], which included a discussion and analysis of Métis jigging using my own notational system," says the innovative Sigurdson.
In a few weeks, the Desautels Faculty of Music will be featuring Sigurdson's fascinating jigging research in a separate UM Today piece, so be on the lookout for it!
Advice for incoming students
Sigurdson has plenty of tips for new DFOM students. Most important is the hard-learned skill set of learning to say both yes and no.
"Don't shy away from opportunities that are presented to you throughout your degree, even if they are outside of your comfort zone," she says.
"If you are asked to sub in an ensemble, teach at a band camp, play in someone's recital, or any number of other opportunities, you should say yes! One of the great things about being part of a smaller faculty like the DFOM is that opportunities like these crop up often. They are a great chance to expand your skillset, meet new friends, connect with professors that you may not have met otherwise, and to grow as a person," Sigurdson says.
"Saying yes to opportunities like these really enriched my degree experience. That being said, it's also important to say no to things if you already have a full plate. The schedule of a music student can become incredibly busy, and it's essential to look out for your own physical and mental health too!"
She is already great at helping people recognize the need for establishing balance and boundaries! We have no doubt that Karen Sigurdson will make an amazing therapist someday, and hope that she will come back to the DFOM to host mental health workshops in the Success Through Wellness program, which, thanks to her hard work with the FMSA, has become an embedded part of the faculty!
Congratulations, Karen! We look forward to living in a society where someone as kind, competent, engaged, and smart as you is helping people to identify and live their best lives!