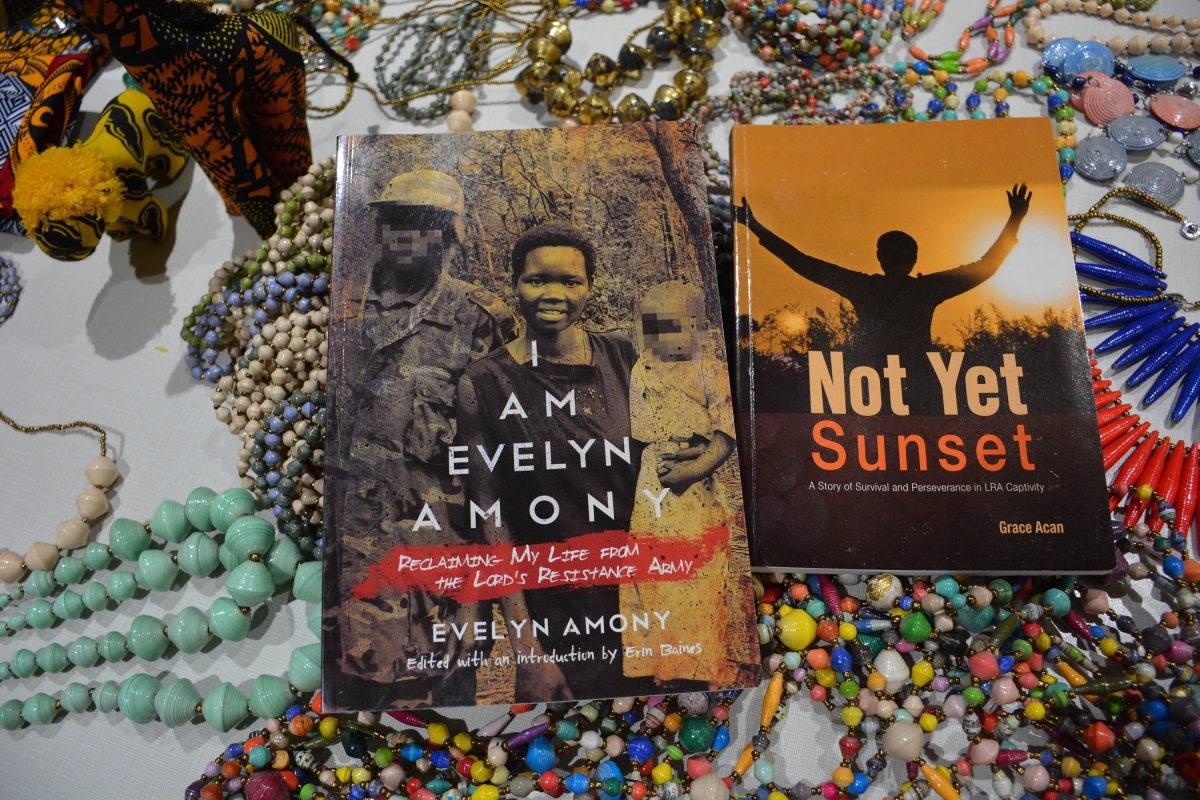 Justice for Girls Abducted in War
October 25, 2019 —
War crimes trials and apologies are often the focus after atrocities. But for women who have escaped conjugal slavery, justice means addressing their immediate needs, Grace Acan told about 50 students and professors at Robson Hall on Oct. 24.
She is one of two Ugandan women abducted as children by the Lord's Resistance Army who are featured in a new exhibit at the Canadian Museum for Human Rights.
"Many of my friends, who were abducted as well, they say what is the point of going to court if my child is not going to school, if I have nothing to eat for dinner?" Acan said.
She and Evelyn Amony helped found the Ugandan Women's Advocacy Network that lobbies for reparations for war-affected women and their children conceived during forced marriages to older army commanders.
Both women eventually found the courage to write books about their experience. In Acan's case, she wanted to challenge rumours circulating in her community about abducted girls participating in LRA bombing. Amony hopes someone who reads her book will help her find the daughter who went missing during an ambush by the Ugandan military.
"I wanted the world to know the pain that parents feel when their children are taken away from them," she said, echoing the words of many Canadian residential school survivors.
Amony says the LRA should apologize but so should the Ugandan government, which is allowing former LRA commanders to walk around freely and hold jobs, despite not supporting their children.
As an added insult, the government asked women who were barely literate after being kidnapped at school age to sign documents pardoning them for fights they never willingly participated in. Even children born in captivity were issued amnesty cards.
After her escape, Acan made the difficult choice of leaving her 14-month-old daughter to return to school in 2004 and eventually got a university degree. Her daughter has now started university herself.
"When a tree is cut down, it can still grow … very fresh leaves like a newly planted one," Amony said.
Uganda has a new transitional justice policy but it's not yet clear what it will mean in practice.
The Women's Advocacy Network hosts dialogues to help communities overcome their reluctance to welcome abducted girls home. The network also helps children trace their fathers' families to ask for financial support.
Toys and beaded jewelry made by LRA escapees, who have a difficult time earning a living, are available for sale in the museum's gift shop.
The Robson Hall discussion was organized by York University's Conjugal Slavery in War project and chaired by Kjell Anderson, the director of the University of Manitoba's new Master of Human Rights program. He is writing a book about Dominic Ongwen, a former Lord's Resistance Army child abductee turned commander now on trial for war crimes. Another new University of Manitoba professor, anthropologist Lara Rosenoff Gauvin, knows Acan and Amony from her own research in northern Uganda.
A videotape of the presentation will soon be posted on the Robson Hall YouTube channel.