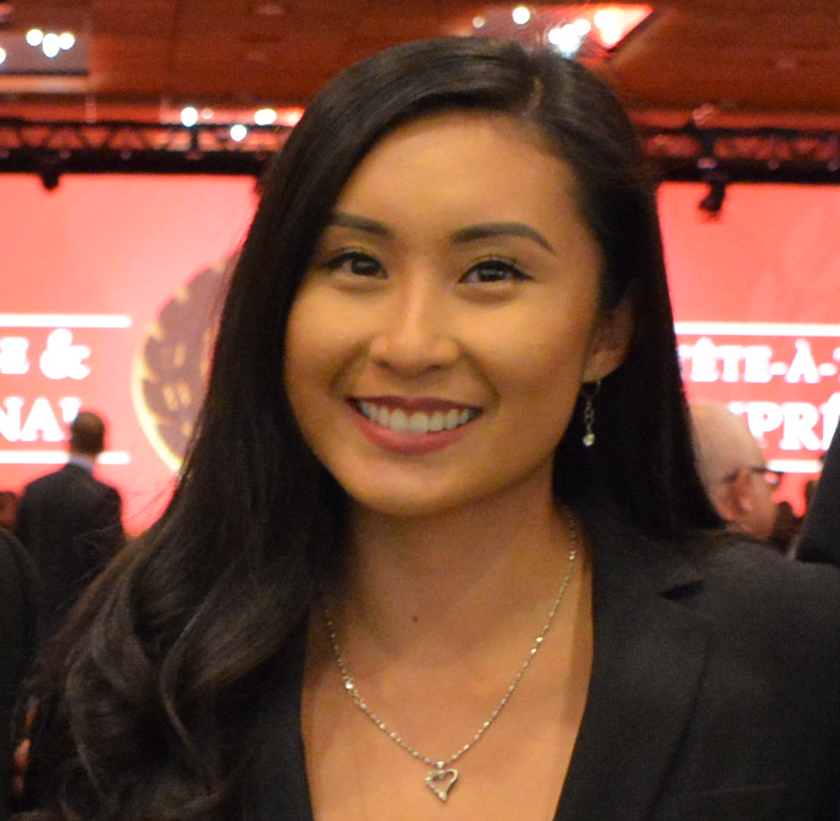 Juris Doctor Class of 2020
Leadership attitude: Victoria Truong, 2019-2020 MLSA President
July 3, 2020 —
As Western Canada's oldest law school, the University of Manitoba's Faculty of Law has a 106-year tradition of providing quality legal education to students, many of whom have gone on to forge meaningful careers as change-makers, significantly impacting the Canadian legal system and improving justice for many. As an institution, the law school – housed at Robson Hall – is constantly growing and innovating with its students forming part of its living walls. We celebrate the graduating class of 2020 by highlighting a number of remarkable Robson Hall students. Please meet Victoria Truong, MLSA President for the 2019-2020 year and recipient of this year's Class of 1980 Prize given for outstanding involvement in extra-curricular activities of the Faculty of Law.
Finding the right path
Always engaged and involved in student activities, Kelvin High School graduate Victoria Truong found attending the University of Manitoba to be a natural choice given that she was born and raised in Winnipeg. Starting her post-secondary career in Science with thoughts of pursuing Dentistry, she changed paths andcompleted a Commerce degree at the Asper School of Business, double majoring in Logistics & Supply Chain Management, and Leadership & Organizations. Not surprisingly, she ended up leading the Manitoba Law Students Association as President in her final year of law school.
"Law was always something that was at the back of my mind growing up," says Truong. "I was told I had an attitude growing up and I used that to my advantage to practice my debate skills. I didn't fear confrontation and it really helped me engage in discussions growing up. Having said that, law was not always the goal."
"I really loved my business degree and it definitely helped me cultivate a business-minded skill set that allowed me to open my mind and value friendships and connections," she says, but it wasn't enough. Working a big corporate job, Truong felt unfulfilled and sought out a challenge – writing the LSAT. Taking a bit of a risk, she had already applied for law school before writing the test, but says her good grades helped seal the deal.
Leading by example
Another not-surprising end to Truong's law school career is that she is this year's recipient of the Class of 1980 Prize for outstanding involvement in extra-curricular activities of the Faculty of Law. Throughout her pre-law university career in Science and at the Asper School, Truong was awarded two UM Emerging Leader Awards, one in 2014 for her work with the non-profit Let's Talk Science, where she coordinated workshops to teach science to youth across Manitoba and Ontario, and in 2017 for her involvement as President of the UM Supply Chain Organization. "In this role," she explains, "I created opportunities for students to further their logistics education outside of university by negotiating discounts with Supply Chain Management designations, negotiated a seat on the Board of Directors of APICS – a globally recognized supply chain management designation, and I increased student engagement in pursuing a career in supply chain management."
From the start of law school, she was her class's First Year Representative, Faculty of Law Student Senator in second year, and finally MLSA President. In being nominated for the Class of 1980 Prize, she was also recognized for her work founding the Diversity in Law student group, chairing the Spirit Committee, directing the student chapter of the Federation of Asian Canadian Lawyers (FACL) – Western, and volunteering for the Feminist Legal Forum, teaching "No Means No" workshops.
Astute observations
In law school, Truong quickly found that lessons learned inside the classroom did not only come from case law and text books but from the students themselves, including the attitudes and backgrounds that the individuals studying law bring to the table. She recalls an instance where, while learning about a difficult sexual assault case between two immigrants from a cultural background very different from dominant Canadian culture, a classmate made a remark that Truong found to be ignorant, dismissive and racist. While she immediately spoke up and explained to the classmate – and the entire class – why the remark was ignorant, she says, "It made me angry and exhausted that I (as one of the few racialized women in the class) had to be the one to speak up."
"People need to realize that law students will become lawyers, judges, politicians and policy makers," Truong reflects.
"These positions create or uphold the systems in which our society conducts itself and if people in these positions are ignorant and/or are not made aware of their own unintentional or otherwise biases, then the changes required for Canada to be more inclusive, diverse, and equitable will not be realized. The ignorance that some law students have has to be corrected earlier or in law school through education and before legal practice so that real change can be made and Canada can become a more equitable country."
"I also want to be clear that often law students are not malicious, and do not come to school thinking they are ignorant," Truong observes. "It is the lack of understanding, or seeking to understand those that are different from you, that breeds and perpetuates ignorance. The only thing you can do to combat this is educate yourself and those around you when you know better."
Against all odds
Truong is proud of what she witnessed Robson Hall's student body accomplish during this unusually abbreviated academic year. In five-and-a-half months, Truong recalls students planned 120 student-led initiatives, not including numerous conferences, Distinguished Visitor lectures and volunteer activities outside the law faculty, or ongoing community fundraisers that student groups held over the year. Had it been a normal year, she notes that even more events would have carried on to the end of term including career-development networking events, more guest speakers, and seminars. "The robust extra-curricular activities demonstrate the character of Robson Hall students who can manage all of this on top of other important obligations such as work, family and strenuous law school obligations!" Truong says.
"We have had an absolutely incredible year. Student initiatives are what bring richness to Robson Hall's community and creates different opportunities for students to enhance their legal education."
A well-rounded life
Truong would advise future students that an important key to surviving law school is to maintain friends who are not in law school, because they keep you grounded with outside perspectives and objective points of view. While she made some wonderful life-long friends at Robson Hall, she cautions, "Sometimes because there is a lot of competition, it's tough to be able to receive the full support that you need in your legal studies when your friends are entrenched in the same challenges you are facing."
"Don't be afraid to speak up. Don't be afraid of confrontation. Be confident in yourself and your abilities and don't let anyone (including yourself!) make you doubt your potential."
Further your education, she says, encouraging the next generation to not stop at what they learned in law school as the be-all and end-all of their legal knowledge, and to work at better articulating what they have learned both in writing and verbally.
"As a future legal professional, society will look to you to be a leader when times get tough and you need to cultivate that skill set as soon as you can," she says. "You can do this by practicing speaking up in class, engaging in discussions with different people, talking about difficult things and concepts. If you are introverted (like many law students), you can begin small like practicing in front of a mirror, or jotting down what you are going to say before you say it. There are so many different ways to get better at speaking up, speaking out and effecting change but the first step begins with you, your desire to make change and taking action!"