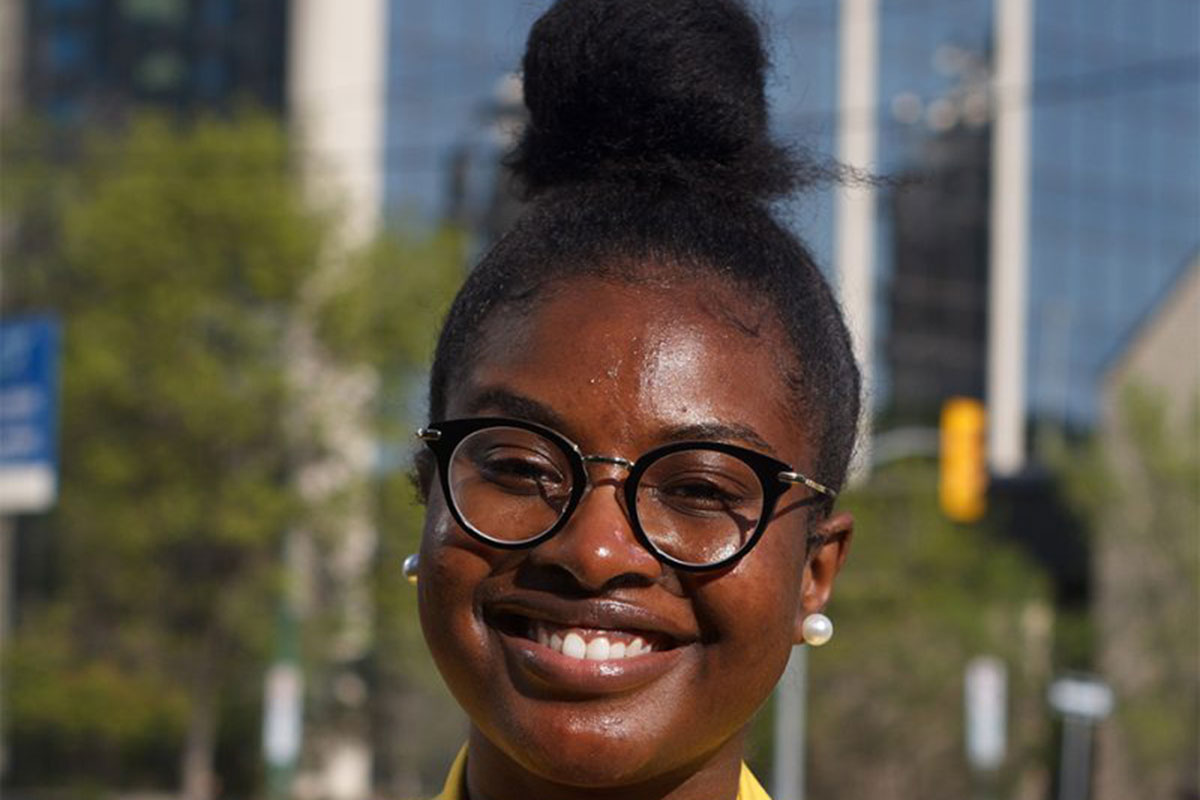 Juris Doctor Class of 2020
Embracing discomfort: Elsa Kaka
June 26, 2020 —
As Western Canada's oldest law school, the University of Manitoba's Faculty of Law has a 106-year tradition of providing quality legal education to students, many of whom have gone on to forge meaningful careers as change-makers, significantly impacting the Canadian legal system and improving justice for many. As an institution, the law school – housed at Robson Hall – is constantly growing and innovating with its students forming part of its living walls. We celebrate the graduating class of 2020 by highlighting a number of remarkable Robson Hall students.
An early advocate

Born in Cairo, Egypt to South Sudanese refugees, Elsa Kaka grew up in Winnipeg, inspired towards a life of advocacy by parents who challenged her to venture outside her comfort zone. Interested in social justice as a Westwood Collegiate IB student, she completed her BA (2017) at UM majoring in Anthropology and Women and Gender Studies, and found law – eventually – to be a natural fit.
"My father I would credit with instilling in me that I needed to learn about the world, I needed to learn about history, I needed to learn about how different people experience the world," she says. "My mother on the other hand really pushed me to work on my public speaking skills. She emphasised to me that the only way to accomplish anything in life was to constantly push myself outside my comfort zone."
Getting comfortable with uncomfortable

As a result of this early upbringing, having uncomfortable conversations and calling people out for discriminatory behaviour are things she's become used to. "I take that upon myself, and I don't think that it's necessarily an easy thing to do but I've gotten used to doing it," she says, "I feel that it's helpful to have difficult conversations. It's definitely a skill."
"Many people that I've met during law school also have that skill because they've acquired it because they've put the work into doing that and to placing themselves in uncomfortable positions and advocating for people when maybe they can't advocate for themselves."
Surviving law school
Music has always been a part of Kaka's life, serving as a calming comfort in difficult times, but until she experienced the stress of law school, she had never fully explored writing and recording her own music. She found it interesting that the demanding and overwhelming experience of law school drove her to work on an R & B recording project of her own songs. "It's completely separate from everything else that I do," she says. "It isn't really social-justice inclined or talking about those issues – it's just music about love and all that – a good creative outlet and I can just be myself."
Another passion that Kaka intends to continue even while engaged in a legal career, is "The Ordinary Black Girl Podcast" which she started with Demi Okuboyejo, a University of Calgary law student she met at the 2019 BLSA National conference. The podcast – again – opens the door to having difficult conversations and shedding light on issues otherwise often ignored." If it weren't for my law school education, my experiences, the opportunities to travel within law school and meet new people, this podcast would not have come about," she says.
"I'm really thankful for my time at law school for allowing me to cultivate these interests and perspectives and for giving me the language and more insight into the structures that inform the world around me."
What the future holds

"She is a singer, an activist and a story teller," says Professor Lorna Turnbull who taught Kaka in a Children and Law seminar and later hired her to help with a research project involving families and intimate partner violence. "I suspect she will use her legal education together with these ways of connecting to make change in the world!" Turnbull remembers her student as "curious and motivated to understand the framework for the course, which was explicitly equality-focused and concerned with the impact of systemic discrimination on Indigenous children and youth in the child welfare system and youth criminal justice system."
Continuing to work in the area of violence against women and other marginalized groups is on Kaka's to-do list, including supporting the Pro Bono Students Canada (PBSC) for which she was co-coordinator of the Manitoba Chapter throughout law school. "I think that they do really phenomenal work and the contributions made by PBSC, according to the community organizations that we speak to, are very impactful."
Diversity in law

Another organization Kaka co-founded (or resurrecting after a long dormancy) with classmate and friend, Chimwemwe Undi, was the Black Law Students Association (BLSA). The group organized the first Robson Hall-hosted "See Yourself Here" event in February, 2020, inviting Black students interested in attending law school. "We had a panel of Black lawyers which was really incredible," she says, "because I wasn't even aware that there were so many Black lawyers in Winnipeg until we started planning this event."
Kaka expressed thanks to Associate Dean Bruce Curran's office for support and to Assistant Professor David Ireland for agreeing to do a mock lecture. Robson Hall also supported students including Kaka in attending the BLSA National Conference last year in Ottawa and this year in Quebec City.
The BLSA collaborated with other Manitoba Law Student Association (MLSA) groups including the Federation of Asian Canadian Lawyers Student Chapter (FACL), the Feminist Legal Forum (FLF), the Manitoba Indigenous Law Students Association (MILSA) and the Diversity in Law group that was founded by Kaka's friend, Victoria Truong, the 2019-2020 MLSA president. Kaka recalls a number of these groups hosting a Round Table with MILSA where they learned about how to better support their Indigenous colleagues in law school and be better allies and accomplices for change.
"We need more collaboration and we need more support for Indigenous students, Black students, and other students of colour."
"To the next generation of students who are involved in these groups," she says, "I'd say that they should keep going, that they should persevere because the work that these student groups do is incredibly impactful and it allows us to uplift Black and Indigenous people as well as other people of colour who continue to be under-represented in the legal field."
Room to grow

In this respect, Kaka observes that Robson Hall as an institution – one made up of learning and growing people – has its work cut out for it: "I do think that there's still a lot of work to be done," she says. "I think that Robson needs to work on creating an environment that is actively anti-racist. We've been having a lot of conversations about that in light of what's going on right now. But it's things that I and lots of other students have noticed throughout law school.
"It's ultimately about being pro-active and making sure that students are constantly learning about Canada's history of colonialism as well as the ongoing colonialism that's still occurring in Canada. To 'up the ante' on that, I think, would be great."
Accessibility, gender neutral washrooms, and an environment that affirms and supports all students are also areas in which the Faculty has room to grow, she notes. "I just think that legal institutions have a real responsibility to do the work of dismantling these systems and serve as an example for the community at large," she emphasised. "There's a lot of positive but I think that there's a lot of things that we should be honest about still needing to work on."
Lessons learned

At Robson Hall, Kaka learned how to persevere. "Law school is very difficult and I feel like you have to learn how to fail and then come back from those failures. I've learned that success and failure come hand in hand," she says. "I think it's made me less afraid of new and daunting challenges."
Her best memories will be of the incredible friends she made. She says, "I was able to surround myself with brilliant, passionate, beautiful people who are going to do amazing things in the world. It inspires me to want to do better and it gives me hope for the future. I'm really thankful for the friends I made during law school. I think that they're going to be really amazing lawyers."
Her early lessons on embracing uncomfortable situations inform any advice she would share: "Law students especially should not be afraid of being disliked," she says. "Effecting change often means being uncomfortable, advocating for marginalized groups."
"Tearing down systems of oppression often means doing the difficult work of checking your own biases and confronting your own wrongdoings. It is not something that happens overnight – it's likely work that you'll have to do for the rest of your life."
See something, say something is another valuable lesson: "If you see something wrong, then it's important to do something about it and it's also important to outwardly and loudly support the people who are doing that work," she explains. "Often what I would see is people who are advocating, who are standing up, and then in secret or hushed voices, saying "oh great job, I'm so glad that you're doing this" but I think people need to be more supportive… when somebody makes a point that you agree with, you need to make sure that your support is visible."