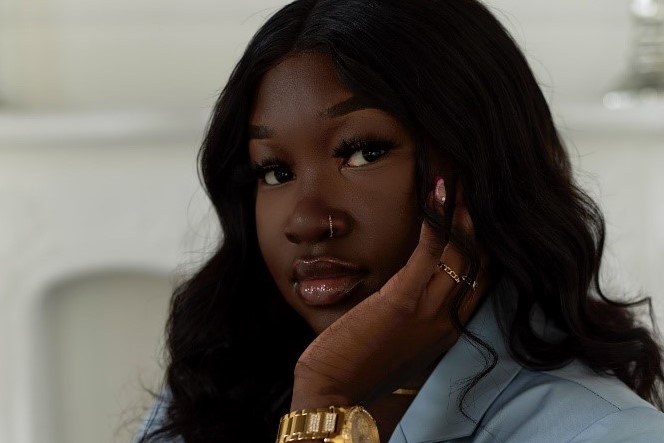 The multi-talented Joyce German's "Genesis" has begun
June 9, 2023 —
Joyce German is a force to be reckoned with. She is talented, hard-working, driven, and always focused on the future.
Joyce, who began singing at five years old at her church, realized in middle school, when she began performing in band, that music was becoming a larger part of who she was. With support from her family and mentoring from Sturgeon Heights Collegiate band and choral directors like Jeff Johnson, Avonlea Armstrong-Green, and Kathy Byrne, she became a dedicated musician.
It wasn't long before she realized that music was her future calling.
In the faculty
After her successful saxophone audition for the Desautels Faculty of Music's Jazz Studies program, Joyce was awarded a number of scholarships, including the Corus Radio Jazz Scholarship, the Harry Cross Music Bursary, the Shearer Bursary, UMSU Bursary, and the Marcel A. Desautels Faculty of Music scholarship. She chose to perform with the University of Manitoba Jazz Orchestra and the UM Small Jazz Ensembles. In addition to saxophone, she also plays clarinet, but it quickly became apparent to the jazz faculty that Joyce had a talent for singing, so she also joined the UM Jazz Vocal Ensembles, and, later, officially added jazz voice to her studies.
Her talent was obvious to Jon Gordon, Associate Professor of Music in the Jazz Studies program, jazz ensembles coach, and Joyce's major practical study (MPS) instructor.
"She has a beautiful tone on the alto saxophone, she's a wonderful improviser, and she's an extremely gifted singer as well!" says Gordon, who was nominated for a JUNO for Jazz Album of the Year this past year.
While in the faculty, Joyce began composing her own unique music.
"Her growth as a composer has been great to see and hear in recent years," says Gordon, who also teaches Jazz Composition and Arranging in the faculty.
Joyce is a first-generation Canadian, born to Sudanese parents, and her strong connection to the Sudanese music of her family's culture and gospel music has informed her own creation of music.
Jazz originally began as an African American art form in New Orleans, Louisiana, combining European harmonies and African rhythmic traditions. As its popularity quickly rose, it spread its way across the world. When it made its way back to Africa, African musicians took up the torch and added new layers of complexity, infusing the African languages and music traditions that had been stolen from African Americans so long ago back into the music.
Today, there are numerous internationally-acclaimed jazz musicians from across Africa, and African musicians infusing innovative jazz techniques into their craft. Mulatu Astatke (Ethiopia), Bombino (Nigeria/Tuareg – the first Nigerian artist in history to be nominated for a Grammy, and a staple of international jazz festivals), The Jazz Epistles (South Africa), Abdullah Ibrahim (South Africa), and Simphiwe Dana (South Africa) are but a few examples. Joyce hopes to join their ranks and bring her family's Sudanese culture into the limelight.
She is well on her way to doing so.
The Credit Recital
All Desautels Faculty of Music Jazz Studies students perform a credit recitals as part of their graduation requirements. The credit recitals serve as a sort of capstone performance for the students showing how far they have come as musicians.
For her credit recital, Joyce performed some standards, such as "The World is Waiting for a Sunrise," "Three Flowers," "When Will the Blues Leave," and "Nefertiti." However, she also performed several of her own impressive compositions, premiering "Intuition," "Home," and "For Hawa," a ballad that was dedicated to her late aunt.
"I found ways to include African music, gospel, R&B, and jazz together, resulting in the birth of my original compositions," she says.
"She put all of that together beautifully on her recital, which also incorporated traditional Sudanese music," notes Gordon.
"We really got to see her shine in her final recital," says Karly Epp, Instructor of Voice and Joyce's minor practical study (MiPS) instructor in voice.
"She put together a phenomenal program that was this amazing blend of music that gave us insight into who she is as a person and musician. It was creative and well-performed, but also showed us that there's a great deal of depth, care, and thoughtfulness in her artistry and performance," says Epp of Joyce's final performance with the faculty.
With her credit recital successfully completed, Joyce could have sat back and relaxed, but she already had the wheels in motion for the future of her career, and now there was no time to rest.
The future begins now
After workshopping a number of her compositions, Joyce thought about what she wanted her career to look like. She wanted to see more women promoted in jazz. She also wanted to ensure that black musicians and other musicians of colour had more opportunities for advancement and more representation in music. What better way to begin that process than by being the representation she so desperately wanted to see in the world.
She applied for and was awarded Desautels Faculty of Music Endowment funding in order to record her Sudanese-inspired jazz, which she plans to record this summer. The recordings will feature her songs "INGIA," "White Nile," "For Hawa," and "Home." The recordings, titled "Project Genesis," are part of a larger plan.
"The project's end goal is to help those in need in South Sudan, and I hope to inspire and become a model to those looking for representation to remind them that anything is possible with hard work and dedication," she says.
She hopes to use the recordings to apply for future grant opportunities and eventually receive enough funding to travel to South Sudan to help people there.
"The name Genesis ties back to my Christian upbringing, symbolizing a new beginning and the potential for many opportunities," Joyce says.
"Overall, this project represents my musical journey, aspirations to give back to my community, and have a positive impact," she adds.
Those who are eager to hear Joyce's compositions are fortunate enough to be able to do so at the 2023 Winnipeg Jazz Festival, where Joyce will be making her debut under the stage name "Ingia," her middle name and also her grandmother's name, which means "joy." The stage name doubles as an acronym.
"It stands for Intention, Nurture, Gratitude, Inspiration, and Amplify," she says.
"These values are at the core of my music, intentionally created to nurture others, express gratitude, inspire, and amplify African and Black American music and people," she says.
We already know two of the people who will be in the front row at her performance.
"I'm really looking forward to her performance at the jazz festival this summer!" says Gordon, who will also be performing at the festival.
"If you don't have tickets to see her at jazz fest, yet, you really should, because it will be spectacular!" says Epp.
Audiences can also get a glimpse of Joyce's talent on YouTube.
Gratitude and respect
Joyce's stage name is more than just lip service. She exudes gratitude, and is grateful to the people have stood by her throughout her ongoing musical journey.
"I would like to thank my supportive family, my close friends, the amazing jazz faculty who have taught me so much in the past four years, along with the music educators who have shaped me into the musician I am today," she says.
Among those faculty members are Jon Gordon and Karly Epp.
"Jon Gordon was my MPS instructor for the past four years, and has been a huge mentor and great inspiration in my life," she says.
"Joyce German has been a joy to work with over the past 4 years!" says Gordon.
"She's a great student with an excellent work ethic. She's also an exceptionally kind and good person," he says.
"Karly Epp was also my MiPS [minor practical study] instructor this last year, and she has also been a mentor and inspiration to me," adds Joyce.
"I absolutely loved getting to know Joyce better this year through my time teaching her," says Epp.
"She has a background in singing, but she took to jazz voice quickly and excelled. She worked hard and it always paid off," says Epp of Joyce.
"At every concert she was a crowd favourite. Not only did she prove herself to be a strong singer, but also an incredibly engaging and professional performer," says Epp.
Of all of the things she has to be proud of in her time in the Desautels Faculty of Music, when asked about her proudest moment, Joyce focuses outward.
"Watching many of my peers' fourth-year recitals. It made me feel proud of myself and my peers to see everyone blossoming into well-rounded musicians and artists!" she says.
As she departs the Desautels Faculty of Music, she has advice for new students entering in the upcoming year.
"Always be mindful and respectful of the music you perform and always do it with good intentions," she says.
Joyce is absolutely primed to do big things in the jazz world, so keep her name on your lips.
"We're sad to see her go, but we also can't wait to see the incredible artist she continues to grow into," says Epp.
"We already know she has great things in the works and look forward to seeing more of what she has to offer!" she adds.
Jon Gordon concurs.
"I can't wait to see and hear her future growth and success as a jazz saxophonist, vocalist, and composer!" he says.
We're all so proud of you, Joyce, and we know you'll keep rising!