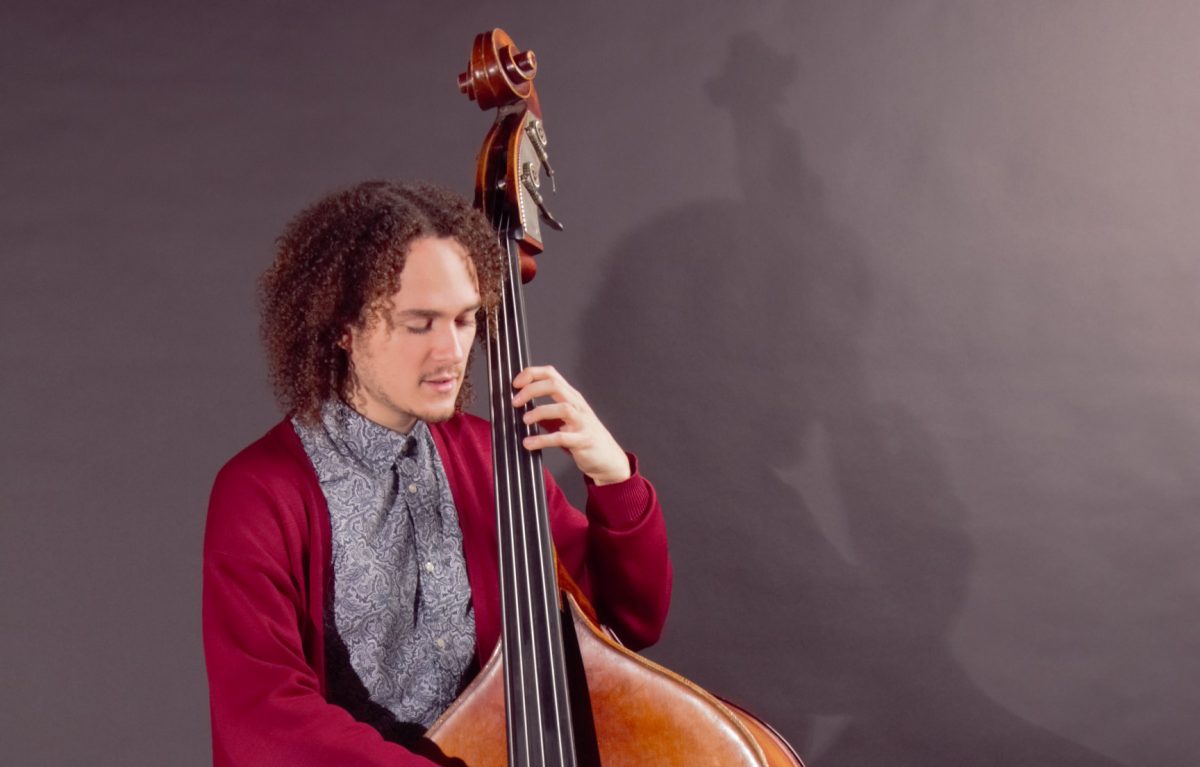 Jared Beckstead adds musical spice to Pepper
April 10, 2019 —
There is more to collaborative music than just handing out sheet music and playing directly what is on the page. Countless hours of practice, rehearsing, and performing are involved. Even before all of that, there is the process of arranging the music for the musicians who will be playing,
Arranging music involves interpreting music for the instruments and musician personalities featured in the piece. Additionally, the arranger must take into consideration a whole host of musical components: re-harmonization, melodic phrasing, orchestration, musical transitions, and endings, to name but a few.
The art of arranging takes someone with a highly musical ear, someone with the ability to hear melodies and harmonies, and someone with dedication and patience. Someone like Jared Beckstead, a fifth year student in the Desautels Faculty of Music.
And on April 11, 2019, at the University of Manitoba Jazz Orchestra (UMJO) concert, Beckstead will be showing off his arranging chops with his interpretation of Jirge, a lively and fast-moving jazz piece written by renowned jazz musician Pepper Adams.
Life was never without music
Though Beckstead was born in Vancouver, his family soon moved to Madagascar, where he lived until age six, and then moved on to Beijing, where Beckstead lived until high school graduation. His love of music started early on, and he has been heavily influenced by the music he heard during his family's world travels.
"My parents were my earliest influences," says Beckstead. "My dad plays guitar, and my mom sings. My love for music materialized watching them play in the smoky late-night clubs of downtown Beijing."
While Beckstead's first performances were "accompanying" his parents on a toy saxophone as they performed with Malagasy musicians in Madagascar, he began playing the double bass his father ignited his love for jazz by introducing him to John Coltrane and Thelonius Monk. His interest only grew as he discovered jazz recorded in the 1990s by artists like Dave Holland, Robin Eubanks, Chris Potter, and Steve Nelson.
Continuing the world tour
It wasn't long before Beckstead's musical talent and hard work were launching him into festivals in places like Brussels, Singapore, London, Shanghai, Kuala Lumpur, and Zurich.
And that was all before he turned 17.
When it came to choosing a place to pursue his university music education, Beckstead knew he wanted to attend University of Manitoba.
What drew him here?
"The amazing faculty!" he says. "Getting a chance to work so closely with masters such as Jon Gordon and Derrick Gardner has been an honour and pleasure. I wouldn't be half the musician I am today without their guidance, and the example of humility and reverence towards the music that they set."
Arranging the works of masters
Beckstead certainly approaches his work with reverence, and was up for the challenge of arranging a piece that featured two of the greatest jazz musicians in history.
When Pepper Adams composed Jirge, he did so specifically for bassist George Mraz. The title represents the blending of Mraz' Czech first name, Jiri, and the English transliteration of his name, George. Said Adams, "For years I have written things for George that I wouldn't consider writing for any other bass player."
"George Mraz was one of the great virtuosos on the bass, and it was composed by one of the preat virtuosos on the baritone saxophone, Pepper Adams," he says. "So, as you might expect, the song's melody, when played on these instruments, demands a certain level of virtuosity in the player."
The baritone sax and bass often play supporting roles in in big bands. "Because of this, I wanted my arrangement to really showcase the baritone and bass," says Beckstead.
Which meant that he had the unique challenge of arranging harmony for horns, which are usually at the forefront of big bands.
"Many of the challenges were textural," says Beckstead. "I tried to write enough material for the rest of the horns so that the arrangement still showcased the sound of the big band, while at the same time didn't bury the featured instruments."
Mentorship, guidance, and respecting history
Beckstead knew he also had some valuable resources available to him. He completed Jon Gordon's Jazz Composition and Arranging course, and then spent a year doing independent study under the guidance of Gardner. Arranging Jirge came out of those two undertakings.
"Derrick Gardner gave me a lot of direction with this one," he says. "His experience, not only as a member of the Count Basie orchestra, but also as a protege of the great composer/arranger Frank Foster, is unparalleled, and having the opportunity to ask him questions and get his feedback was not only great for my arrangement, but was a great learning experience."
Gardner is equally complimentary of Beckstead. "Jared is an extremely talented bassist that came to our jazz studies program with great potential," he says.
"Jared has lot of innate musical ability who understands the importance of connecting with the historical continuum present in jazz music, which allows his own voice to speak through his influences," says Beckstead's Major Practical Study (MPS) instructor Karl Kohut, an Assistant Professor of Jazz Bass. "You can hear the nimble melodicism of bebop bassist Oscar Pettiford in his playing, as well as the angular, blues-centric approach of Thelonious Monk in his compositions."
"By focusing on these musicians who exemplify the fundamental aesthetic objectives of jazz music – improvisation, swing, and blues – Jared has developed a solid musical foundation," adds Kohut. "He is someone who will make great artistic statements through his music in the years to come."
Beckstead wanted to pay respect to Adams' collaboration with historic big bands and his musical style.
"One of Pepper Adam's most notable contributions to jazz is the wealth of music and recordings that came out of his 18-year run with the Thad Jones and Mel Lewis Orchestra," says Beckstead. "In terms of my big band writing, I tried my best to keep it in within Thad Jones and Mel Lewis schools of arranging. Musically, it made perfect sense with Pepper Adams' composition."
And how does it feel to hear the UMJO play his completed arrangement?
"It feels great!" Beckstead beams. "They swing a lot harder than my notation software's playback!"
The show goes on
Beckstead will be graduating from the University of Manitoba's Desautels Faculty this spring. Next on his tour of the world is Lansing, Michigan, where he was recently awarded a full scholarship to Michigan State University. He will be undertaking the Master's program in jazz performance. In addition to his scholarship, Beckstead has also been awarded a teaching assistantship.
Congratulations, Jared!
You can catch Jared Beckstead at the University of Manitoba twice more before he heads out on the next leg of his journey:
He will be playing with the UMJO at the Thursday, April 11th concert, which begins at 8:00pm in the John J. Conklin Theatre in the Gail Asper Performing Arts Hall, on the University of Manitoba campus.
He will be performing his final credit recital for jazz bass on April 13, 2019, at 8:30pm in the Tache Arts Complex, Room 266.