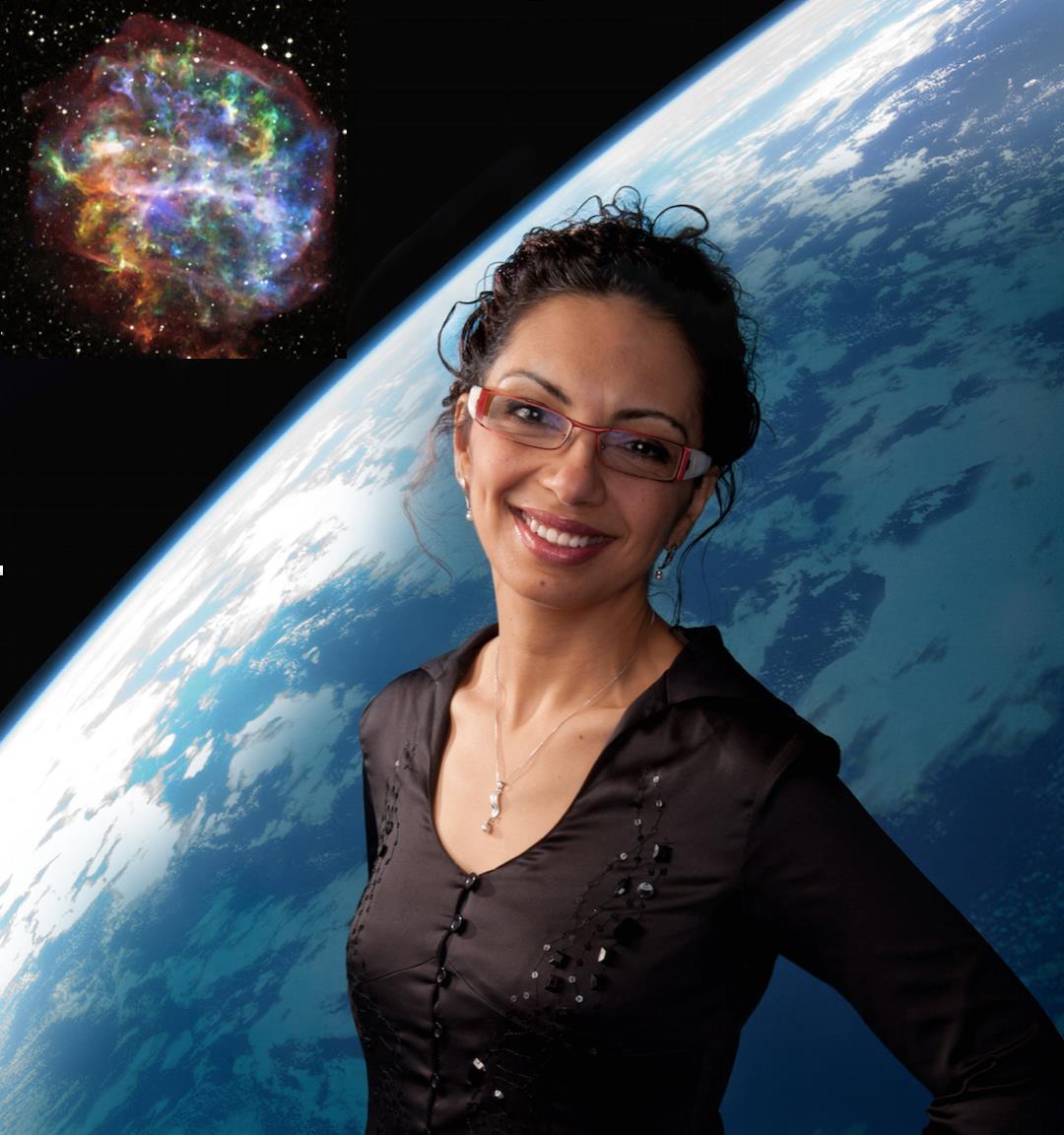 It's a very exciting time to be in astrophysics at UM
Samar Safi-Harb on being named Tier 1 Canada Research Chair in Extreme Astrophysics
January 28, 2022 —
Samar Safi-Harb is on the hunt for the biggest bangs since the "big bang." She has just been named a Tier 1 Canada Research Chair in Extreme Astrophysics by the Natural Science and Engineering Research Council of Canada. Safi-Harb is the first woman to be appointed a Tier 1 Canada Research Chair position in UM's Faculty of Science.
Extreme astrophysics is a field of study that examines the extremes of temperatures, gravity, and magnetism in our galaxy and beyond. Safi-Harb focuses on high-energy, extreme phenomena associated with the death of stars witnessed in dramatic explosions called supernovae, and the birth of some of the most magnetic and compact stars in the universe. These massive star explosions make supernova remnants: beautiful nebulae that can linger in space for nearly 100,000 years. Supernovae are responsible for creating a lot of the heavy elements responsible for life on earth. They also generate cosmic rays, some of the highest energy particles we know of in the universe.
Remnants of supernovae tell us how stars die and evolve, and how cosmic rays get accelerated to extremely high energies. Following the supernova explosion of a massive star, the compressed (compact) core of the original star makes a neutron star. These neutron stars can have surfaces that are hotter than millions of degrees Celsius, and magnetic fields that are more than a trillion times stronger than the sun. They are more massive than our sun and are packed in a volume comparable to the city of Winnipeg; as such, they can spin extremely fast – faster than a home blender. When two such objects collide, they generate a firework of light but also gravitational waves which are ripples of spacetime first predicted by Einstein over a century ago and discovered only recently in 2017 thanks to the development of powerful and extremely sensitive laser interferometers.
This quest for discovery has taken Safi-Harb on an incredible career journey. She grew up in Lebanon during the civil war, then traveled to the U.S. to pursue graduate studies in physics at the University of Wisconsin-Madison. She pursued High-Energy Astrophysics at the NASA Goddard Space Flight Center before moving to Canada to help develop the astronomy program at the University of Manitoba – a program that has made many strides in recent years.
"What I keep hearing is how surprised Manitobans are to find out that scientists at UM are exploring the mysteries of the universe and working on key collaborations with NASA, the Canadian Space Agency, and many other national and international projects," explains Safi-Harb. "We are really working on some cool stuff."
NASA, Japan, Europe, and beyond
While at UM, Safi-Harb is part of numerous international projects. She was one of three Canadian astronomers behind the science on the Hitomi (ASTRO-H) satellite which was a collaboration between the Japanese Space Agency, NASA, the European Space Agency, and the Canadian Space Agency. This x-ray telescope launched in February 2016 to study the extreme environments of the universe and has given us a glimpse at the power of high-resolution x-ray spectroscopy in space.
Extreme phenomena associated with the aftermath of star death can be invisible to even the most powerful optical telescopes. X-ray telescopes probe these exotic phenomena from thousands and even millions to billions of light-years away. Since x-rays do not penetrate the Earth's atmosphere, telescopes in space are the only way to detect x-ray light.
Safi-Harb's next big project collaboration is Colibrì, Canada's flagship x-ray mission proposed to the Canadian Space Agency for launch in the 2030s and designed to unveil the mysteries of neutron stars and black holes.
Safi-Harb's team has also launched the world's first public online database of high-energy (X-ray and Gamma- ray) observations: the Supernova Remnants High-Energy Catalogue (SNRcat). The catalogue has already impacted a number of studies and is proving to be a very useful tool for fellow scientists.
"It's an exciting time to be in astrophysics, with the launch of many telescopes on the horizon, including the successor to Hitomi planned to launch in 2023, and the recent successful launch of projects like NASA's x-ray polarimetry mission (IXPE) and the James Webb Space Telescope," says Safi-Harb. "All of these will unveil mysteries and likely lead to more questions about the nature of our universe and our place in it. Space missions take decades to develop and are driven by science. Fundamental science is so important as it drives new technology and innovation."
Students curious about space should explore astrophysics
For students interested in astrophysics, Safi-Harb says the University of Manitoba provides many opportunities and she is especially passionate about developing opportunities for women and overall promoting equity, diversity, and inclusion in STEM (science, technology, engineering, and mathematics) disciplines.
"Astrophysics affords students numerous opportunities to achieve those dreams," says Safi-Harb. "Students cannot go wrong by trying out astrophysics, even if they aren't sure what they want to do, because astrophysics crosses over into so many different fields of study. Astronomy is the study of our origins and the mysteries of our Universe. It provides an excellent introduction to science and is undoubtedly a gateway into STEM."
"What I love the most about astrophysics is solving puzzles about our universe, discovering the unknown, unveiling our place in the universe, and collaborating with colleagues in many different fields and from around the world. It is also a humbling experience that helps us connect with the younger generation and public to convey our love for, and the importance of, fundamental science."
Safi Harb also points out that students studying astronomy develop a wealth of transferable skill sets, such as computation, visualization, problem-solving, creativity, and the ability to analyze vast amounts of complex data, skills that can be applied anywhere.
"Our department is also incredibly proud of our UM physics graduates, two of whom have been part of two recent Nobel prize-winning discoveries." In 2019, Dr. James Peebles [BSc (Hons)/58, DSc/89], won the Nobel Prize in Physics, for theoretical discoveries in physical cosmology, and in 2017, Dr. Michael Landry [PhD/00] was part of the team at LIGO, responsible for the first direct detection of gravitational waves from colliding black holes.
"It's a very exciting time to be in astrophysics at the UM", declares Safi-Harb.
Links
Listen to the interview with Samar Safi-Harb – Jan. 22, 2022 – CBC Radio's Weekend Morning Show