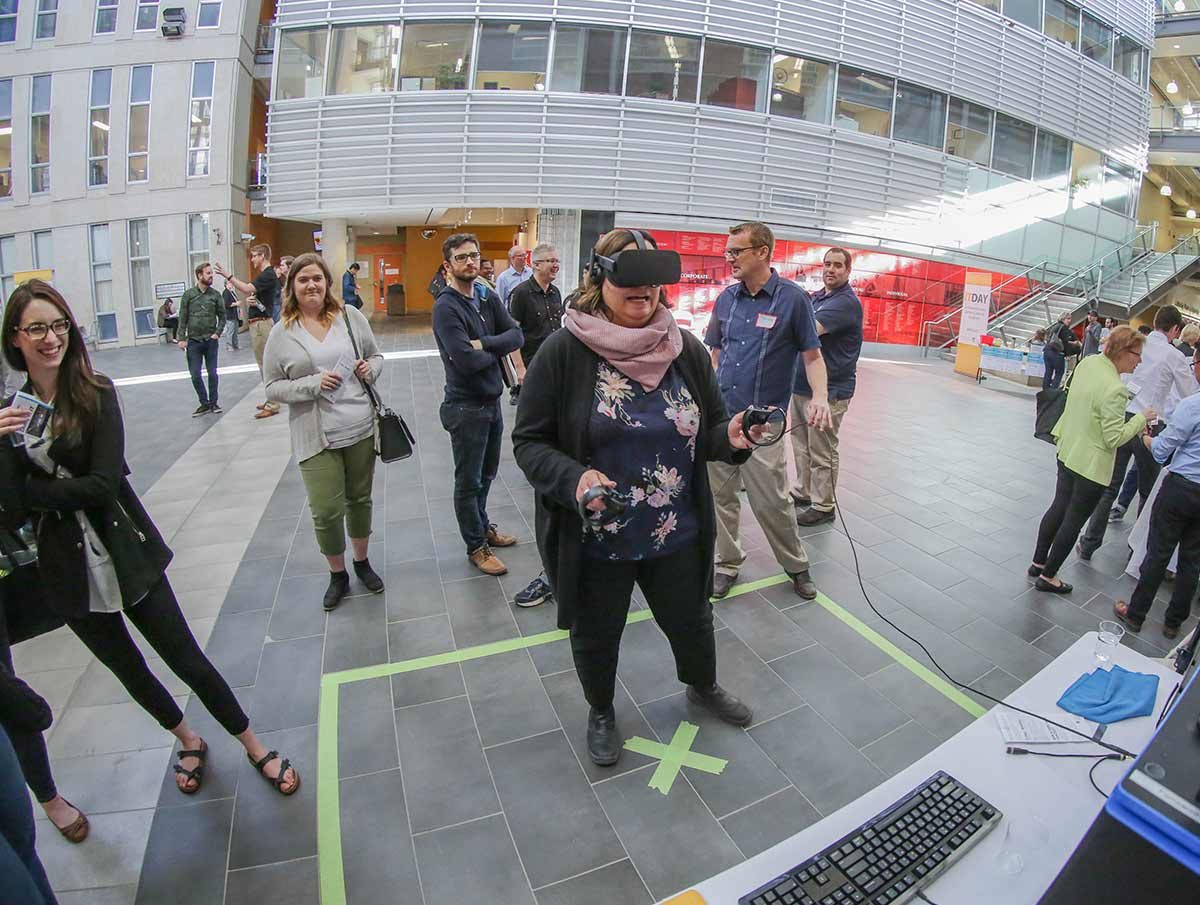 IST's Inaugural IT Day a Success!
'Discover IT' theme pulls in a crowd
August 20, 2018 —
Quick. How is the university IT environment like a museum? Answer: It's accessible but secure. In fact, you may not even be aware of all the security measures going on behind the scenes. At the university, where sensitive financial, identity and educational data is housed for tens of thousands of community members, this continual, "invisible" security work protects us from external threats such as phishing scams, spyware and password breaches.
This was a tidbit from one of the six brief seminar presentations at the inaugural IT Day held on May 2, 2018 in the Engineering Complex.
The day's theme, "Discover IT," set the tone for the 162 registered attendees. The event was an opportunity for staff from all over the university to find out how the different departments within IST work, and to share ideas about projects and initiatives.
Afternoon Booths
The booths at the afternoon Open House were another highlight of the day, featuring displays from IST's application development team, media and production services, and the Service Desk.
The virtual reality, or VR, booth was a particular treat for attendees who lined up to try virtual reality gaming for the first time and to discuss how this technology can be used effectively in the classroom.
"Our inaugural IT Day was a great success," says chief information officer, Mario Lebar.
"IST staff demonstrated the broad reach of what we do expertly and enthusiastically. I am very happy for everyone who participated and very proud of the of the IST team members who helped make it a special event."
He noted that the impressive attendance at the presentations and the booths also demonstrates the daily positive impact of IST at the university. The event also included a draw for a free iPad.
iPad giveaway winner

Congratulations to our iPad contest winner Barbara Hanchard, assistant director, human resources! Thank you to all who entered!
Next up: CANHEIT
Next June, in lieu of IT Day, the U of M will be hosting CANHEIT, the Canadian Higher Education Information Technology Conference. It is Canada's largest gathering of Canadian higher education IT leaders and experts from universities, colleges, technical institutes and advanced research computing (ARC).
"This is the first time CANHEIT will be held in Manitoba and we are looking forward to showcasing our campus and IT expertise to the rest of Canada," says Lebar. Check back on UM Today and the IST Twitter account for more information about CANHEIT throughout the year.