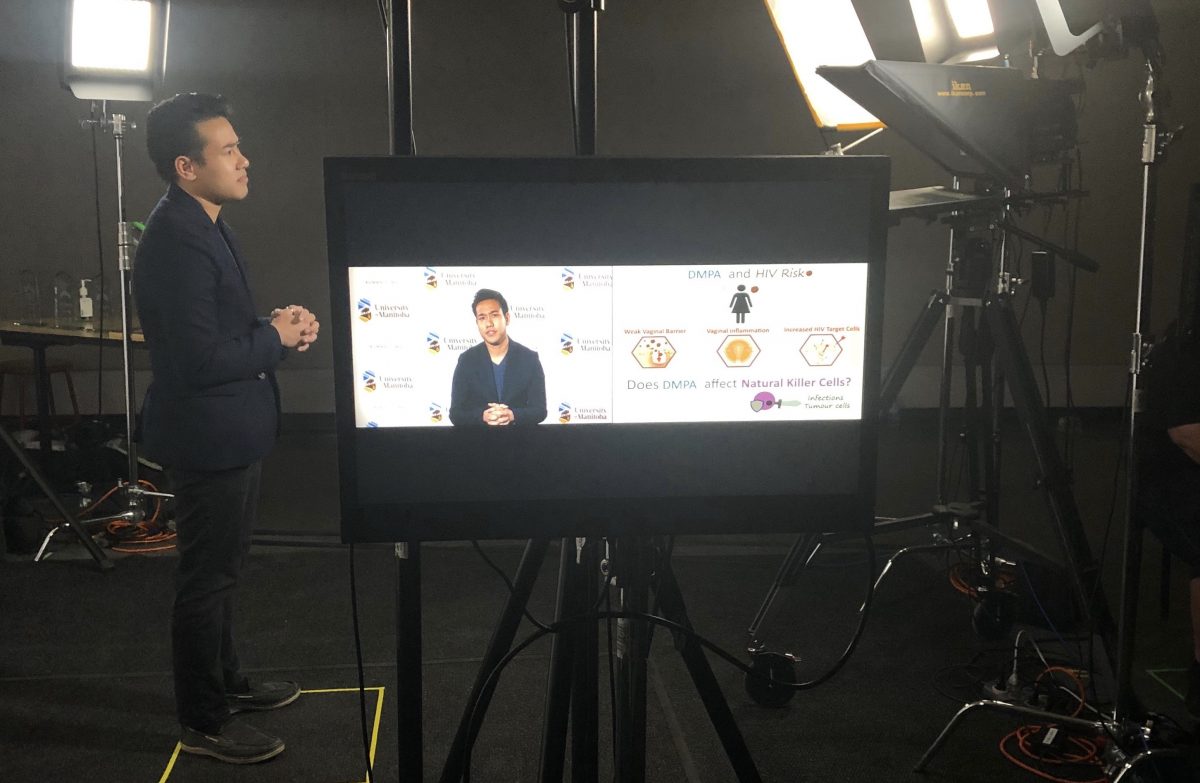 Introducing the 2022 3MT finalists
March 7, 2022 —
…And then there were twelve. After three competitive heats, the finalists for the Three Minute Thesis (3MT) competition have been selected.
Representing a wide array of some of the most inspiring and engaging research being conducted by graduate students at UM, last week's 3MT online heats featured 33 challengers who were tasked with explaining their intricate research studies to a judging panel comprised of members from the UM and Winnipeg community in just three minutes.
The 3MT Final will take place on April 7, and students, staff, faculty and the wider community are encouraged to watch the competition online, cheer on the 3MT finalists and learn about a wide range of innovative research in a dynamic competitive format.
The finalists – both master's and doctoral students – will compete for the Dr. Archie McNicol Prize for First Place ($2,500), the UM Retirees Association Prize for Second Place ($1,250) and Third Place ($750).
The online audience will vote for the People's Choice award (UM Bookstore gift certificate), so be sure to join live and vote for your favourite presentation!
The winner of the 3MT Final will advance to the Western Canada regional competition on May 6 and have the chance to be featured in a non-competitive showcase of 3MT videos from graduate students across Canada.
3MT is an annual competition where challengers have just three minutes to present their research and its importance in plain language, using only a single slide to illustrate their topic. The competitors are judged on comprehension, engagement, ease of communication all while providing an understanding of the background and significance of their research.
Everyone is invited to attend the online event and cheer on the finalists.
2022 3MT Final
Thursday, April 7
7:00 – 8:30pm
Viewing details will be posted here on the Faculty of Graduate Studies' 3MT site.
2022 Finalists
Alekhya Lavu – Pharmacy
Thesis: Antiseizure treatments during pregnancy and neonatal birth outcomes.​
Alexander Araujo – Natural Resources Institute
Thesis: Impacts of restoration: assessing if grazing by reintroduced plains bison affects bird abundance and diversity in Banff National Park.​
Chioma Victoria Nwachukwu – Physiology and Pathophysiology
Thesis: Electrical stimulation improves walking and organ function after spinal cord injury: but how?​
Chitra Sivakumar – Biosystems Engineering
Thesis: Non destructive analysis of pulse flours.​
Daniel Schwade Araujo – Applied Health Sciences
Thesis: Examining the associations between different physical fitness phenotypes and cardiovascular risk factors in older females.​
Jhannelle Francis – Microbiology
Thesis: Waterways (or rivers) as vehicles of enteric viruses.​
Kaitlynn Weisgerber – Biological Sciences
Thesis: Investigating spontaneous autopolyploidy in wild and hatchery lake sturgeon.​
Olya Myhalatyuk – Pharmacology and Therapeutics
Thesis: Shining light on microglia responses in Alzheimer's disease.​
Pranav Mishra – Pharmacology and Therapeutics
Thesis: Potential of sex hormone estrogen in prevention of Alzheimer's disease – a sex based study.​
Ryan Ha – Medical Microbiology and Infectious Diseases
Thesis: Development of a new method for studying legonella infections.​
Shayna Giesbrecht – Microbiology
Thesis: Molecular detection and quantification of the prevalence of sexually transmitted blood-borne infections in Canadian waste water samples.​
Weiang Yan – Physiology and Pathophysiology
Thesis: New immuno-engineered biomaterials to prevent rejection of transplanted hearts.​
Research at the University of Manitoba is partially supported by funding from the Government of Canada Research Support Fund.