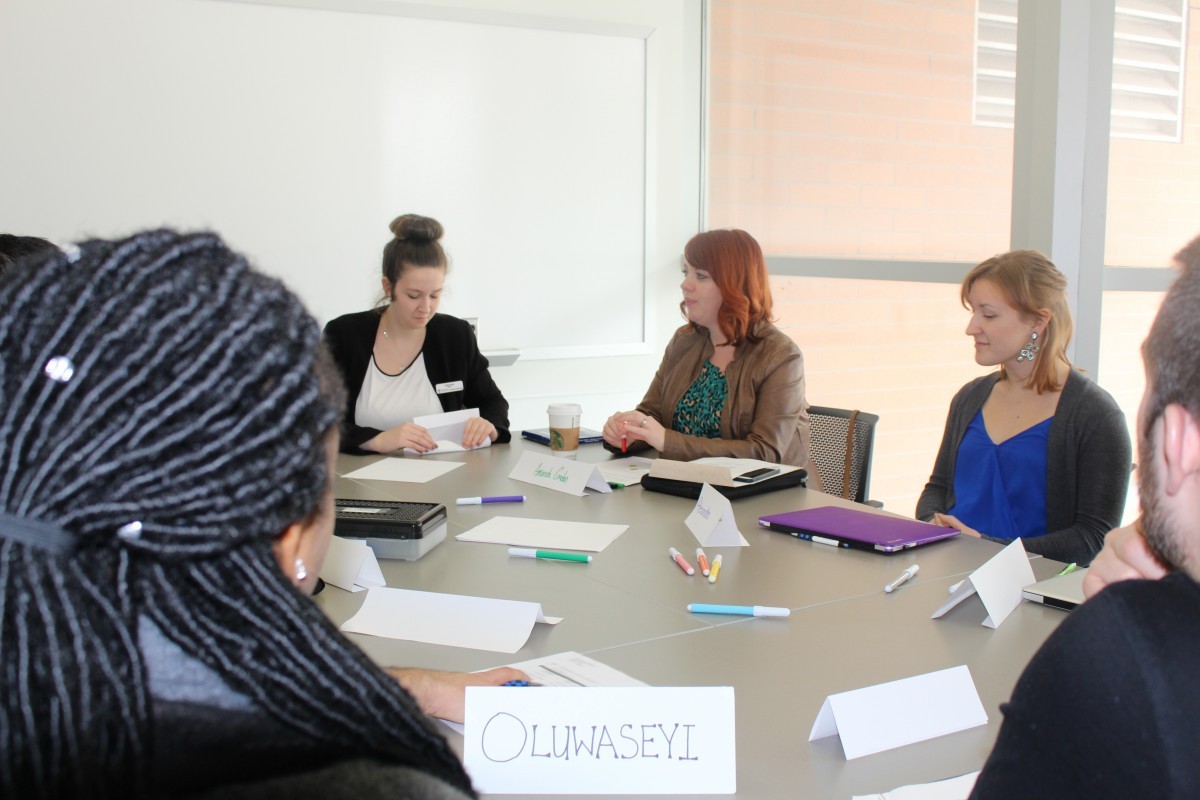 Interprofessional Sessions Enrich Learning for Faculty of Health Sciences Students
March 11, 2016 —
A well-known fable tells about a group of blind men who encounter an elephant. One touches a leg and says it's a pillar. Another feels the trunk and claims it's a tree branch. Yet another grabs the tail and calls it a rope. Only by talking to one another do they all realize they're each experiencing a different part of the same thing: the elephant.
The story is usually told as a reminder about point of view, but it's also a good lesson about teamwork and communication. This week, students from eight different programs all brought their unique perspectives together to work on a fictional case.
"Learning Health Promotion Interprofessionally" sessions took place March 9, 2016 with representation from Kinesiology and Recreational Management, Occupational Therapy, Physician Assistants, Medicine, Dental Hygiene, Social Work, Nursing, and Nutritional Sciences. With such diverse backgrounds, it's only natural that each one would look at a patient and see something different. By bringing all the pieces together in facilitated discussions, they were able to see in action how collaboration creates a clearer view of the bigger picture.
"A physician is probably more focused on the health services a patient needs and occupational therapy would go into the home to look at their environment," said Patricia Mendoza, fourth year Nursing student. "As a nurse, you're looking at their family, too. You consider the other branches of what make up their life." According to Mendoza, brainstorming with her future colleagues led to considerations they never would have come up with on their own. "It really helped to talk like this with the group."
Interprofessional training offers a significant advantage for students who will use those collaborative skills later in clinical practice, but it means an even bigger win for patients, who will benefit from healthcare from a whole-person perspective.
"A holistic approach offers a much broader view than any one profession can see," said Laura MacDonald, one of the session planners along with faculty from each of the represented programs. MacDonald is an Associate Professor at the School of Dental Hygiene, College of Dentistry and is also part of the Office of Interprofessional Collaboration, Faculty of Health Sciences (OIPC/FHS). "We have clear evidence that when health professionals collaborate for patient- and community-centred care, there are better outcomes."
This type of learning session is now embedded in the respective curricula of Faculty of Health Sciences programs. That's an important step, says Dr. Amanda Condon, Undergraduate Director in the Department of Family Medicine, who was a facilitator for one of the sessions. She is also part of the OIPC/FHS.
"When I was going through school this kind of thing wasn't in existence. I remember as a medical student, saying to my friends, 'Why don't we learn things with the physiotherapists? We're doing the same things, why aren't we having cases where we review things together?" As a working family doctor, Condon says that kind of separation doesn't make any sense in a real practice. "You really need to get used to the concept of having rounds where we're talking things over as a team. It's great to see that we're evolving into that."